Is bigger better? This article discusses two of Apple's most powerful laptops and checks if the differences are just skin deep. We will compare these two laptops in terms of display, computing power, design, features, and battery life and try to answer the question – Is the more expensive MacBook Pro 16 worth the extra bucks? Let's find out!
In a nutshell, the MacBook Pro 14 and 16 have everything we need in a practical and powerful laptop. These are good options for digital nomads, coders, and creative professionals looking for a capable laptop that can be used inside and outside the office.
Spotting the difference and similarities
At first glance, there seem to be no significant differences in display resolution, design, connectivity ports, or even the choices of M1 Chips. But one thing is for sure; these laptops are fast, lightning-fast. Head to head, the MacBook Pro 14 is equally capable as the MacBook Pro 16. But the MacBook Pro 16 still trumps its 14-inch counterpart – with a bigger chassis, and this is where the similarities end and the differences begin.
After years of shedding weight and gunning for that slimmer profile, Apple seems to have gone in the opposite direction. Both laptops feel more solid to the touch, a bit heavier, and square on the edges. This change seems to have done wonders for the new laptops giving them more room for upgrades. It has translated to more ports, a bigger screen, and better cooling.    
Display
We just had to start with the most apparent difference between the MacBook Pro 14 and 16. Their screens measure 14.2 and 16.2 inches, respectively. The MacBook Pro 14 offers 3024 by 1964 pixels, while the MacBook Pro 16 has 2456 by 2234 pixels or a 30 percent bigger screen.
Both laptops come with a Liquid Retina XDR display, the same stunning mini-LED display we first saw on the 2021 iPad Pro. The laptops boast refresh rates of up to 120 Hz and include Apple's ProMotion technology which automatically adjusts based on battery life. At its lowest levels, it can go as low as 24Hz to preserve battery life while providing the best performance while playing games or watching videos.
The screen looks bigger, even for the 14-inch MacBook Pro. The screen is pushed closer to the edges, while its stunning Retina display only makes it appear even bigger. Similar to the iPad Pro, the screen is amazingly bright with 1,600 nits of peak brightness or 1,000 nits of sustained brightness, which is one of the brightest screens we have seen. Both laptops also come with Apple's True Tone technology (1 billion colors) that automatically adjusts to ambient lighting.
Design

No significant difference here except for the size. The laptops look great in their iconic aluminum casing, which we've come to love. Not surprisingly, the 14-inch MacBook Pro is lighter, weighing 3.5 pounds compared to the 16-inch MacBook Pro's 4.8 pounds. 
The MacBook Pro 14 is the lighter, thinner, and more compact of the two laptops. The 14-inch MacBook Pro weighs 1.6 kg and measures 31.26×22.12x155cm. The 16-inch MacBook Pro comparatively measures 35.57×24.81×1.68cm and weighs 2.2 kg. This makes the MacBook Pro 14 almost identical in size to the MacBook Pro 13 while packing serious power.
The MacBook Pro 14 will be the more practical choice if you're looking for a laptop you could carry around regularly. The MacBook Pro 16 weighs a pound heavier and a few inches wider, making it a bit cumbersome to carry. But given the number of hardware upgrades with the MacBook Pro 16, moving it around with all the additional weight and size is worth considering. 
Battery Life
Simply put, a bigger chassis means more space for everything, including batteries. The MacBook Pro 16 packs a bigger punch with its 100Wh battery that offers up to 14 hours of wireless web browsing. The MacBook Pro 14, on the other hand, has a 70Wh battery rated at 11 hours. So what's stopping Apple or any laptop manufacturer from installing batteries with more than 100Wh? This is because the FAA has set a 100Wh limit for built-in batteries.
Per experience, one of the drawbacks of using laptops on battery power is the slight dip in performance. This is to save battery life and squeeze more hours. However, MacBook Pro 16 users can do this with the High-Power Mode just on batteries. This lets you take advantage of your laptop's full potential even when it is not connected to a power source.  
Another contributor to the latest MacBook Pro's longer battery life is their switch to Apple silicon technology in their M1 chips. It has significantly improved battery life compared to its previous Intel-based laptops.
Audio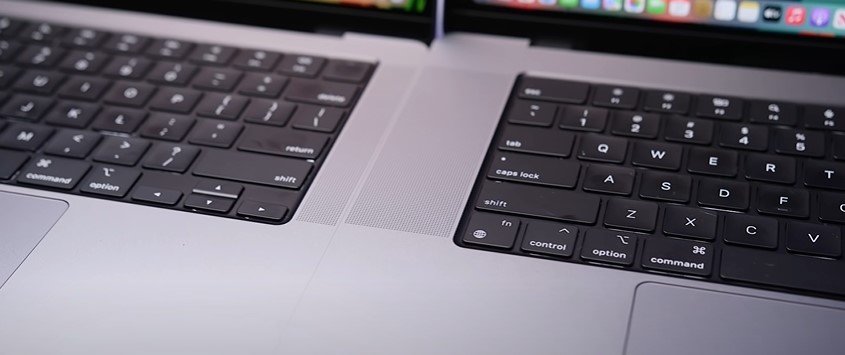 Having a crisp display is one thing but having good-sounding speakers brings your multimedia experience a notch higher. The MacBook Pros come with a six-speaker combo – two tweeters and four woofers. The MacBook Pro just sounds better compared to its predecessors. It is primarily due to their better speakers and partly to the bigger chassis that made this possible. The built-in microphones also did a great job delivering excellent voice quality during video calls.
Charging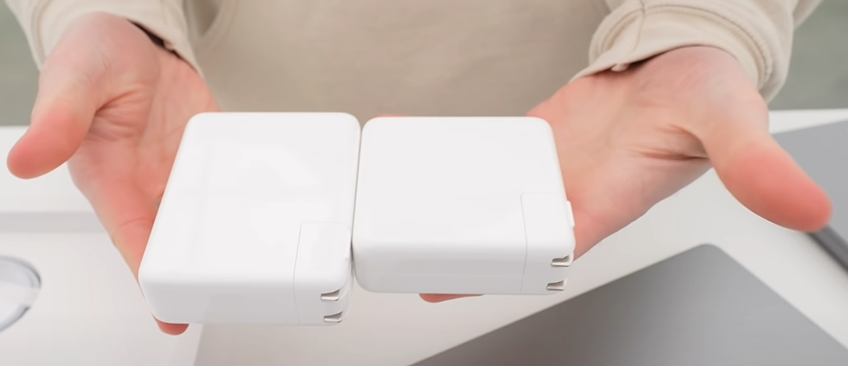 A big plus for these new MacBook Pro models is their fast charging option which promises up to 50 percent power in just 30 minutes. However, this is only possible with the 96W power adapter. The 96W power adapter comes standard for most models, but the entry-level MacBook Pro 14 only comes with a 67W power adapter. To have this in your 14-inch MacBook Pro, you can upgrade your 8-core M1 chip to a 10-core or buy the 96W charger separately. 
Performance
In terms of computing power, both laptops can be equipped with Apple's latest chips (M1 Pro and M1 Max chips). However, the MacBook Pro 14 base model only comes with an M1 Pro with an 8-core CPU and 14-core GPU. The MacBook Pro 16, on the other hand, comes with a more capable 10-core and 16-core GPU M1 chip.
Apple's switch to the M1 chip from Intel has greatly influenced their laptop's increasing popularity. The M1 Pro and M1 Max chips feature more CPU and GPU cores compared to the basic M1 chip seen in the 13-inch MacBook Pro. The chips represent performance, power consumption, and excellent thermals. The chip is highly reliable and capable of various creative, productive, and day-to-day needs.
Another exciting feature that only comes with the MacBook Pro 16 is the 'High Power' mode. This option effectively increases your laptop's performance for power-hungry computing tasks such as video editing or games.
Apple may not be the leader in gaming laptops, but the MacBook Pro 14-inch and 16-inch could stand their ground with most titles. However, most people don't buy Apple laptops for gaming which are more than enough for any other purpose.
How to turn on High Power Mode in your 16-inch MacBook Pro
 

Select the Apple menu

 

Go to System Preferences

 

Click on Batter

 

Select Power Adapter

 

Choose High Power Mode from the Energy Mode pop-up menu, and voila!
You can also customize your energy modes when connected to a power adaptor or when the laptop is just using the battery. It allows you to use High Power Mode only when you are connected to a power adaptor.
Ports
When we say that both laptops are the best of the class, it means that most of the basic hardware could be found on both. This includes the number and type of ports available on the 14-inch and 16-inch MacBook Pros. The laptops come with 1 HDMI port, headphone jack, SDXC card slot, and 3 Thunderbolt 4/USB4 ports.
One of the welcome changes we see is the return of the MagSafe charging port. This was strong enough to keep the charger securely connected to the laptop but disengaged when you accidentally trip over the cord. Along with the reintroduction of the MagSafe charging port are improved charging speeds.
Compared to earlier versions, both laptops are winners, in my opinion. With more ports, Apple users do not need to shell out more money to buy extra dongles.
Webcam
The MacBook Pro 14 and 16 are equipped with the new 1080 FaceTime camera located at the top bezel, similar to the iPhone. This is the same camera found on the 24-inch Apple iMac 2021, so expect the same high-quality video images. One drawback would be that it looks conspicuous and interferes with the top display. However, an OS update from Apple is adjusting its OS to work around this space, so it does not affect the overall user experience.
Price
Apple is not exactly the first brand that comes into mind when shopping for a laptop on a budget. The company does not make excuses for this; both laptops are pricier than their predecessors. With its new M1 chips and hardware upgrades, the 14-inch and 16-inch MacBook Pro make a good case for themselves, making them worth every penny.
Understandably, the MacBook Pro 14 comes with a higher price tag compared to the MacBook Pro 13. To start, it comes with a faster chip and better graphics. Both are similar, but the MacBook Pro 14 has a bigger display.
The base configuration 14-inch MacBook Pro sells for $1,999, while the more powerful 16-inch MacBook Pro comes at $2,999. Upgrade options are also available for both laptops (CPU, RAM, and storage) with higher prices.
Why choose the MacBook Pro 16 inch
When you need a bigger display – the MacBook Pro has long been a favorite among creative professionals (photographers, video editors, and multimedia professionals). The 16-inch MacBook Pro has the biggest display in Apple's lineup, making it the perfect canvas for content creators.
Better performance – the 16-inch MacBook Pro base model is equipped with a 10-core and 16-core GPU M1 Pro chip and comes with a High-Power Mode just in case you need more juice.
Longer Battery Life – one of the most important things to consider when planning to use your laptop extensively on the road is how long you can use it. With its 100Wh battery and Low Power feature, the MacBook Pro 16 is the winner.
Why choose the MacBook Pro 14 inch
Easier to carry – around a pound lighter and with a slimmer profile, carrying the 14-inch MacBook Pro would be much easier.
Price – far from being a budget laptop, the $1,999 MacBook Pro 14 does come $500 cheaper compared to its 16-inch counterpart. It also comes with all the bells and whistles we have come to love and expect from a high-end MacBook Pro.
If you still want a MacBook Pro and are not too hot with the prices, you could also consider some of our equally capable refurbished MacBook Pros. For more information and details, please check our Refurbished and Used MacBook Pros list at Techable.com. 
Who wins the battle – MacBook Pro 14 vs. 16
The 14-inch and 16-inch MacBook Pro are capable laptops; at the end of the day, the choice comes down to budget and purpose. Performance-wise, base-to-base model comparisons give the MacBook Pro 16 a definite edge in hardware. A bigger screen, a faster processor, and longer battery life give it that clear advantage over the MacBook Pro 14. However, the $500 difference still begs the question – how much laptop do I need?
The MacBook Pro is no pushover. It is fast and equipped with the same eye-popping display as it's more expensive than the MBP 14. MacBook Pro 14 does have the capability to do the heavy lifting. Still, when you are doing stuff that will max out the machine, like rendering 3D scenes, Macbook Pro would be a winner by miles. MacBook Pro 16 has a bigger chassis, and fans are more spread out than MacBook Pro 14; hence MBP 16 has better cooling and airflow, making it a clear winner. So, if you are going to employ demanding tasks, then MBP 16 will be the best choice here.
However, in terms of portability, MBP 14's slimmer profile and weight make it the perfect companion for the everyday commuter.
So who wins? Both laptops demand serious investment in terms of price. And constantly updating yourself on the latest MacBook Pro model is impractical and expensive. If you're looking for a laptop that would last you for years to come, our advice is to see what laptop meets your needs, and then shelling out that extra bucks for those upgrades could help save you from another laptop purchase for years to come.
If you're just looking for a good mac and you don't need anything super high-end, we have a whole line of refurbished Macbook Pro laptops from Apple. Check out our line of refurbished Macs here at Techable.com.