Apple News
Google
News
Bing AI's Latest Mobile Updates: Contextual Chat, Widget, and More
From desktop to mobile: Microsoft's Bing AI now offers continuous conversations and homescreen widget access
Bing AI, the search engine powered by Microsoft, has recently made significant updates to its mobile platform, including the introduction of a home screen widget, contextual chat for the Edge browser app, and integration with the popular SwiftKey keyboard. These updates aim to bring the power of Bing AI to users' fingertips and make it easier for them to access information on the go.
The home screen widget is a major addition that allows users to add a Bing Chat widget directly to their iOS or Android home screen. With the widget, users can access the AI with just a tap and either type in their query into the text window or use the microphone icon to ask the question verbally. This means that users can start a new chat or continue an old one from their desktop, as Microsoft has enabled "continuous conversations across platforms."
In addition to the home screen widget, Bing AI has also introduced contextual chat for the Edge browser app. This feature allows users to ask Bing AI questions based on the content they are viewing. For example, if you are looking at a recipe, you can ask the AI what the best wine would be to pair with it. Contextual chat aims to make learning easier and more efficient, and users can get detailed explanations on any topic with cited sources.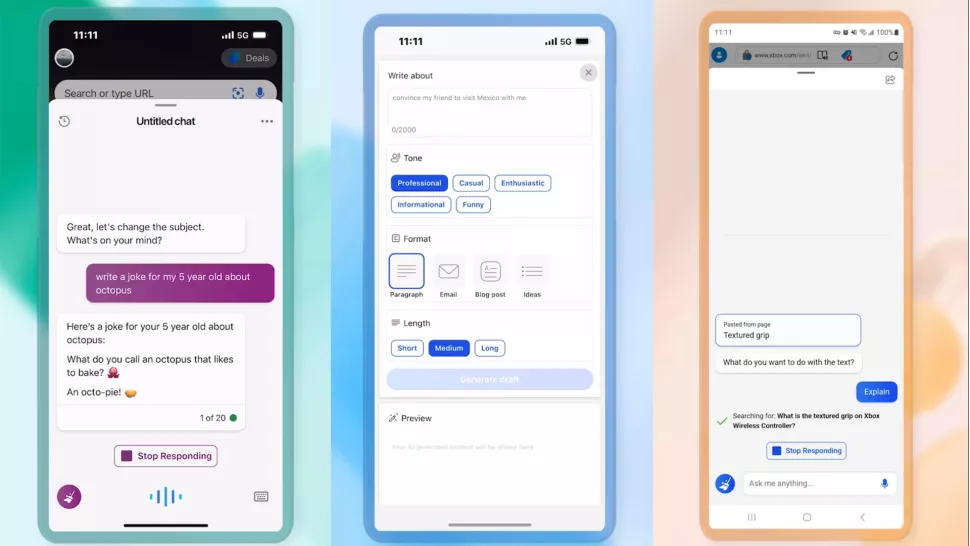 The integration with SwiftKey is another major update that allows users to compose messages and emails using the parameters they suggest. These parameters include the subject matter, tone, length, and format, and users can edit their drafts before sending them. Additionally, two new tones have been added to SwiftKey, witty and funny, bringing the total to six. With this integration, Bing AI can also create eye-rolling dad jokes, so use this power wisely!
Microsoft has also expanded support for Bing AI by adding new support for multiple countries and languages, making it accessible to more people around the world. While the company did not provide a list of all the newfound support, they claimed to have improved the quality of non-English chats.
Overall, Bing AI's latest mobile updates aim to make accessing information easier and more efficient for users on the go. With the introduction of the home screen widget, contextual chat for the Edge browser app, and SwiftKey integration, users can access Bing AI's features directly from their mobile devices. Microsoft's continued investment in Bing AI shows its commitment to improving search technology and making it more accessible to everyone.