Trending Tech
Trending
Apple Serial Number to Lookup – Specs Decoder
Decode Your Macbook Pro Serial Number
Apple Serial Number Decoder
Have you ever wondered how a Mac serial number was created and what the purpose of an Apple serial number is?  An Apple serial number can actually tell a lot about a Macbook Pro, Macbook Air, iPhone, Mac Mini, Mac Pro, or other Apple devices.
Macs have used serial numbers to identify their machines since Steve Jobs was working out of his garage and have come a long way since.
Understanding the format of a serial number can help you find that part you need, check coverage and warranty info, and find a wealth of other information to help when buying or selling a Macbook. In this article, we are going to take a look at how Apple creates its serial numbers in order to lookup Mac's specs.
If you're looking for a quicker solution checkout our Apple serial number lookup to learn all about your Mac's specs, part numbers, processor details, and pricing guide for your Mac.
An Apple serial number isn't just a random combination of numbers & letters. Each digit or character is uniquely assigned to any hardware or software for the identification of specific parts and build information. 
Understanding Mac Serial Numbers
Apple uses serial numbers on the majority of its products from iPhones, iPads, and Macbook Pro, all the way to smaller items like their Magic Mouse. Understanding the serial numbers can help in a variety of instances from repairs to buying or selling.
Let's take at what makes up an Apple serial number. This article will take a look at Apple serial numbers and give you an idea of how you can decode your Mac's serial number on your own.
Techable was created to help as a transparent Apple marketplace. Let's face it, technical specs are complicated. There are a huge amount of configurations for each different Macbook Pro, Macbook Air, iMac, Mac Mini's, iPhone, Mac Pro, and Mac Mini.
We decided there must be a better way. Our Mac Serial Number lookup was designed to educate consumers on Mac specs of 800+ Apple products with detailed specs and pricing guides.

(Click on the image to use our free serial number decoder)
How To Find the Serial Number of Your Apple Product
Whether you have an iPhone, Macbook Pro, Air, iPad, iPod, HomePod, or Mac you have a serial number that can be decoded.  An Apple serial number is as unique as its products. Here's where you can locate your serial number on your Apple device: 
embedded on the surface of your device;

linked to your iTunes account;

stated in the Apple Menu;

shown in General Settings for smaller devices such as iPhone, iPad, iPad Touch, etc.
 Serial numbers are not computer-generated characters. Apple serial numbers are consist of pertinent information like manufacture date and place, specifications, color, and storage capacity. Each number has a common code and structure making it easy to decipher once you understand the structure.
For Apple laptops including the Macbook, Macbook Pro, and Macbook Air, you can often find your serial number on the bottom cover.  You can also find your serial number on your original box.
Alternatively, you can check the "About This Mac" section of your device. For smaller Apple devices, go to the General Settings for the pot of gold.  It is that simple. So make it a habit to know where and what your serial number is in case you encounter problems in the future. This should save you a lot of time.
 Apple Serial Numbers Order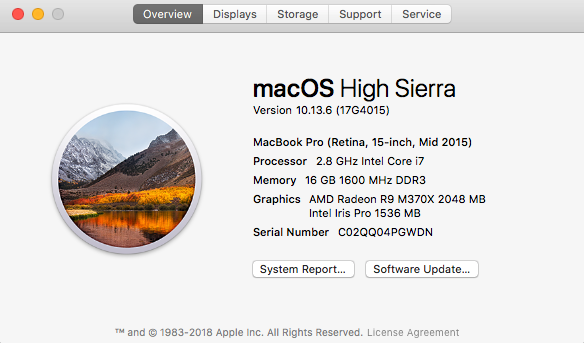 As previously stated, Apple serial numbers are far from incomprehensible gibberish characters.  Once you find the serial number for your Mac you can then learn to decipher it to learn its meaning.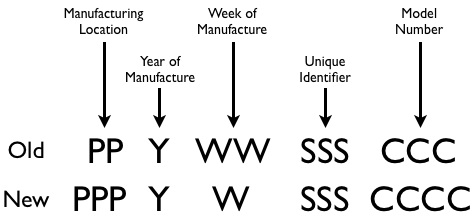 As you can see above, there are two formats in serial decoding you should remember: the Old (11) and New (12), comparatively. Apple started this distinction when it tweaked its format in 2010.
For this reason, it is okay to assume that any model manufactured before that year used the old serial number – yes, 13" and 15" MacBook Pro models, we're looking at you.  Meanwhile, models released recently used the new format. On the other hand, the numbers in the parenthesis indicate how many characters comprise your serial number. Generally speaking, it revolves around that logic. 
The three symbols show the manufacturing location of your device; secondly, the two digits after that tell us the year and the week of manufacture; so if you're curious as to whether your iMac is still trendy, this is the answer. The next three, on the other hand, are unique identifiers, which are common in iPhones, while the last four digits represent the model number of your product.
Knowing Your Location Code
Just when you think that the first three characters of your serial number are simply the abbreviation of the country your device is made, you're mistaken. They are location codes, a mix of letters and numbers, that can determine the location where your Apple product was assembled; likewise, it refers to the factory that created your device or gadget. Hence, it goes as follows:
| Code | Factory |
| --- | --- |
| FC | Fountain Colorado, USA |
| F | Fremont, California, USA |
| XA, XB, QP, G8 | USA |
| RN | Mexico |
| CK | Cork, Ireland |
| VM | Foxconn, Pardubice, Czech Republic |
| SG, E | Singapore |
| MB | Malaysia |
| PT, CY | Korea |
| EE, QT, UV | Taiwan |
| FK, F1, F2 | Foxconn – Zhengzhou, China |
| W8 | Shanghai China |
| DL, DM | Foxconn – China |
| DN | Foxconn, Chengdu, China |
| YM, 7J | Hon Hai/Foxconn, China |
| 1C, 4H, WQ, F7 | China |
| C0 | Tech Com – Quanta Computer Subsidiary, China |
| C3 | Foxxcon, Shenzhen, China |
| C7 | Pentragon, Changhai, China |
| RM | Refurbished/remanufactured |
Accordingly, the year and week of manufacture are also alphanumeric codes, and you'll see them right after the location code. Fortunately, they are simpler to comprehend. You must remember that the fourth character of the serial number is the year of manufacture and whether the device is assembled in the first or second half of the year. The following table shows how to interpret the character:
Apple Date of Manufacture Codes

| Code | Release |
| --- | --- |
| C | 2010 (1st half) |
| D | 2010 (2nd half) |
| F | 2011 (1st half) |
| G | 2011 (2nd half) |
| H | 2012 (1st half) |
| J | 2012 (2nd half) |
| K | 2013 (1st half) |
| L | 2013 (2nd half) |
| M | 2014 (1st half) |
| N | 2014 (2nd half) |
| P | 2015 (1st half) |
| Q | 2015 (2nd half) |
| R | 2016 (1st half) |
| S | 2016 (2nd half) |
| T | 2017 (1st half) |
| V | 2017 (2nd half) |
| W | 2018 (1st half) |
| X | 2018 (2nd half) |
| Y | 2019 (1st half) |
| Z | 2019 (2nd half) |
To simply put, the standard form of Apple's serial number is AABCCDDDEEF. Again, it should be at least 11 to 12 characters, which may vary depending on your device's manufacturing year, or whether it is new or old. Say, for instance, your serial number is 79049XXXA4S, you can decode it as the first two digits 79 for the factory (Foxconn), 0 for the last digit of the manufacture year (2010) and week 49, A4 for the color (black), and S for the storage (16GB, iPhone 4). Hence, these details are enough to know if your Apple product is original and genuine.
| | |
| --- | --- |
| AA | Factory and Machine ID |
| B | The last two digits of the year of manufacture |
| CC | Week of the product production |
| DDD | Unique identifier |
| EE | Color and Model |
| F | Storage Capacity |
Thus, understanding these characters unlocks more intricate details about your device. For example, your serial number can tell you the age of your product, or if your warranty is still valid. It can also inform you about the coverage of your AppleCare plan, or if your gadget is locked or not.
Serial Number Decoder with Specs & Pricing 
apple serial number Lookup tool
Techable has created an easy way for you can find all of your Mac's specs and current evaluation just with your serial number. Users can get help from us here in Techable because we have designed a modern way of decoding the serial number of Apple devices.

Techable has created a database of 800+ Apple products specifically constructed to be a reliable resource for Apple users in learning about your Mac or iPhone. Our "Techstimate" price guides can also calculate the current fair market value of your Apple product. If you're in the market for an Apple Macbook Pro, iPhone, iPad, our Techstimate pricing can help you understand the worth of your device.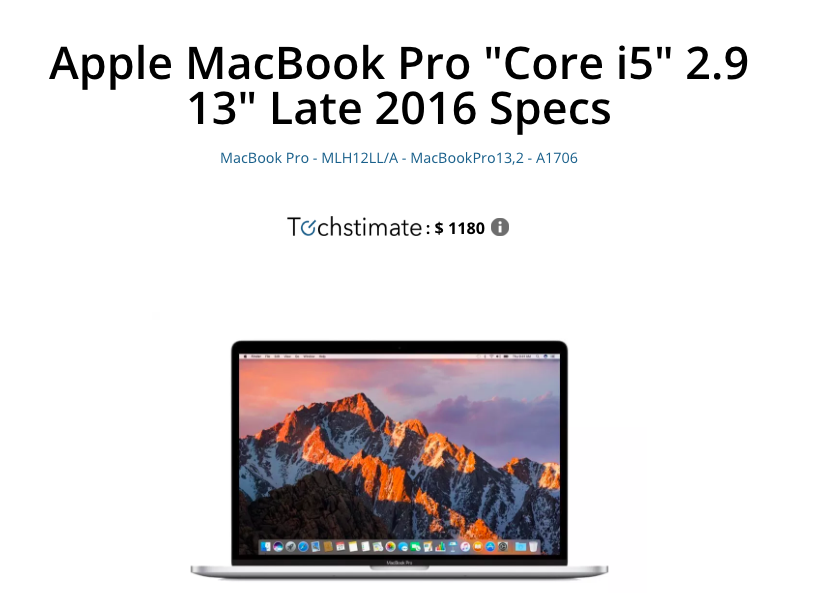 Understanding your device and fair market value can assist when trying to buy or sell. Consequently, this technology is beneficial in creating a more transparent Apple marketplace for it tells you the current value of your device. Love Apple? Bookmark Techable.com for Apple News, Reviews, Serial Number Lookup tool, and pricing guides for every Mac in existence.
The Power of Decoding
While it is true that you can find all the information you need in the settings option of your Apple devices, there are advantages when you know this system of codes. After all, you can never predict when your MacBook Pro suddenly crashes. Thus, learning the serial number of your Apple may help you because you may have to replace important parts of your device in the future.
Others may question the relevance of knowing how to decode your Apple serial number; let's be real – it's kind of geeky, and it's not easy at first. Your gadget is more secure when you understand the data you're seeing; so it is an advantage that you know your Apple product this well. After all, you spent thousands of bucks for it. 
If you are an Apple user, we urge you for curiosity's sake to learn how you decode your serial number. Need help learning about an Apple serial number? You can use Techable's serial number lookup to locate your Mac's parts for repairing a Macbook Pro or Air. In the case of repairs or replacements, you can immediately look up all the specs and relevant information needed for your device. If you need any help with a serial number lookup. 
Buying a Mac? Think Refurbished
We've been selling Refurbished Used Macs for over a decade and have nothing but glowing reviews throughout the Internet. We noticed there's a lot of confusion and deception in the industry. Sellers on large sites like eBay and Amazon use confusion tactics to trick their unsuspecting customers to purchase old Macs. These sellers while representing them using a serial of deceptive tactics. Consumers buy overpriced Macs because they simply are uninformed.
Macs have gone through a lot of changes over the past decade and we want everyone to have the opportunity to buy a Mac at an affordable price.
Update 1/13/2020
Rumors are popping up that Apple has decided to randomize their serial numbers using a new system. See full news article
[/et_pb_text][/et_pb_column][/et_pb_row][/et_pb_section]