Being a gamer, we all focus on gaming PCs, graphic cards, processors, monitors, and even the cases that come with them for the best gaming experience. What we often forget is the chair. Various studies that have been conducted concluded that an average person spends around 10 hours a day in front of the PC. People experience musculoskeletal issues like back and neck pain, hand stiffness due to sitting in the same position for a long time. So, getting a quality computer chair is equally important.
There are plenty of chairs in the market specifically built for gamers. The manufacturers have worked hard, did their research, and have modified office chairs by adding headrest pillows, heaps of padding, and armrests. You can also comfortably recline back. These upgraded features not only avoid the musculoskeletal issues but also support you to do your work efficiently.
In this article, we will tell you the 10 best gaming chairs that will not only be pocket-friendly but also have a comfortable build so that you can sit on them for a long time.
AK Racing Core Gaming chair

X Rocker Surge

STAPLES Hyken

OFM Essential Collection

Hbada Gaming Chair

OFM ESS Collection Gaming Chair

PC Gaming Chair Massage Office Chair

Ace Bayou X Rocker Vibe 2.1 Chair

Flash Furniture High-Back Chair

X Rocker Pedestal Gaming Chair
AK Racing has made many top-rated gaming chairs that provide benefits to gamers. Their basic model is the Core Series EX. This series has a mesh fabric chair with strong features and great support and comes at a very reasonable price.
Design:
The Core EX is upholstered in a mesh-like polyester fabric which feels pleasant unlike the polyurethane leather (PU). This gives a leather-like feel, indeed a very good alternative. Other than the upholstery, the Core EX is manufactured similar to other chairs of AK Racing and other gaming seats.
Coming to the build, it utilizes a metal skeleton and has a dense foam cushioning along with the backrest, seats, and also the sides of the chair. The cushioning is focused around the surfaces of the seat that have direct contact with you whereas the back is hollow, apart from the cushioning that is wrapped around the metal frame itself. The Core EX has a dense and supportive design. It can carry up to 320 pounds of weight capacity with measurements appropriate for users with a (BMI) up to 29.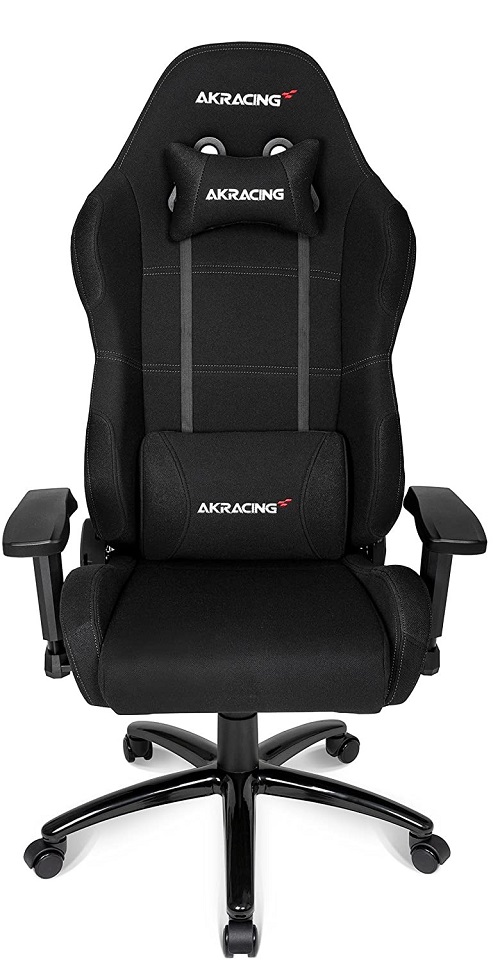 The chair sits on a five-legged base that is made of dark aluminum and also accompanies the five free-spinning 2.5-inch casters to allow you to move around freely. The base also has a standard hydraulic cylinder so that you can change the seat height from 16.9 to 20.2 inches through a lever- pull on the right side of the lower part of the chair. The Core EX is accompanied by two removable pillows.
One is an ahead pad that fits on the headrest with a versatile strap. And the other is a lumbar support pad with two flexible elastic straps so that you can slide up and down according to your comfort. They're made from the same fabric as the upholstery. You can remove them too as they are not fixed.
Apart from reclining, swiveling, and tilting the chair, another feature is that you can also adjust the PU rubber armrests. There are three bolts under each arm which are used to change the distance between the armrests and the sides of the seat. You can likewise move up and down or slide back and forth through the handle under each arm. Therefore, you can easily adjust your posture and can play games for a long time without having any issues.
Comfort:
AK Racing Core Series has used a cold cured foam on the seats for its padding. This is usually found in higher-end gaming chairs as the biggest advantage of the cold cured foam is that it keeps the shape for a longer period of time. It is therefore very comfortable and a fabric-covered alternative to the PU leather models.
Pros
Great build quality with no squeaking
Cold cured foam padding for better shape
You can easily recline the backrest horizontally
Armrests are adjustable
Cons
Some people may feel that the seat cushion is a little bit hard
Conclusion:
Overall, AK Racing's entry-level Core Series EX gaming chair is comfortable as well as adjustable. It has a very elegant design and comes in red, blue, and black color. It is upholstered in fabric which is great for those who don't want leather-like seats. It is definitely worth buying as you can get all that a gamer wants in a chair.
If you are looking for a gaming chair but want a different look or you are someone who likes to sit on the floor when gaming, then this X Rocker is the ideal gaming chair for you.
Design:
X Rocker chairs are designed like a normal rocking chair to allow for rocking while you sit. Not only this, the Rocker chair has a built-in speaker system that will directly deliver the audio of the game or movie to you. The open interior design of the chair reacts to the bass that causes vibrations in the chair during the peak moments in gameplay or movies.
This interactive sound technology can make your gaming experience more vivid and will make you feel as if you are part of the game in real life. You can also change the volume and bass of the chair according to your preferences. or you can even avoid the audio if you prefer. Similarly, if you don't like the vibrations, then you can turn down the bass and use your chair for sitting or rocking.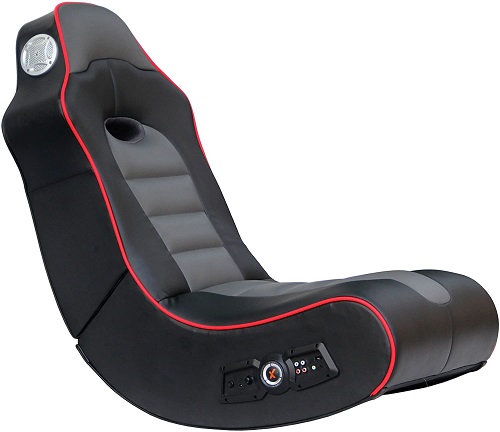 The X Rocker Surge sound gaming seat likewise has a built-in Bluetooth. So, you can easily connect the audio wirelessly to your favorite Bluetooth devices. The control board has the option for input and output jacks too. Therefore, you also have a wired connection available in this chair.
The design itself looks very sleek and great. The chair material is made of fabric and leather. Stitching and the red piping is an eye-catching display that will attract many people. The second appealing feature is the ability to connect devices to listen to music through Bluetooth. Lastly, the dual 2.1 speaker system with a subwoofer that offers such great audio quality is another big bonus.
Comfort:
The Surge Bluetooth chair offers a smooth ergonomic design so that you comfortably sit while you are gaming, watching a movie, or just simply relaxing. The fabric and PU material looks and feels incredible. You can also fold it in half when you are not using the chair. One feature that it lacks is adjustability features. It's like the production company went for a "one size fits all" approach.
Pros
Built-in Bluetooth feature to connect with your favorite gadgets.
Dual speaker system with a subwoofer that will enrich the sound gaming experience.
Ergonomic design
The chair is designed to vibrate with the bass of your sound that is controllable.
Reasonable price
Cons
Lack of adjustability feature
Conclusion:
If you want a high premium sound, wireless technology, and comfort in one chair then you should definitely consider this product. Listen to music on your phone by simply connecting it with Bluetooth and enjoy the music via chair. X Rocker chair stands out among the other gaming chairs in the market. We highly recommend this product.
If you're looking for an ergonomic chair that is budget-friendly too, then the Staples Hyken Technical Mesh seat is something you should see before buying any chair. You can use this as an office chair or for normal use too. Its reasonable price as well the name itself has additionally earned the praise too.
Design:
The build quality of the Hyken is very good, yet it is more plastic material than the Aeron and is also light in weight. Whereas the base is made of thick plastic with pretty good quality wheels. Another component in this chair is the speed and responsiveness of the lower mechanism.
It has a quick response for lowering or raising the chair. The side to side turning is likewise responsive too. The Hyken measures 27.3 inches deep, 27.2 inches wide, and 45.3 to 49.8 inches tall. With that size frame, this chair permits a maximum weight of 275 pounds. The Staples Hyken seat has an adjustable feature so that you can alter it according to your solace and body size.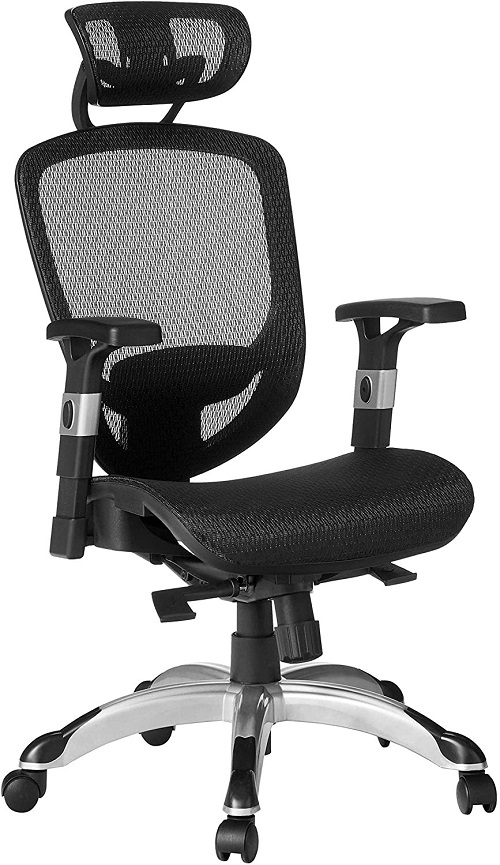 You can also tilt the chair so that you can sit at the right angle. Once you set the ideal angle, then you can lock it to set it safely. Therefore, it will save you time from adjusting the chair every time. The Staples Hyken has a height adjustment too that will avoid neck and shoulder strain and make you sit comfortably. This feature is useful if you are using the chair for multi-purpose.
The task chair has a designed mesh high backrest that is used for lumbar support. It likewise has a headrest and neck support. The nylon frame is particularly shaped to provide maximal support from the base of the neck to the shoulder and then down the lower back.
The comfortable mesh fabric keeps the back comfortable and the spinal cord more aligned and rested. The seat also has a unique curving design that provides more comfort to the body while you are sitting on the chair. Apart from back support, this ergonomic seat design keeps the normal blood flow to the lower extremities. As a result, it assists the user to avoid muscle cramps and leg pains that occur due to long working hours.
Comfort:
Sometimes it happens that the chair looks really appealing but when you sit on it, you feel like you are sitting on a rock. However, this isn't the case with this chair. The Hyken chair is pretty comfortable with a mesh seat that is even more flexible.
As it has lumbar adjustment, you will feel more comfortable while gaming or doing normal tasks. It raises up to about 6 inches. People will love the ergonomic support of this chair. The armrest, back frame, and the remaining of the 5-caster base are made from premium nylon. The armrests have a delicate and smooth finish to improve comfort, while the edges have a strong bonding mechanism for the attachment of mesh cushions.
Pros
Incorporates Lumbar, Headrest, and Neck support
The high back seat is comfortable
Armrests and seat height are adjustable with tilting backrest
Durable Design
Cons
The seat cushion is comfortable however it has minimal support for the mesh fabric
Conclusion:
Overall, the Staples Hyken is a mid-priced chair that is known for its breathability from the headrest to all the way down the back. This chair likewise includes a variety of ergonomic and lumbar support with adjustability features like the seat height, armrest adjustment, and so on. It has indeed provided solace to the customer. The Staples Hyken Technical Mesh Task Chair keeps you cool and relaxed with its technical design which is designed to help you stay productive for long hours at work.
The OFM Essential Collection chair mimics the race car style that provides not only comfort but also luxury style chairs. Regardless of whether you are in intense gaming sessions or have a long workday, then this chair is definitely to consider.
Design:
The OFM Essentials Collection is the place where quality meets value and now it's taking the desk chair to a new level. This OFM Essential Video Game Computer Chair is professionally designed for gamers. At first look, you will be enticed by the modern design which resembles the interior sports car.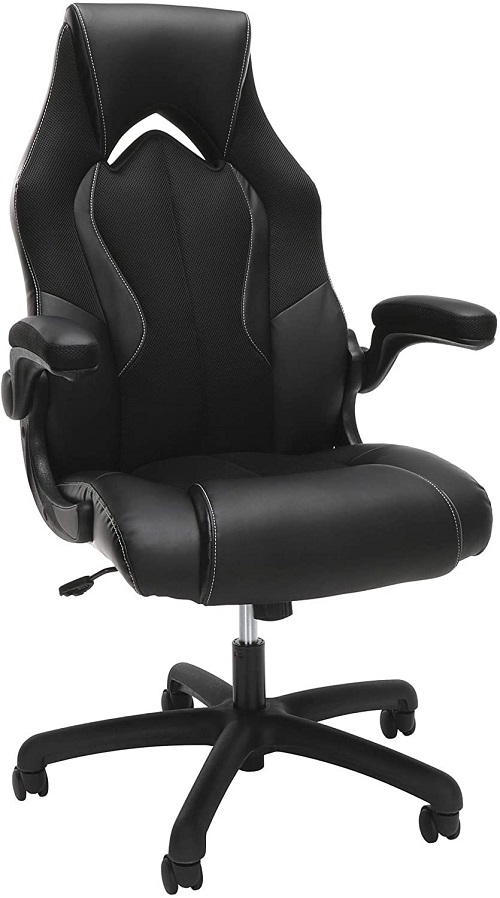 The whole set is delicate, smooth, clean-cut matte black and red PU leather that improves the quality more. It comes in different colors that will upgrade your gaming environment. This gaming chair likewise deals with taking care of your health. Therefore, it is designed with S- shape high back feature that is fitted with a movable headrest for providing you with extra solace and support.
The thickly cushioned armrests can be moved up and down according to your body support and comfort. Another feature incorporates seat height adjustment, tilt-lock control and it also has a 360-degree swivel. The OFM chair has a high-quality build and look and is backed by the OFM lifetime warranty. It can carry a maximum weight of up to 275 lb.
Comfort:
Coming towards comfort, the pad used in the OFM chair is of high-quality material that comprises sizable, thick multi-layer foam. Due to which it remains in perfect shape for a longer time. Overall, there are no complaints about the comfort of this chair.
Pros
Ergonomic chair with 360 swivel
Adjustable chair
Premium build quality and durable
Cons
Few people felt poor back support
A bigger person may feel uncomfortable while sitting
Conclusion:
Regardless of whether the battle game is going on through virtual reality or in the boardroom, the OFM Essentials Collection High Back Racing Style is the perfect chair for you. It comes up with delicate, flexible leather material which gives an upscale look. It also has all the adjustable features to provide you comfort all day. You should take a look before finalizing your decision.
At first impression, the Hbada Racing Style Ergonomic Gaming Chair looks similar to the typical gaming-style chairs. You can see some nice looking details and shapes on the chair with the backrest that has classic molding and shaping.
Design:
Featuring a racing style and an ergonomic design, the Hbada chair is covered with durable PU leather. As it has a high-back, you will get all the support that you need for your entire body. This chair has adjustment features like seat height and armrests.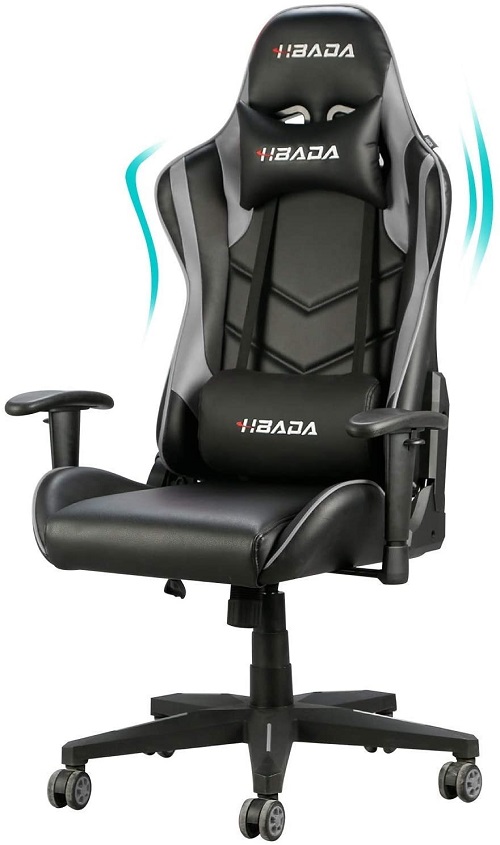 You can also recline the back seat between 90 and 155 degrees. Furthermore, the Hbada Gaming Chair Racing Style likewise accompanies a removable headrest and lumbar support cushions that you can put where you want to or you can even remove them. The Hbada chair is flexible as it has the ability to swivel 360 degrees. It has a maximum weight capacity of 300 pounds.
Comfort:
One thing that is clear about this Hbada Lumbar Support Swivel Chair is that Hbada aims to give comfort in many areas. The most prominent feature is the padding for the support around the neck and lumbar areas. Truly, this chair offers more padding than other ergonomic chairs. Not only this, you get a decent amount of padding in the seat as well as to the backrest and armrests. Another great feature to provide you with more comfort is the footrest which you can pull out from underneath the seat.
Pros
Ergonomic Design with lumbar support
Solid Base
Available in more colors
Comfortable seat
Conclusion:
Overall, this chair can be an incredible expansion for your gaming room. It is easy to assemble and is of high build-quality. Not only this, you get pillow support and leg rest to make you feel more comfortable while gaming. The chair also reclines back and that isn't something you see in other similar chairs.
In case you're tired of the racing design gaming chairs, then the Essential Gaming chair is another refreshing seat that will catch your eye. It has a compact and non-discrete design for providing you with maximum solace. It can easily blend in your room or your office even when you are not gaming.
Design:
A gaming chair is a type of relaxing chair that is made for particularly gaming as most gamers spend most of their time on it. This chair is one of them. It has a swivel 360-degree rotation with a bunch of wheels so that it can smoothly move. You can also adjust the chair according to your height.
Coming towards its design, you can see its legs spread out under the seat and are divided into smaller parts that are attached to the wheels. And these are known as casters. The sides of the seat have extra cushioning to save you from serious back issues. Also, you can see that the hands of the backrest are pushed towards the inward side, this is also made to maintain a healthy body posture. The detailing and extra cutouts look very appealing so far.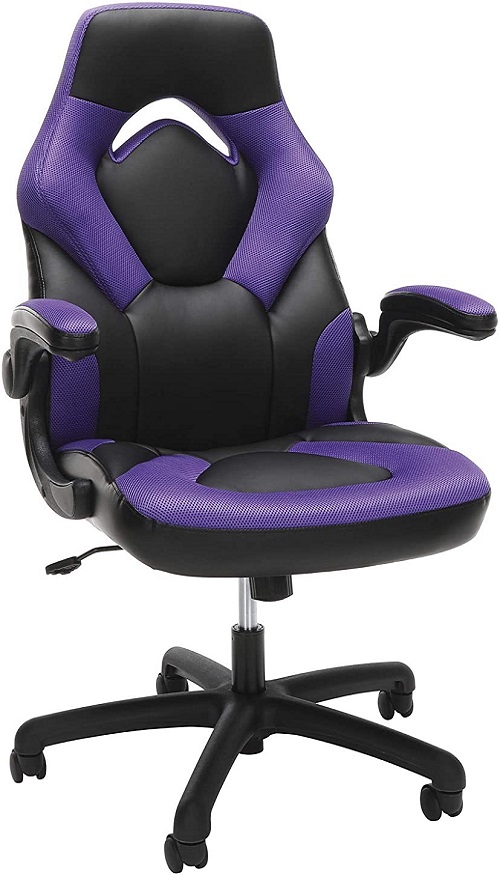 Those who have used it are very much impressed by the quality and comfort of the chair especially when you consider this under the reasonable price range. The seat is upholstered in Soft-thread Leather, which is a softer version of the normal PU leather covering. It even feels good when you touch it.
The only drawback of this chair is that unlike other chairs, it does not have extra features. Like, the backrest tilts only when you apply pressure on it. It still doesn't lean back. The armrests are not that adjustable, however, they do flip up for giving you some space. If all you want is a comfortable chair to sit in while you can work or play games, then this chair is more than enough for you.
Another great feature that includes in this chair is its top erosion-resistant PU that won't permit your sweat and residue particles to damage the outer side of this seat. To give an extra-long life span, this chair has unique HDPE Plastic which will save you from the replacement of the covers at a high price. PU and nylon casters give it adds more strength for stretching. Lastly, it has a standard 3 SGS gas lifter for smooth movement in the vertical direction. This will not cause any obstructions while you are gaming. This chair is indeed durable and worth buying.
Comfort:
Now let's talk about the comfort of this chair. It has a top-notch pad that won't permit you to make any complaints after using it. They are durable and can regain the original shape even if you have been sitting for several hours. The next reason is it has segmented padding on the back as well on the seat that keeps you even more comfortable during long intensive sessions.
Pros
Reasonable price as compared to other competitive chairs.
Durable and comfortable seat
Folding armrests
Lifetime warranty on the chair frame and 36-month warranty for parts
Cons
The back seat tilts back only when applied pressure
Few people experience quality control issues
Conclusion:
Overall, this video gaming seat will assist you to give your best without any objections. Its gas-filled feature gives a superb experience while swinging on it. You will definitely get up from your place again and again while working or playing your game as it has a comforting seat. Considering all the features it has like extra cushioning, adjustable head, and armrest, you can still consider it as a great gaming chair. It comes with a reasonable price that won't cause a burden on your pocket. You can get this comfortable chair in different color options available from minimalistic color to funky colors.
The Office PC Gaming Chair is a great gaming chair for gamers and even those who want to look for office work. It is pocket-friendly as well as provides adequate support for your back, arms, and neck. What's more appealing is the look, it is wider than the average size office chairs hence this chair is suitable for bulky people.
Design:
The build quality of the PC gaming chair is remarkable. You will see great finishing that reflects the excitement of the manufacturing company. Other than astounding build quality, it is likewise easy to assemble. You don't need an expert to join the parts of this chair. You can assemble it within 10-15 minutes. It has a weight limit of 250 pounds. Another great feature that makes it stand out from others is its built-in vibrator. It offers comfortable seating which is perfect for intense gameplay.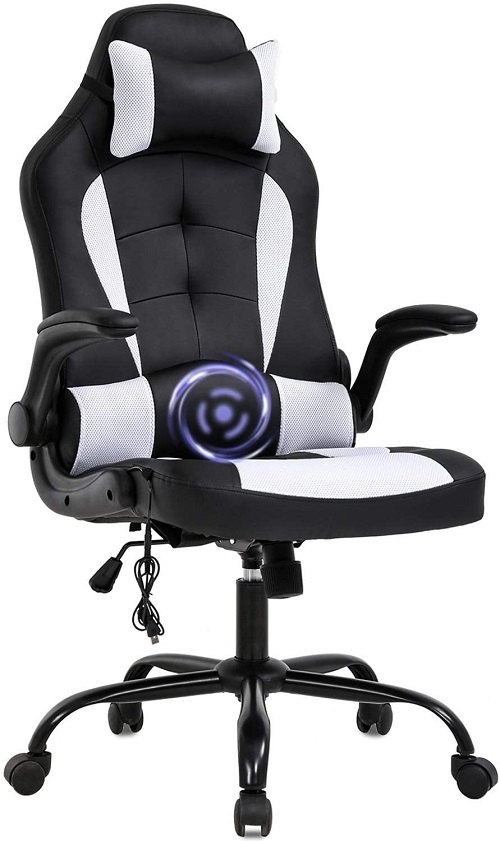 This chair has adjustable features like you can adjust the height according to your sitting preferences. You can likewise adjust the armrest too. To give you more comfort, it comes with an adjustable neck pillow that is very soft. Furthermore, it provides adequate cushioning on your neck to relax you while you play. It likewise has a flex control for the rocking. The locking mechanism helps to keep the chair upright even while rocking. And also ensure that your body should get all the adequate support.
With the SGS BIFMA gas lift, you can easily move the chair up and down without any hindrances. The heavy metal on the base makes the chair more strong and stable. This credit also goes to the durable 360-degree swivel casters. It comes in more than 5 color options to fit impeccably with your fashion sense.
Comfort:
The leather chair is built to provide you with maximum comfort. Not only this, but it also comes with a breathable design and ergonomic curve to support your neck and back. Indeed, it will give you the best experience. Secondly, the well-padded structure of the chair also adds to giving you extreme solace. Regardless of whether from the headrest, the armrest, the lumbar, or even the footrest, you will get maximum support without any issue. You can adjust the chair according to your comfort level.
Pros
Ergonomic design with a comfortable seat
Lumbar support to avoid back pain
Affordable price
Great adjustability feature
Easy to assemble the parts
Cons
Material is not breathable enough and can get a bit sweaty especially on hot days
Conclusion:
In conclusion, this is an excellent office or gaming chair which comes at an affordable price. The super-padded on the back will support your body while you are gaming or working. It has an ergonomic design with comfortable seats. You can sit and relax on it even for long hours. It has a stunning and durable design that makes the chair trustworthy to buy it.
Another great product from the X Rocker series is the Ace Bayou Vibe Sound Chair. This chair is good for traveling purposes as well as for home as it comes up with folding armrests and is lightweight. Therefore, it is easy to move this chair. If you also want something that can work with a Bluetooth device as well as for gaming too, then the Ace Bayou X Rocker Vibe will be your smartest choice.
Design:
The main thing which will attract you about this chair is the striking color combination of red and black. X Rocker chairs are known for producing reasonable chairs in the market and this is one of them. It resembles a DXRacer chair in terms of design. Other than great looks, this chair has much more to it like you get an ergonomic design that will keep all gamers in this chair for a long time. They can play intensely without any back pain or aches.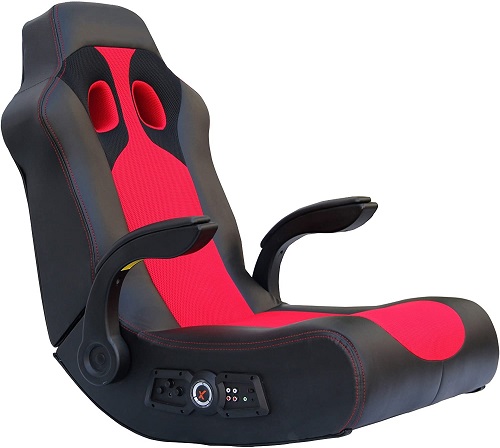 Coming towards the fabric, the cushions are made from fabric instead of leather. The mesh fabric used on the backrest and seat will prevent you from sweating and will keep you cool. The shape of this chair is to keep your sitting posture straight. This is different from most Rocker chairs as it doesn't cup you in. As a result, it is beneficial for your back as well as it also helps you to keep your eyes at the level of your monitor.
Likewise, the height of the armrest also makes you comfortable as they are adjustable. You can lift it if you want to. Another great feature is that this chair has two speakers and has a fantastic subwoofer. Furthermore, it also incorporates a vibration motor so that you have your great gaming experience. You can also plug-in your headphones in the chair.
Ace Bayou chair gives you an option to hear the music wirelessly or you can listen directly from the chair. You can also connect Bluetooth devices with the chair. There is also a volume and bass controller that will permit you to change the loudness and bass easily. The chair is very lightweight so you can easily fold it up and move it from one place to another. It can carry a weight limit of 275 pounds.
Lastly, the Ace Bayou X Rocker chair works well on the floor as it won't leave any scratches on the floor. Unlike some other chairs do, as they usually have an aluminum or metal base that damages the floor. This chair is great for all users, not just gamers.
Comfort:
As this chair is one of the line ups from the X Rocker, so they will never compromise on providing solace to their customers. You can sit for a long time without having a sore feeling. Serious gamers know that when you sit on a chair for a long time, you have to continuously stand up or stretch to wake up your body. However, you won't be finding any of these problems while sitting on the Ace Bayou. It will make sure that you get all the comfort you deserve.
Pros
Great sound experience.
Built-in vibration motor
Comfortable seat
Bluetooth connectivity is available
Lightweight and foldable
Cons
The power cord should belong as it has a limited length i.e. 4 feet
Conclusion:
Overall, the Ace Bayou X Rocker Vibe will be a perfect choice for those who are looking for a gaming chair that has built-in speakers as well as Bluetooth functionality. The comfort is great and you will get a great sounding experience from the two top-notch speakers. In addition to this, it also has subwoofers and vibration motors to enhance your experience. We recommend you to take a look before finalizing your decision as some users have complained about the seat sinking in.
This Mid-back Office chair from Flash Furniture offers an ergonomic design with a mesh back at price under $200. It doesn't have a standout feature but it is definitely a good choice for someone who needs a budget-friendly office chair. Let's get into its detail.
Design:
This chair has a mesh material that incorporates the inside of the seat's back and is made from a breathable mesh that helps you on hot days. This will provide proper ventilation and encourage airflow. This feature is something you won't see in hard leather chairs. The Flash Furniture Mid-Back Mesh Chair has built-in lumbar support for your lower back. Not only this, but it also supports your middle and upper back regions to avoid any strain or pain.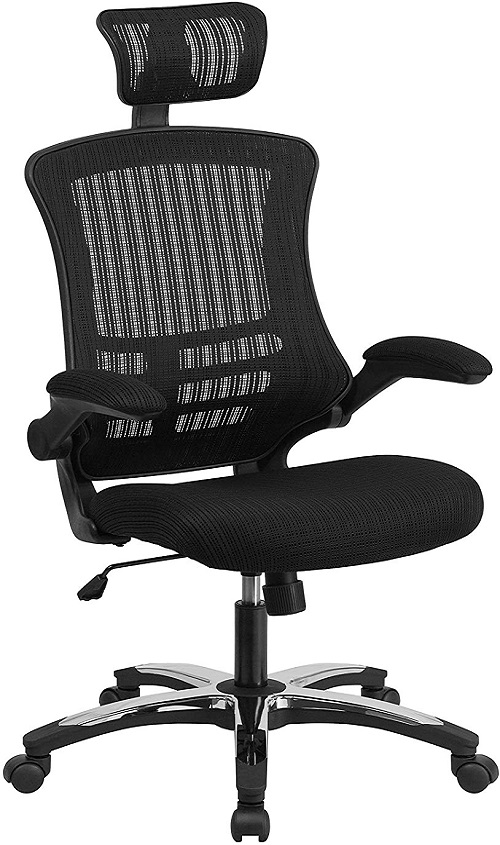 The seat is upholstered with soft leather and has a waterfall shape to maintain your posture. This shape is also to eliminate pressure from the lower legs and improve the overall body's circulation. The armrests on the seat are cushioned, and you can additionally flip it up if you need more space for your tasks.
However, they are not adjustable when it comes to height. With regards to flexibility, this chair does not have any more options. There is a knob beneath the Flash Furniture chair which can lock the chair in the upright position and can also adjust for reclining the seatback. The chair has a 360-degree swivel for ease of movement while you are gaming. It has a weight limit of 250 pounds which may sound low for an office chair.
Comfort:
When it comes to giving comfort, this chair doesn't lack behind. It has very comfortable seats and is incredible for long working hours or even for playing games. It has a stable design which will help you to concentrate on your tasks while you are sitting on it. Overall, there aren't any complaints regarding it.
Pros
Easy to assemble
Built-in Lumbar support for maintaining the posture and avoiding back pain
Comfortable mesh-back
Cons
Less adjustability options
Low weight limit
Conclusion:
Overall if you are searching for a Flash Furniture Office chair, you will find a positive response from the people who have used it. There is a lot you can like about this chair such as the price range, ergonomic design, comfortable mesh back, and so on. While it lacks an adjustability option, it is still a very decent chair to consider for people who are looking for a reliable office chair.
If gaming is your obsession, then you surely spend long hours in front of your PC. And for that, you need a comfortable chair that will enhance your gaming experience as well as avoid the back pain problem. The solution is this X Rocker gaming chair which is aesthetically pleasing and you will love it for sure.
Design:
The X Rocker usually keeps it simple with regards to the designing. Some people may consider it as a simple design. This is because it is made up of plastic material. The armrests and base of the seat are a mix of grey. What's interesting is the control panel that is within the reach of your hands on the armrest with a button in the middle to keep up their signature. It has a solid base with leather seats that do look like an office chair but the executive one. The seat is relaxing and comfortable.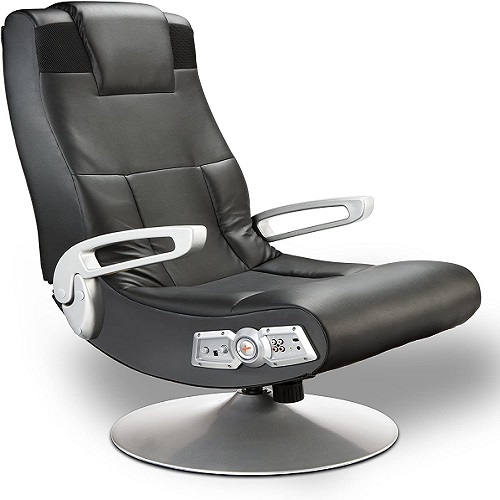 The X Rocker Pedestal Video Gaming Chair is compatible with a variety of systems like the Xbox One, PlayStation 4, and Nintendo Wii U, and so on. Nonetheless, that is not all that the X Rocker Pedestal Video Gaming Chair works with, as this seat is additionally ideal to use at a gaming desk and also works with MP3 players. The 2.1 audio system gives top-notch sound while the built-in subwoofer gives you each bass drop.
A side control board makes it simple to change the volume and bass without letting you get out of the chair. The included earphone jack will permit you to connect a bunch of earphones and make the most of your game without upsetting anyone near you.
Next comes the durability of this X Rocker. They don't mess when it comes to the durability of their item. The base of the chair is sufficiently thick to withstand extensive weight, and the inside has thick padding with a great deal of cushioning. The upper portion of the chair and the base are connected directly, thus it helps to eliminate the chances of separating these two.
The entire chair is loaded up with thick cushioning to provide you with enough durability in the chair. The drawback is that the seat isn't intended for individuals with heavier weights and tall heights. It's generally intended for the youth, especially young adults who are slightly under 6 feet. They can easily sit without breaking the chair under extreme pressure. People who are taller and on the heavy side may have to look at other X Rocker chairs.
Comfort:
For gamers who spend hours on gaming, comfort is an essential factor. Even various researches have been conducted that state these people need to have a supportive and comfortable chair as they are sitting for a longer period. So, for that, X Rocker did their best in comforting and supporting the gamers. As it has guaranteed that your gaming experience will not be interrupted due to any discomfort or pain.
After using it, X Rocker is indeed a comfort-oriented chair. The leather material and overall build aim to minimize all the discomfort and aches while giving you the best gaming experience. What makes it even better is the tilt-tension control feature. You can either rock it quickly or tilt-back depending upon your comfort. Furthermore, it enhances your comfort with the extra cushioned headrest that supports your back when you lean on the chair.
Pros
You can easily rotate for flexibility
Pedestals are adjustable
High backrest to provide you comfort
The speakers give a great audio experience which you can regulate to
Cons
The X Rocker chair may not support taller and heavier people
The chair does not support a microphone
Conclusion:
Overall, the X Rocker will not disappoint anyone in terms of giving out an affordable gaming chair with great functions like a built-in audio option. They never compromise on the quality. With the X Rocker chair, you will surely get a comfortable gaming experience with a flawless audio system that will keep you to play games for a longer time. The control boards that are within your arm range helps you to customize your audio experience. Truly, X Rocker is more than just a gaming chair. So, if you want something that gives you more function, then this chair is what you should buy.
FAQs:
Q1. What is the Cost of Gaming Chairs?
Ans: Well, it has a broad answer as many chairs in the market come at an affordable price as well as cost hundreds of dollars. It varies depending upon the functionality and features those gaming chairs are offering. Some features may include audio, a massage unit, console connectivity, and many more. Therefore, it's important to determine your budget and also what features you want in your chair.
Q2. What advantages do you get from Gaming Seats Over other Chairs?
Ans: The main advantage is comfort. Gaming chairs are designed so that they can be used for prolonged sitting. You can see a lot of office chairs that are usually designed just to blend in with the office environment but they are not friendly with your spine if you are sitting for a long time. As a result, you experience back pain problems. On the other hand, gaming chairs are made with a soft material so that you can spend hours on them.
Secondly, gaming seats accompany unique features that make them different from the other chairs. Like you can get sound speakers in the headrest, or you can control certain features of your TV after syncing. So, overall the main and important benefit of a gaming chair is comfort and rest. Many chairs offer that depending upon the brand and price.
Q3. Can Gaming Chairs Help you to Improve your Gameplay?
Ans. Yes, definitely, it does help but only on certain factors. For instance, a gaming chair with vivid sound will help you to be more alert in the game. This can be determined by the quality of your headphone too as not all sound systems are built equally. Secondly, you will be more relaxed while sitting in the gaming chair. As a result, you will be more focused on defeating your enemy team in a game.
Q4. Do Gaming Chairs Help in Maintaining the Posture?
Ans. Well yes, if it is used correctly. A gaming chair is an incredible way to improve your posture while using the PC. It's better to check whether you are buying an ergonomic chair or not. This means that the chair has been designed for your good health too. These days, almost all the office style or racing style chairs come up with lumbar support and some chairs additionally have extra lumbar pillows.
Q5. How are Mesh Gaming Chairs for Buying?
Ans. The gaming chair with mesh-back is really good to sit comfortably while playing or even during office tasks. These chairs have gained fame in recent years and many chairs are now being incorporated with mesh. So, you can buy that too.
Q6. Can we use Gaming Chairs for Studying?
Ans. Yes, just like any other comfortable chairs, you can also use gaming chairs for study purposes. As they are really comfortable and will help you to focus more on your studies. You can even adjust the position of the chair according to your comfort.
Q7. How to Connect my Gaming Chair with a PC?
Ans. It's very simple to connect a gaming chair with your PC. You just have to plug one end of the sound cable which comes with your gaming chair into the audio port and then plug the other end of the cable into the audio port of your PC.