Apple News
MacBook Pro 16-inch Prices, Specs, Release Date
MacBook Pro 16-inch Everything You Need to Know
Finally, the new MacBook Pro 16-inch is here. Yes, you heard it right. It marks the first time that Apple would be releasing a MacBook Pro with a 16-inch display configuration. This year has seen two minor updates on the MacBook Pro series. The MacBook Pro 15-inch and MacBook Pro 13-inch has slightly been updated but are still basically the same as their previous year's predecessors.
What's New with the MacBook Pro 16-inch
The Keyboard – Out with the Butterfly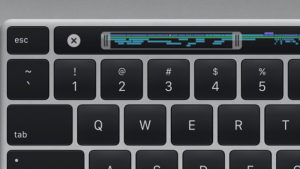 Image courtesy of Apple Inc.
If there was something that we were genuinely looking forward to it would be the new keyboard. One of the first things we noticed with Apple's new laptop is the return of the physical "esc" key. This really wasn't much of an issue with its equivalent on Apple's Touch Bar. But they shouldn't have made a simple "escape" too complicated either. However, one drawback is a smaller Touch Bar but that didn't take too much away from the added convenience of an esc key.
The MacBook Pro 16-inch also comes with a new "Magic" keyboard built on a "scissor" mechanism. This in what many see as an acknowledgement of the many complaints plaguing its "butterfly" keyboards which has been in use since 2015. Common complaints about the old "butterfly" keyboard include keys that register twice when tapped once and keys that don't respond at all.
The new keyboard feels more comfortable and surer to the touch. It now has 1mm or travel compared to the less than .8mm before found in the old keyboard giving it that extra bouncy feeling. The keycap-structure also comes with a concave, rubbery dome for added support and comfort.
Bigger Screen, Same Price
The new MacBook Pro 16-inch is the largest since the MacBook Pro 17-inch was introduced in 2011. We all know how screen size has been a major factor in determining the price in Apple laptops. The price difference between a MacBook Pro 15-inch and MacBook Pro 17-inch for example is considerable. But in this case, the 1-inch difference between the MacBook Pro 15-inch and the latest MacBook Pro 16-inch did not play a role in determining its price.
Prices for Apple's 16-inch MacBook start at $2,399 which is basically the same as it 15-inch MacBook Pro counterpart. This makes it a no-brainer for people planning to purchase the current 15-inch MacBook Pro.
Bigger, Better Display – But still no 4K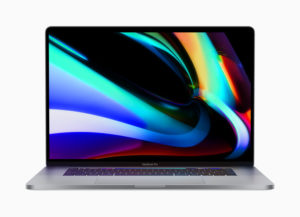 Image courtesy of Apple Inc.
The MacBook Pro 16-inch sports one of the brightest and most colorful panels, packing a 3072 x 1920 resolution for a 226-pixels-per-inch count and 500 nits of high brightness. However, this is not a 4k screen which can make it deal breaker for professionals working with 4k video or content. The upside is that this resolution makes up for longer battery life.
The slimmer borders are the result of thinner side bezels. This makes watching or editing videos a richer and fuller experience. Although it lacks a 4k resolution, professionals can certainly take advantage of tweaking the refresh rate on the display.
6-Speaker Audio  
Stunning visuals plus high-quality audio makes for great entertainment. Another thing that got us excited was the 6-Speaker audio system. The difference of listening to my favorite tunes on my old MacBook Pro 15-inch 2015 was night and day, and that's an understatement. Turning up the volume did not produce any annoying vibrations while I was typing. Force cancelling woofers made sure that vibrations were minimized even when the volume was cranked up.
Upgrades to the MacBook Pro 16-inch sound system also includes a brand-new microphone array that is advertised to reduce hiss by as much as 40 percent. This studio-quality, 3-mic array is ideal for Podcasters and musicians who require a professional quality audio system.
Specs and Performance – Latest Processors
Image courtesy of Apple Inc.
Of course, along with all these bells and whistles, the current MacBook Pro supports the latest processors technology has to offer. The MacBook Pro 16-inch packs high-end 9th generation Intel processors. The MacBook Pro's entry level has a 6-core processor and an impressive 8-core processor for its high-end models. The use of these processors is guaranteed to make quick work of computing-power hungry applications.
The MacBook Pro 16-inch also starts with 16GB of RAM and can be upgraded to up to 64GB of memory. 512GB of Solid State Drive (SSD) is available for starts, 1TB at the high end level, and up to 8TB SSD. The MacBook Pro 16-inch comes with two graphic card options. Entry level MacBook Pros start with the AMD Radeon Pro 5300M but can be upgraded to the Radeon 5500M with 8GB of video RAM.
100-watt Hour Battery – 11 Hours of Enjoyment
The MacBook Pro 16-inch comes with the biggest battery you could include in a laptop. The MacBook is powered by a 100-watt hour battery that is rated to last 11 hours on a single charge, according to Apple. However, this is quite impressive for a 16-inch laptop.
Big and Beautiful
In a move that seems to be a contrast of building lighter and slimmer laptops, the MacBook Pro is surprisingly thicker and heavier. This can already be seen in Apple's latest iPhones which are thicker due to its bigger batteries. The bigger form factor is also a result of the introduction of a scissor keyboard, more capable heat management system, and bigger batteries.
MacBook Pro 16-inch Specs and Prices
All MacBook Pro 16-inch models comes standard with:
16-inch Retina display with True Tone technology
Touch Bar and Touch ID features
Four Thunderbolt 3 ports
Prices for the MacBook Pro 16-inch start at $2,399 for its entry level offer. With this you get:
6GHz 6-core 9th-generation Intel Core i7 CPU (Boost up to 4.5GHz)
AMD Radeon Pro 5300M with 4GB of GDDR6 VRAM
16GB 2666MHz DDR4 RAM
512GB SSD storage
A more advanced configuration that comes with Intel Core i9 processor and more capable AMD Radeon Pro graphics card sells at $2,799. For a more detailed look at the package, here are the specs:
3GHz 8-core 9th-generation Intel Core i9 CPU (Boost up to 4.8GHz)
AMD Radeon Pro 5500M with 4GB of GDDR6 VRAM
16GB 2,666MHz DDR4 RAM
1TB SSD storage
MacBook Pro 16-inch Verdict
Aside from introducing innovations which its competitors were always quick to follow, Apple products were always a popular buy because these were end-user centered. The MacBook Pro 16-inch is certainly a far cry from being leading edge technology but represents a revisit into what made MacBook Pros a top choice for laptop buyers.
The MacBook Pro hits almost all the sweet spots that we've come to like about MacBook products. Better resolution, faster processors, more storage space, bigger SSDs, 11 hours of battery life, and finally a keyboard I can work with.