For years, it seemed that the MacBook Air has remained in the backburner with most of the exciting changes being introduced to the MacBook Pro lineup. The last major upgrade was in 2018 where the MacBook Air finally got the high-resolution Retina display along with the 'troublesome' butterfly keyboard which everyone hated – for a good reason of course.
Fast forward to 2020 and it seems that the MacBook Air has gotten some major love that has people getting excited again.
So, what's new with the MacBook Air 2020 and is this laptop something that you should seriously buy? Let's look at the review below and check if the 2020 MacBook Air is something that you should consider.
'Scissor' Keyboard
The first good news is that the MacBook Air 2020 has finally ditched the 'butterfly' keyboard and now sports the 'scissor' mechanism which was introduced in the 2019 MacBook Pro. It's the old new, with the new keyboard offering the same reliability and feel of the old keyboards.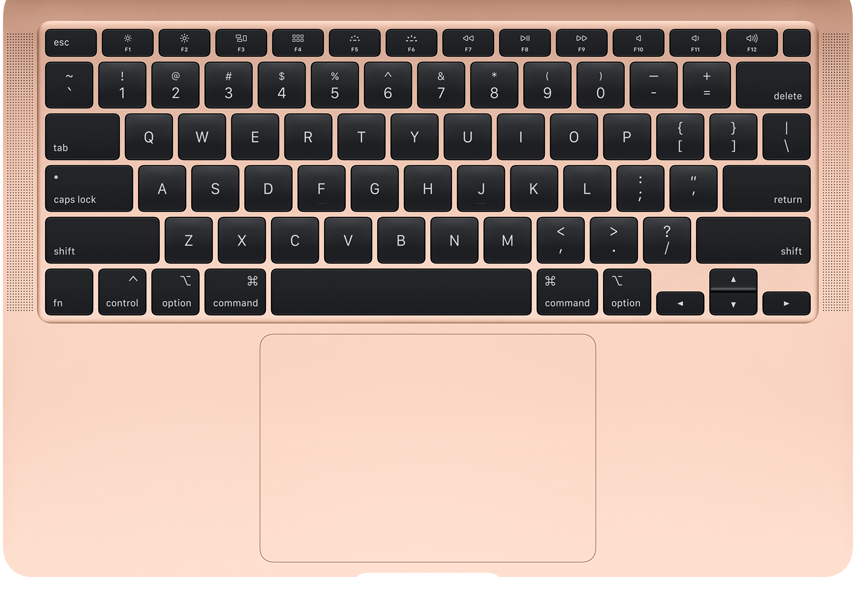 Major complaints plagued the 'butterfly' mechanism. Double entries and keys stopped working if small particles managed to enter the mechanism. Replacing this too proved too costly, making it one of the worst design flaws in the laptop manufacturer's history.
The new keyboard gives you 1mm of key travel, better feedback and its scissor mechanism decreases the chance of keys being stuck or creating double entries. Another welcome is the return of the inverted T-arrow key layout.
2X the Storage
Kind of makes you wonder why MacBook Air base models still came with 128GB storage even as most of its competitors and cheaper counterparts has been offering 256GB as standard for years. The MacBook Air 2020 now comes with 256GB of flash storage for the entry level and shoots up 2TB for its top-tier model, double the 1TB from the previous model.
MacBook Air 2020 Design
What the MacBook Air lacks in performance it more than makes us for its design. The MacBook Air still comes with that sleek and light form factor (2.8 pounds compared to 3.02 pounds for the MacBook Pro) making it a popular choice for everyday laptop users.
The iconic aluminum body and wedge shape design makes it easy to distinguish from similar lightweight laptops. The MacBook Air measures 0.63 inches at its thickest and 0.16 inches at its slimmest edge. Comparatively, the MacBook Pro comes in at slightly over half an inch thick or 0.59 inches.
Ports
Now here's a big letdown. The MacBook Air only comes with 'two' Thunderbolt 3 (USB-C) ports. While Thunderbolt ports offer more flexibility and functionality, this severely limits what you can connect to your laptop. The Thunderbolt ports can be used for charging, plugging in an additional display port, or connecting USB devices. So that basically leaves you one available port when you're charging the laptop.

Whether this is a tradeoff for having a slimmer profile, I definitely wouldn't mind paying a few extra dollars for an extra port or two. Just be sure to get an adapter if you need those extra ports.
Performance
The 2020 MacBook Air comes in two major configurations. The $999 model is equipped with a 1.1GHz dual-core Intel Core i3, Turbo Boost up to 3.2GHz, with 4MB L3 cache. The $1299 MacBook Air 2020 clocks in with a 1.1GHz quad-core Intel Core i5, Turbo Boost up to 3.5GHz, with 6MB L3 cache.
At this price, don't expect any too much in terms of gaming experience or serious video editing. The MacBook Air was designed for everyday computing, web browsing, video streaming, and that occasional light video or photo editing.
Having a faster processor does not necessarily translate to better performance. MacBook Pros do not only have better processors but also have more dedicated video cards and memory that makes them more capable to their MacBook Air counterparts.
The MacBook Air 2020 makes quick work of your mundane everyday tasks. Shuffling between my word documents with 10 browsers open while streaming a Netflix movie was no problem. However, one thing I noticed was that the fan did get a bit noisy and the laptop was churning a large amount of heat.
Battery Life
Apple advertises the MacBook Air 2020 has having 11 hours of battery life. But much of this still depends on how you use it. As per experience, 7 to 8 hours is a more realistic figure. There's just so many factors that goes into calculating actual battery time. Screen brightness and power-hungry apps have a direct effect on battery life.
Up to 11 hours wireless web
Up to 12 hours Apple TV app movie playback
Up to 30 days of standby time
Built-in 49.9‑watt‑hour lithium‑polymer battery
30W USB-C Power Adapter; USB-C power port
Communication and Conferencing
I think Apple skipped this upgrade or totally forgot about it but a 720p camera is something you would not expect on a 2020 model laptop. It does make up for this with a better microphone. Well at least if you can't send better images, they get the chance to hear you more clearly. The MacBook Air comes with a three microphone array that enhances audio pickup. You can nor sit a little bit further from your laptop without worrying about not getting heard loud and clear.
The Verdict
The MacBook Air continues to be the popular choice for MacBook users owing to its lightweight design and of course great prices. That is if you consider a thousand dollar laptop a steal. But at half the price of a MacBook Pro, it does give its more expensive brethren a run for its money. Okay so it's not a MacBook Pro killer, far from it.
It all boils down to purpose. If you're searching for a solid laptop for everyday use or that occasional trip out of the office, then the MacBook Pro 2020 will always be an excellent choice. It might be pricey in the short run but having a solid performer after 4 or 5 years makes it a great investment.