Reviews
Best Macbook For College Students
The best time has arrived to purchase a MacBook, whether you have got your first college homework or just opened the acceptance letter to the university of your dreams. Today, studying at a university or college has become more complex than ever before, but by surrounding yourself with good and reliable technology, there are ways to make your efforts less stressful.
Apple is known by many students around the world as having some of the best MacBooks for college students.  
The operating system of Apple has developed itself as the most intuitive, trusted, and fastest platform around the world. Whether it's the powerful MacBook Pro or the hyper-portable MacBook Air, any task you'll experience will be powered by Apple's laptops. It is highly respected by those who don't want to take the risk of losing their work because of a hardware malfunction. The immunity to viruses that comes with the advantage of saving on antivirus software is not the least significant characteristic of Mac computers. 
We'll tell you about the best Macbooks and their descriptions in this guide, so it can help you decide which MacBook you should buy. It encompasses:
1. MacBook Air ( M1. 2020)
2. 16 inch MacBook Pro ( 2019)
3. 13 inch MacBook Pro ( M1, 2020)
4. 13 inch MacBook Pro (2020)
5. Apple MacBook Air (2018)
MacBook Air (M1, 2020)
The MacBook Air (M1, 2020) is undoubtedly one of the most exciting Apple laptops of recent years. A true game-changer is its M1 chip, and it is very impressive to be able to run all legacy apps, new M1-optimized apps and iOS apps. Let's get into the details here.
Design:
The MacBook Air (M1, 2020) is being introduced by Apple as a radical reinvention of its thin and light laptop. This is because the current MacBook Air ditches the Intel processor for Apple's own ARM-based chip, the new Apple M1, unlike previous versions. It also comes pre-installed with macOS 11 Big Sur. This custom chip, according to Apple, will allow the new MacBook Air to perform better and run longer on the battery, even while bringing other significant performance benefits.
With a 400-nit LED-backlit display and a 2560 x 1600 resolution Retina display, it's only 13.3 inches and it comes with Apple's True Tone technology, which adjusts the panel's color temperature automatically based on the ambient light. On the side, there are two Thunderbolt 3 ports, which means you can charge your machine and simultaneously connect an optical drive or peripheral. The M1 processor restricts the connection of this laptop to a single external monitor of up to 6K.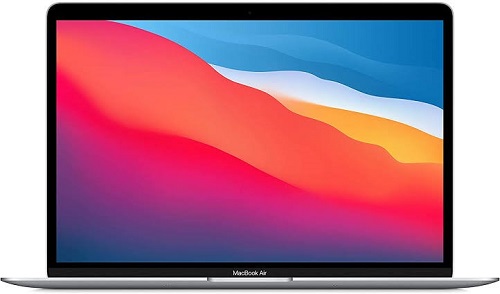 Since it weighs in at only 2.8 pounds, when you walk across the campus during the day, your back will thank you. Apple Silicon-based MacBook Air can be equipped by customers with 8GB or 16GB of RAM and between 256GB and 2TB of internal storage. There is no fan on the MacBook Air, it has a slim and lightweight frame, and it remains one of the best MacBook for money. The M1 also provides users with up to 20 hours of extended battery life on a single charge. However, no matter how long you are on a college day, you're going to have plenty of battery left.
Performance:
It boots up quickly (an additional advantage of the M1 chip), Big Sur feels smooth and sensitive, and the operating system's new look is very impressive. With vivid, vibrant colors that really show off the MacBook Air's screen, the interface has a more modern look. It's less cluttered as well, so you're not distracted by icons and options, although the iOS edition of the Control Center has been updated. It looks neater, and it's simpler to use.
Not only can you run almost every current Mac app on the MacBook Air (M1, 2020), but you can also run any iOS app or game due to the M1 chip. This adds to the MacBook a vast number of new tools and is truly exciting. Apps and games for iOS are more feature-rich and graphically stunning than ever before, and it might be a game-changer to access these.
Apple says that the latest MacBook Air is three times faster in its class than other laptops and faster than 98 percent of last year's PC laptops sold. It also says the neural engine is nine times faster than the one on the previous MacBook Air, and its SSD is up to twice as fast thanks to the M1 and modern flash technology. So, the MacBook Air (M1, 2020) is a great choice for video editors who want a more affordable laptop than the MacBook Pro with that performance boost, along with the latest P3 color gamut support.
Pros
Low Price 

Lightweight 

Small form factor
Cons
Two Ports Only 

The fanless device restricts peak processing
The Verdict: 
This MacBook Air review with M1 has shown why it combines its remarkable strength and surprisingly decent pace to bring the MacBook Air to new heights. The new MacBook Air might be great for 5-stars if only it packed a few more ports and slimmed down its bezels. But Overall, this is considered one of the best Apple laptops.
16-inch MacBook Pro (2019)
As Apple aptly put it, this laptop really is "more of what (fans) love," compensating for the MacBook Pro 15-inch 2019 and building on the accomplishments of the MacBook Pro 2020 13-inch. This is it, if you're searching for the king of Apple laptops.
Design:
Next in the MacBook Pro review, we will talk about the design first. The 16-inch MacBook Pro does not look all that different from the 15-inch edition at first glance. Considering the larger display of the new MacBook Pro features is itself a remarkable achievement. Currently, with dimensions of 0.64 x 14.09 x 9.68 inches (1.62 x: 35.79 x 24.59cm) versus 0.61 x 13.75 x 9.48 inches, the dimensions of the MacBook Pro 16-inch is wider than the 15-inch, which is impressive.
The bezels that surround the frame are noticeably thinner than previous versions. This not only allowed Apple to fit into the new MacBook Pro with a larger screen without significantly increasing the overall size of the laptop, but it makes the latest MacBook Pro look and sound even more stylish. Ultimately, all your attention is concentrated on that stunning display.
Apple has ensured that the image quality remains high, as the resolution has also been enhanced to 3,072 x 1,920. The outcome is a beautifully crisp display that looks sharp and dynamic. The Scissor switches also allow a reasonable amount of travel for the 16-inch MacBook Pro keyboard when the keys are pressed, while also keeping the MacBook Pro as small as possible.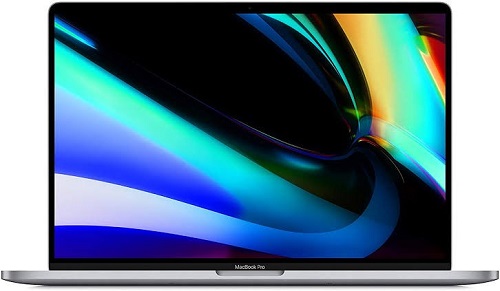 With a 100 watt-hour battery which consists of four individual cells and a guarantee of 11 hours of battery life, the latest 16-inch MacBook Pro hits its logical limit, rising one hour from the previous 15-inch Pro. In the battery test, the 16-inch MacBook Pro lasted 10 hours and 55 minutes, which includes constant web browsing at 150 nits of screen brightness. That's the fantastic battery life for a laptop with a large screen and outlasts rival Windows systems.
There's one thing about the 16-inch MacBook Pro, although, that we really wish Apple would improve, and that's the option of the port. Again, Apple was able to include only four USB-C Thunderbolt 3 ports and an audio jack. Now, for daily users who have new peripherals with the proper connectors, those ports are perfectly good. The MacBook Pro 16-inch, however, is a professional-oriented laptop, and the lack of ports is disappointing.
Performance:
One of the most powerful laptops in this class is the 16-inch MacBook Pro. You can choose between a 6-core Core i7 processor or a CPU with an 8-core Core i9. And this machine can handle up to 64 GB of memory while you get 16 GB of RAM to boot.
In the starting configuration, Apple provides a reasonably powerful 512GB of SSD storage and 1TB in the base model. But the 16-inch MacBook Pro (2019) with up to 8TB SSD can be equipped. The power of the 16-inch MacBook Pro will be appreciated by video editors. Transcoding a 6.5GB 4K video to 1080p took Apple's device a mere 8 minutes, which is the same amount of time that the Dell XPS 15 took.
As usual, Apple provides some of the world's fastest SSDs. The 16-inch MacBook Pro delivered a write speed of 2,805 MBps and a read speed of 2,540 MBps on the Blackmagic Disk Speed Test. In contrast, the Dell XPS 15 scored 2,224 MBps and 2,116 for writing and reading.
The 16-inch MacBook Pro should be capable of dealing with any workload with ease on the graphics front. The starting GPU is the AMD Radeon Pro 5300M, but you can upgrade to the Radeon 5500M with up to 8 GB of video RAM.
At the very high graphics preset on The Rise of the Tomb Raider game benchmark, the 16-inch MacBook Pro turned in a very reasonable frame rate of 27.2 fps with the resolution set to 1920 x 1200. With the same preset, the Dell XPS 15 notched 19.54 fps. The new built-in speakers are impressive as well. The MacBook Pro, with Force Feedback-enabled woofers, has six speakers. This enables the MacBook Pro to create bass sounds without the unnecessary distortion caused by superfluous vibration. Overall the results are wonderful, with unbelievably clear sounds from relatively small speakers.
Pros
Elevated efficiency 

Long lifespan of batteries 

Large screen
Cons
Expensive 

Heavyweight

Enormous footprint
The Verdict: 
Not only is the 16-inch MacBook Pro the most powerful MacBook Apple has ever made, but it's also the best. Apple has made a MacBook Pro that improves almost every aspect of the famous workstation by listening to its customers and focusing on the complaints of previous versions. If you have the budget for it, this is one of the best Mac laptops you can find.
13-inch MacBook Pro (M1, 2020)
The 13-inch MacBook Pro (M1, 2020) is the second major update last year for Apple's smallest MacBook Pro, and while the previous one marked a very slight bump in specifications, this newest version promises to be groundbreaking. Without further ado, let's get into its design first.
Design:
For a few years now, Apple has taken a "don't mess with success" approach to design, using the same chassis construction, with minor tweaks. Instead of showing its era, the newest MacBook Pro still looks sharp and fresh and has also inspired quite a few ultra-portable Windows laptops. You can choose from this sleek aluminum slab in a dark, moody Space Gray or a brighter Silver finish. With its 0.61 x 11.97 x 8.36 inches (1.56 x 30.41 x 21.24cm) and 3.0 pounds (1.4kg) in weight, it definitely looks and sounds similar to previous 13-inch MacBook Pro models.
The keyboard is also the same Magic Keyboard as the one that was launched on the MacBook Pro 13-inch earlier this year. At that time, this was a great improvement, as it replaced the infamous Butterfly switch keyboard, which was always prone to problems with reliability. It's nice to see it back in the 13-inch new MacBook Pro, and typing on it feels amazing again. Also, the screen is unchanged, with a 2560 x 1600 Retina resolution. This results in a picture that is sharp.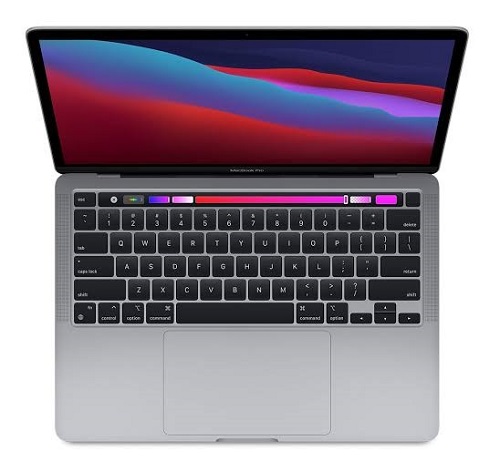 The screen of the 13-inch Apple MacBook Pro (M1, 2020) is still bright and vivid. It also supports the broad color gamut of P3, providing outstanding color reproduction, which is ideal for photographers and video editors who need colors that are true to life.
The Apple MacBook Pro 13-inch (M1, 2020) just persists with two Thunderbolt 3 ports that are accessible both on the left-hand side and an audio jack on the right when it comes to ports. Apple states that the 13-inch MacBook Pro (M1, 2020) has the longest battery life ever in a Mac promising a massive 17 hours of wireless web browsing and up to 20 hours of video playback, a whopping 10 hours more than the previous edition. That sounds great.
The trackpad on the MacBook Pro is excellent. It remains one of the few laptops to deliver an oversized pad with haptic feedback, along with the MacBook Air and 16-inch MacBook Pro, rather than a physical clicking mechanism. Cursor moves are hyper-accurate, and the haptic feedback produces a uniform sense of clicking regardless of where the fingertip is on the pad.
Performance:
The company promises that this new chip will allow the new MacBook Pro 13-inch (M1, 2020) to perform better than its Intel-based predecessors and run longer on the battery. Apple says the latest 13-inch MacBook Pro (M1, 2020) is the world's fastest portable pro notebook which is up to three times faster in its class than Windows laptops; and 2.8 times faster than the previous MacBook Pro generation.
Macs are not usually the 3D gaming platform of choice, but with the M1, the MacBook Pro could serve as a good alternative for casual gamers who, once their job is done, want to relax with a less challenging game. We saw a frame rate of 29 frames per second on Very High at 1400 x 900 as we ran the Rise of the Tomb Raider benchmark. That is many frames higher than the average 24 fps premium laptop.
Pros
Long Battery lifespan

Speedy Apple M1 Chip Performance 

Awesome Retina Display 

Outstanding construction quality 

Convenient keyboard and trackpad 

Webcam Improved
Cons
Two USB-C ports only 

As you add parts, the price will increase quickly. 

No screen touch
The Verdict:
Not only does the 13-inch MacBook Pro with M1 have great overall and graphics performance, but it also has some of the longest battery life we have ever seen on a laptop. Apple could have stopped there, but instead, due to the native Universal applications, you get quicker web page loading times, a more efficient camera, and seamless integration between Mac, iPad, and iPhone. The camera and microphones are also enhanced with the 5nm chip.
13-inch MacBook Pro (2020)
Due to its upgraded internal components and updated keyboard, the Apple MacBook Pro 13-inch 2020 could be the most essential part of the MacBook line. And, with last year's version, for those who have been waiting because of Apple's high prices, they will be glad to know that you get more for your dollar. 
The Apple MacBook Pro 13-inch 2020, positioned somewhere between the 16-inch MacBook Pro and the MacBook Air (2020) in terms of price and power and also upgrades its internal components with greater specifications than its predecessor.
Design:
Due to its upgraded internal components and updated keyboard, the Apple MacBook Pro 13-inch 2020 could be the most important part of the MacBook line. And, with this year's version, for those who have been waiting because of Apple's high prices, they will be glad to know that you get more for your dollar.
We should remember, however, that there is an even more recent edition, the 13-inch (M1, 2020) Apple MacBook Pro, which comes with the latest M1 chip rather than the Intel processor. It is already impressing us with its performance, but thanks to the 10th generation Intel CPUs they come with, this Mac already offers a considerable boost. And, of course, it also allows us to have double the RAM and storage.
For creative and business people who need a powerful but compact laptop to take on the road, the Apple MacBook Pro 13-inch 2020 is a nice solution. Things are pretty much the same when it comes to design, with the MacBook Pro 13-inch 2020 model being a little bit thicker and heavier than the 2019 model, but the looks on the outside are otherwise unchanged.
There is now a much-improved keyboard on the inside, which feels easy to type on, with good key travel that results in a satisfactory type experience.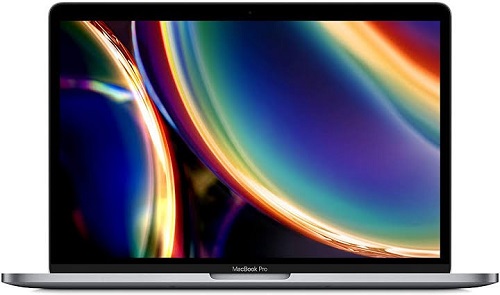 Ports-wise, you just get four Thunderbolt 3 ports and an audio jack again or only two in the entry-level model. The lack of ports, especially legacy USB-A ports, will be frustrating for a professional laptop and will indicate that you will need to buy an adapter unless you have all the USB-C peripherals.
However, you can see more of a difference when you open up the latest MacBook Pro 13-inch. This is because the infamous Butterfly switch keyboard which was also prone to usability issues was eventually replaced by the modern 'Magic Keyboard' that is also used in the 16-inch MacBook Pro and MacBook Air (2020). A thin display above the keyboard, the Touch Bar, is once again present and provides you with context-sensitive buttons that you can click.
The TouchID button, which also doubles as the control button, has been separated from the Touch Bar, and now sits slightly apart from it. It makes it a little easier to search, and again, using only your fingerprint, it's a safe way to log into your MacBook or pay for stuff using Apple Pay.
The screen, meanwhile, remains the same as the one of last year, which is not a bad thing. The Retina resolution (2,560 x 1,600) is not the highest you will see on a 13-inch laptop, however, to be real, most of the time, a 4K resolution on a 13-inch screen is overkill, and the 13-inch MacBook Pro (2020) Retina display is bright and vivid. Notably, it supports the wide color gamut of the P3 for creative professionals, delivering excellent color reproduction. 
The battery life was also remarkably good, with light use lasting more than 9.5 hours, primarily browsing in Chrome and Reeder, email, instant messaging, and writing with a brightness of 75 percent. It lasted more than 7.5 hours if two hours of photo editing were also included in that workload. It is worth noting that the 13in MacBook Pro lacks the newest wifi 6, instead of supporting only the older wifi ac standard and that there are no older USB-A ports or an integrated memory card reader on the laptop.
Performance:
A quad-core 10th gen Intel Core Core i5 processor operating at 2 GHz, 16 GB of 3733 MHz RAM, and 512 GB of storage come with the MacBook Pro 2020. And all these elements add up to one of the fastest 13-inch laptops around. Due to this new Intel Processor, as well as the faster 3,733MHz LPDDR4X RAM, its multi-tasking capacity means that the new MacBook Pro 13-inch feels less of a compromise than the powerful 16-inch edition.
Not only does the latest Intel Core i5 processor of the 10th generation deliver better computing performance than its predecessor, but it has also enhanced integrated graphics. This is important, as the MacBook Pro 13-inch does not have a dedicated GPU, unlike the larger MacBook Pro 16-inch. So, if you're going to use the latest MacBook Pro for graphically-intensive work, such as 3D rendering and video editing, then you're going to be dependent on the built-in Intel Iris Plus Graphics GPU.
However, the Intel Iris Plus Graphics featured on Intel's 10th generation chips is a major leap over previous models, with Apple claiming that when it comes to 4K editing and faster rendering, it offers 80% faster performance. The MacBook Pro 2020 took 12 minutes and 43 seconds for a real-world video editing test involving transcoding a 4K video to 1080p. This is far quicker than the Dell XPS 13 (15:40) and well ahead of the x360 Spectre (21:13). The Iris Plus graphics on the MacBook Pro 2020 are ideal for photo editing and video editing.
The MacBook Pro 2020 scored 4,399 on the multi-core portion of the test on Geekbench 5, which tests overall performance. This beat the Spectre x360 and its Core i7-1065G7 CPU, which scored 4,074, but with the same processor as the HP, it was behind the Dell XPS 13. (4,648.) Laptops from Apple continue to have one of the best SSDs around. The MacBook Pro's 512GB SSD attained a read speed of 2,060 megabytes per second and a write speed of 2,315.9 on the Blackmagic benchmark.
Pros
Excellent Keyboard

Fantastic Trackpad

Long Battery Life

Stunning Display

USB-C/Thunderbolt 3

Durable Materials
Cons
Costly as Configured 

A Limited Number of Ports 

No Wi-Fi 6 Support
The Verdict:
A tweaked keyboard and the Intel "Ice Lake" CPU option for the 10th generation add typing comfort and better performance to the already excellent 13-inch MacBook Pro from Apple. This time, Apple did not make any monumental improvements to the MacBook Pro. But it did answer a few consumer complaints that are sure to make the population that loves MacBook stand up and applaud. Not only did Apple double the maximum storage and RAM, but it also put the end of the Butterfly keyboard, opening the way for the Magic keyboard's comfort.
Apple MacBook Air 2018
Your next favorite machine may just be the Apple MacBook Air (2018). The MacBook Air from Apple has received a much-needed redesign, retaining the name, but changing everything else, both outside and inside, making it much better. Next, we will discuss its design.
Design:
The 2018 MacBook Air is smaller with dimensions of 11.97 x 8.36 x 0.61 inches than the previous, making it even lighter and thinner for an already compact laptop. The MacBook Air case maintains the same wedge-shaped form, and therefore it tapers off at its narrowest point to 0.16 inches. Port-wise, along the left side of the MacBook Air, you get two USB-C (Thunderbolt 3) ports. We're pleased that Apple continues to use the USB-C format as a charging port, rather than its original MagSafe port, which makes the MacBook Air a much more user-friendly and versatile system, therefore you can use either one for charging.
One drawback was that both USB-C ports are all located on one side, and quite close together as well, therefore the second USB-C port may be a bit too close to plugging things in when the MacBook Air is charging unless you have an adapter or dongle. The MacBook Air (2018) also has a built-in Touch ID, enabling you to quickly log in with your fingerprint on the laptop. It's a smart, time-saving feature, and makes logging into the MacBook Air fast and easy. The feature works wonderfully, detecting fingerprints and logging users without any problems, as with other Mac devices with Touch ID.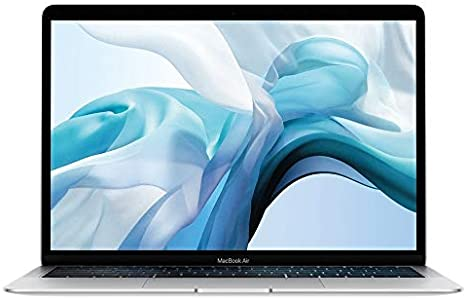 The Retina Display 2560 x 1600-pixel is the main star of the 2018 MacBook Air, providing sharp detail and intense colors. Coming towards the speaker that has twice the bass of their predecessors, considering their small size, and are 25 percent louder in volume. Apple claims that the Apple MacBook Air (2018) is capable of 12 hours of local video playback or 12 hours of wireless web use, which is more than decent, without requiring a charge, to get you through a whole day of work.
Performance:
With the 8GB of two 2,133MHz LPDDR3 RAM, which can be upgraded to 16 GB, and a fast SSD, the MacBook Air processing capacity is still slightly constrained by its dual-core Intel Core i5-8210Y CPU. The MacBook Air also features the Intel UHD Graphics 617 integrated chip. With 4 MB L3 cache, this 1.6 GHz, dual-core Intel Core i5 can Turbo Boost up to 3.6 GHz, which is great for most day-to-day tasks but is not as fast as some quad-core processors you see around this price point in rival laptops, such as the Dell XPS 13.
The Apple MacBook Air 2018 may not be a good contender as other laptops in this price range for strenuous tasks or multitasking. To help minimize this, the MacBook Air has an ace up its sleeve by providing the Apple T2 security chip, which operates alongside the existing processor to offload those tasks. The T2 security chip has a range of security features, which also helps with speaker stereo spacing. The T2 chip specializes in video transcoding with HEVC, which provides up to 30 times faster transcoding times than devices without it. Although the MacBook Air is not a laptop that we would recommend for professional transcoding and heavy-duty video editing applications, It's a good feature for hobbyists who may want to edit home videos or edit light videos.
Pros
Small, lighter design 

Brilliant Retina Display    

Amazing value for a MacBook 

A very comfortable trackpad for the Force Touch. 

Secure boot capability.

Two Thunderbolt 3 ports available

Great battery life
Cons
Often feels underpowered 

No touch screen

No USB Type-A ports or dedicated output for video

Slower than rivalry
The Verdict:
The new MacBook Air feels like a fresh upgrade from its high-resolution display and its smaller and lighter design to its Thunderbolt 3 ports. If you're searching for a MacBook with a good Retina display and a far more affordable entry rate, the Apple MacBook Air (2018) may just be the perfect computer for you.
FAQs
Q1. Is it Safer for College to have a Mac or a PC? 
Ans. If you want to use a Mac or a Windows machine, it is always down to your personal choice. It will go the longest way, whatever you are most comfortable using. Macs get fewer viruses and malware than Windows and can run any operating system, which is important to remember. Windows users, however, have more applications, including video games that don't work on macOS.
Q2. What Percentage of Students in College use Macs? 
Ans. 71 percent of students in five countries use or would like to use a Mac, according to a study by the Apple system management company. This is a major statistic, both because of their exterior design and the benefits of macOS, showing how famous they are among young people.
Q3. Why are Macs used by most College Students? 
Ans. The elegant design, superb image quality, and easy-to-use operating system make Apple devices famous. It's a well-known fact that macOS is much less vulnerable than any other operating system to malware infections and viruses. For their powerful components packed in a light and small stylish-looking body, college students, especially those who went for a creative specialization, value Macs. Creators around the world applaud macOS for cross-platform accessibility, ease of integration, and the best displays they are providing. Finally, the lightweight of MacBooks draws many people towards itself.