It is the battle of Apple's 13-inch laptops as we compare the MacBook Air (M1) with the 13-inch MacBook Pro (M1). Almost identical in shape, equipment, and form, both laptops appeal to a very similar market. At 2.8 pounds, the MacBook Air remains the lightest in Apple's stable of laptops. However, not far off is the 3.0 pound 13-inch MacBook Pro.
The most significant change in both laptops is the introduction of Apple's M1 Silicon, heralding the company's shift from its Intel-powered laptops to its proprietary chips. This article discusses two of the most popular laptops in Apple's lineup; The 13-inch MacBook Air and 13-inch MacBook Pro. Despite its similarities, we explore what makes each one tick and why the difference in prices.
Performance –  MacBook Air M1 vs MacBook Pro M1
The MacBook Air and MacBook Pro come with an Apple M1 chip. Both have the new 8-core chip, but upon closer inspection, the MacBook Air only has a 7-core GPU compared to the MacBook Pro's 8-core GPU. Performance-wise, the MacBook Pro's M1 chip trumps the MacBook Air. Albeit by a small margin. It is capable of running at higher clock speeds without overheating.
If one thing indicates what purpose each laptop is designed for and what it can do, it would be the fan or lack thereof. The MacBook Air M1 and MacBook Pro M1 may have the same chip, but the Pro model is more capable – and with more power comes more heat. Hence, the internal cooling fans.
The MacBook Air M1 offers value for money since it offers comparable performance and features to the MacBook Pro M1. It has more than enough in its tank for anyone looking for an everyday laptop for browsing, office applications, multimedia, and primary photo and video editing. Those looking for that added juice can always count on the MacBook Pro with its 8-core GPU, better cooling, and battery life for those power-hungry applications.  
In terms of storage and RAM, both laptops in their base configuration come with 256GB SSDs and 8GB memory. These can be upgraded but only before purchasing. The SSDs and RAM are soldered onto the board and can't be replaced once shipped out. The MacBook Air and MacBook Pro could be maxed out with up to 16GB of RAM and 2TB of storage.
Whatever the choice, the M1-equipped laptops represent a significant upgrade from their Intel-based predecessors. Apple says the M1 chips offer twice or thrice computing power, faster graphics, and improved machine-learning capabilities.
The M1 Difference
The introduction of the M1 chip for the MacBook Air and MacBook Pro is a game-changer. The M1's System on Chip (SoC) design combines three different components – Central Processing Unit (CPU), Graphics Processing Unit (GPU), and Random-Access Memory (RAM) into one unit. The traditional setup was to power each of these three different components separately. When you have all of these in one chip, the result is a more power-efficient laptop that can maintain its performance for extended periods.
Design – MacBook Air M1 vs MacBook Pro M1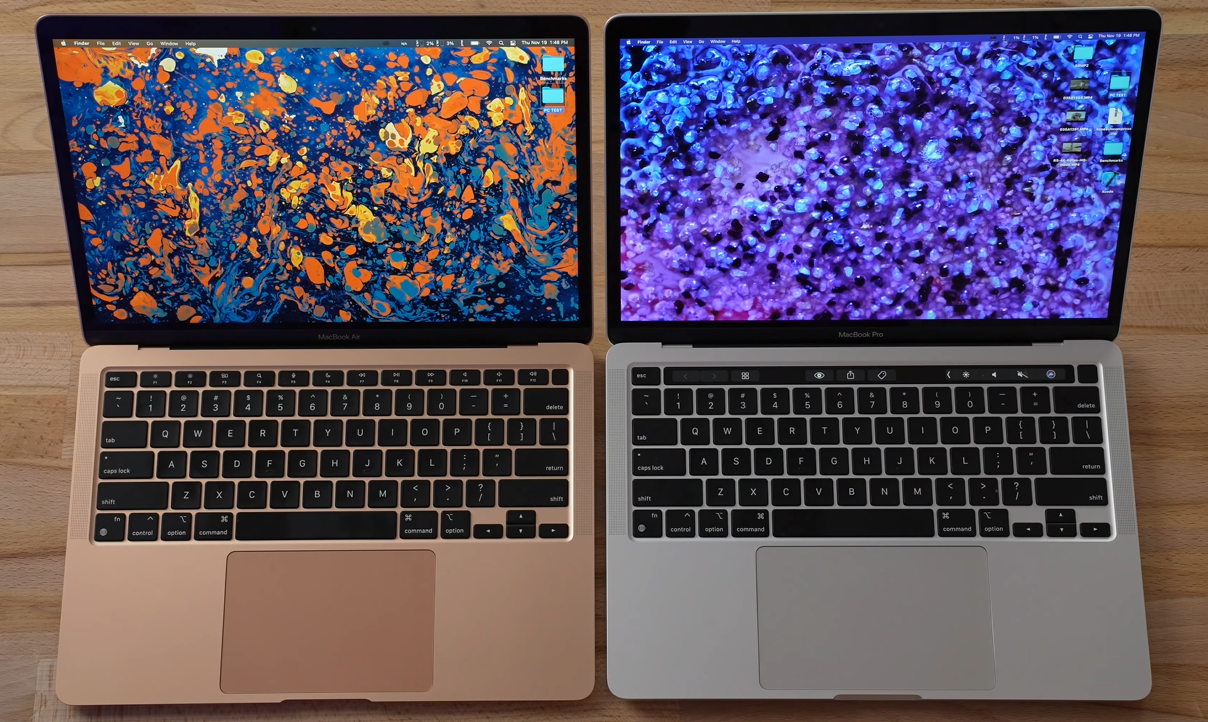 No significant design changes here. The MacBook Air M1 and MacBook Pro M1 look identical to the intel-based Macbook laptops that they have replaced. The MacBook Air still sports that all too familiar wedge-shaped design and the MacBook Pro still has its utilitarian slab-style design.

Both laptops appear similar in design and dimensions at first glance, but the MacBook Air has a tapered side while the MacBook Pro has a uniform thickness. The MacBook Air has a sloping design that makes it easier to type. The slimmer profile is possible because it doesn't have a fan which also makes for a silent-running laptop. On the other hand, the MacBook Pro's fan starts kicking in once you start using it for computing-hungry applications.
One of the MacBook Air's best-selling points is its light and thinness. Easy to store and carry, the MacBook Air is a mere 0.16 inches at its thinnest, with its thickest point measuring just 0.63 inches. The MacBook Pro is not far off with its 0.61 inches, but this constantly runs across the sides of the laptop.
Weight-wise, the MacBook Air and MacBook Pro are almost identical. The MacBook Air tips the scale at 2.8 pounds, while the MacBook Pro stands at 3.0 pounds. It is hardly noticeable, so they are pretty much equal here. But generally, its dimensions are equally the same, with a width of 11.97 inches and 8.36 inches in depth.
Display – MacBook Air M1 vs MacBook Pro M1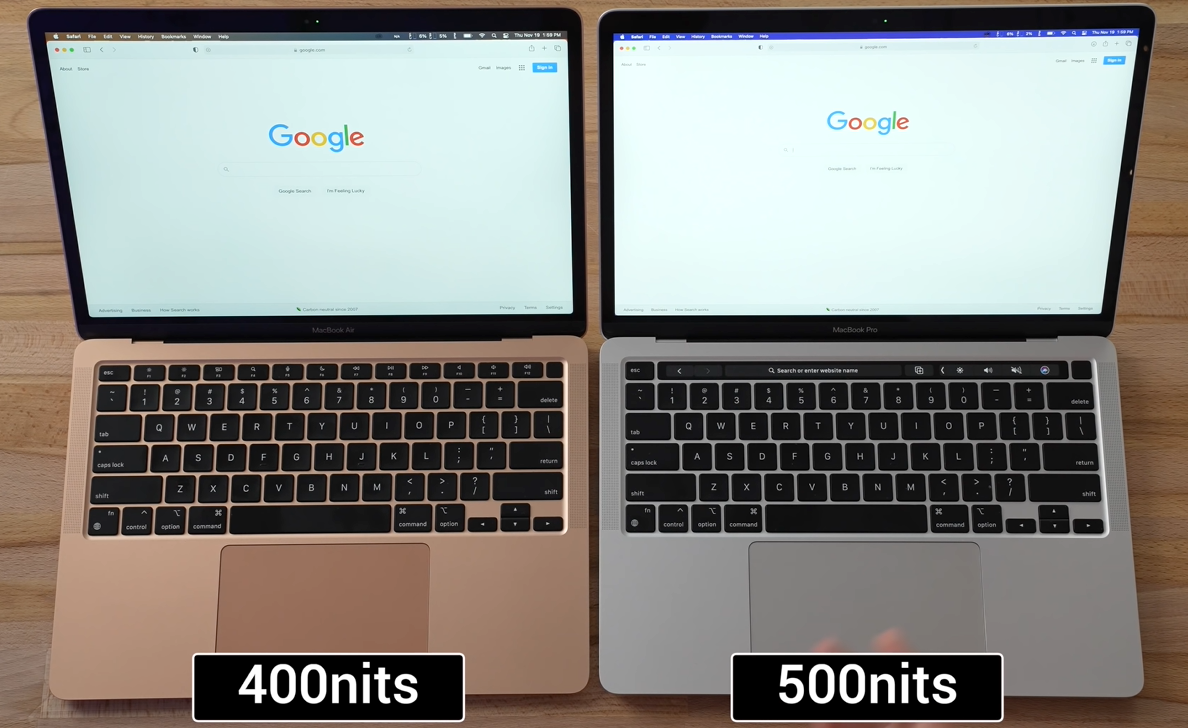 True to Apple tradition, these laptops have some of the sharpest and most stunning displays we have seen. The MacBook Air and MacBook Pro are equipped with similar 13.3-inch LED-backlit displays powered by True Tone, IPS technology, and P3 wide color. Both laptops have a resolution of 2560×1600 pixels or 227 pixels per square inch.
While having identical specs, the MacBook Pro has a maximum brightness of 500 nits compared to 400 nits on the MacBook Air. That is a 20 percent improvement which makes the MacBook Pro's display stand out when used outdoors.
One significant difference between the two laptops is the number of GPU cores responsible for the quality of images displayed on the screen. The MacBook Air's M1 chip contains 7 GPU cores to the 8 GPU cores found in the MacBook Pro's M1 chip. Having one more core might not be significant when doing work processing or browsing, but this can be big for video and graphic artists.
Battery Life – MacBook Air M1 vs MacBook Pro M1
The battery life is another area where both laptops show significant gains from their predecessors. This improvement can be attributed to Apple's move into M1 chips. These chips are not only more powerful compared to the Intel-based laptops they are replacing but more efficient in battery usage.
But even after this, the MacBook Pro still has a slight advantage over the MacBook Air. The Pro packs a 58.2Wh battery for up to 17 hours of web browsing. The Air model, meanwhile, has a 49.9Wh battery that is good for 15 hours of web browsing.   
Speakers, Audio, and Camera
While the MacBook Air and MacBook Pro are no slouches regarding sound quality, we have to give this round to the MacBook Pro. The MacBook Air comes with stereo speakers with expansive sound, but the MacBook Pro is equipped with stereo speakers with a high dynamic range.
The MacBook Pro has a 'studio quality' three-mic array with directional beamforming, which is excellent for those planning to use their laptops for video conferencing or podcasts. However, one drawback with both laptops is they are still equipped with the same 720p FaceTime camera, which is lackluster by today's standards.
Due to the size limits of both the laptops, they only come with 2 USB-C/Thunderbolt ports and a headphone jack. There is simply no room for standard USB A-ports. But the USB-C ports also offer faster data transfer speeds up to 40GBps.  
Price – MacBook Air M1 vs MacBook Pro M1
One of the biggest appeals for MacBook Air users is its price. Starting at $999, it is a few hundred dollars cheaper than the $1,299 13-inch MacBook Pro. Both laptops can be upgraded, but we will stick with the base models in this head-to-head comparison.
Some might think that the MacBook Air's lower price results from Apple cutting some corners, but this is far from the truth. The MacBook Air might not be the fastest laptop, but it still comes with the same 13.3-inch IPS screen, p3 color gamut support, and 2,560 by 1,600 pixels resolution. Both laptops do away with the problem-plagued 'butterfly' keyboard and now come with the much improved 'Magic' keyboard. 
Almost identical on paper, the MacBook Pro does come with added goodies to justify its higher price. To start, it comes with the Touch Bar and a brighter display. It also has an 8-core GPU for better graphics performance.
MacBook Air M1 vs. MacBook Pro M1 – Wrapping Up
The MacBook Air is not too far off from its 13-inch MacBook Pro sibling. It offers significant value for its price, making it a popular choice for people looking for an everyday laptop. So, what comes on top – should you go for the 13-inch MacBook Air or spend those extra bucks on the 13-inch MacBook Pro?
The difference between the two laptops isn't night and day. Both share the same good bones and are equally capable in their own right. The choice boils down to two factors, price and purpose. If you are looking for an everyday laptop for watching videos, web browsing, or simple office applications, then the 13-inch MacBook Air is the perfect fit.
However, the MacBook Pro is worth considering if you are looking for a more robust laptop at an equally friendly price. With its extra GPU core and fan-based cooling system, the MacBook Pro will keep its cool longer when you need that extra computing power. It also has a longer battery life, brighter display, and good-quality speakers.
If you are still sitting on the sidelines or just looking for an Apple laptop that will give you the best bang for your buck, then you could also check our collection of quality refurbished MacBook Pro and refurbished MacBook Air here at Techable.com.