Reviews
Trending Tech
Apple Accessories and Other Essentials to Boost your MacBook Air Experience
The Best Apple Accessories and Related Gadgets
The MacBook Air – Apple's sleek marvel that has found its way into the hearts (and bags) of many. Whether you're sipping coffee at a local café, drafting your next big idea, or binge-watching your favorite series, this lightweight powerhouse never fails to impress. But, much like a superhero might need their trusty utility belt, the MacBook Air shines even brighter with the right set of Apple accessories.
Dive in with me as we embark on a journey through the world of Apple laptop accessories for the MacBook Air. From gadgets that boost its prowess to Apple home accessories that protect its elegant frame, we've curated a list that promises to elevate your MacBook experience. Whether you're a seasoned Apple aficionado or a recent convert, there's a little something for everyone. So, grab your virtual shopping cart, and let's explore the best Apple accessories to accessorize that Air!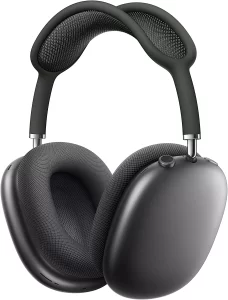 1. AirPods Max
The AirPods Max, one of the best Apple accessories, with its sleek anodized aluminum ear cups and breathable knit mesh canopy, exudes a premium feel that's unmistakably Apple. Diving into its technical prowess, these over-ear headphones boast custom-built dynamic drivers and a high-fidelity audio experience, ensuring every note resonates with clarity. The computational audio capabilities, combined with the Apple-designed H1 chip in each ear cup, work in tandem to deliver an immersive listening experience through Adaptive EQ, Active Noise Cancellation, and spatial audio. As a standout in the realm of Apple laptop accessories, the battery life of the AirPods Max doesn't disappoint either, offering up to 20 hours of high-fidelity audio, talk time, or movie playback.
Pairing the AirPods Max with my MacBook Air was a seamless affair, thanks to the magic of the Apple accessories ecosystem. The spatial audio feature, which dynamically tracks the movement of your head, truly shines when watching movies or listening to multi-dimensional audio tracks on the MacBook Air. The physical controls, including the Digital Crown borrowed from the Apple Watch, offer precise volume control and the ability to play or pause audio, skip between tracks, answer phone calls, and activate Siri. For those of us who spend hours on our MacBook Air, whether for work, leisure, or creative pursuits, the AirPods Max, a pinnacle in Apple home accessories, emerges as a game-changer, delivering unparalleled audio quality that's both immersive and comfortable for extended periods.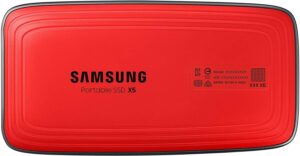 2. Samsung X5 Portable SSD 1TB
The Samsung X5 Portable SSD 1TB is a game-changer in the realm of external storage solutions. Upon unboxing, its sleek, aerodynamic design, reminiscent of a futuristic sports car, immediately caught my eye. But it's not just about looks; the X5 is a performance beast. Harnessing the power of NVMe technology and the blazing speed of Thunderbolt 3 connectivity, this drive boasts read speeds of up to 2,800 MB/s and write speeds of up to 2,300 MB/s. That's several times faster than traditional SATA SSDs! The drive's shock-resistant internal frame and magnesium body can withstand drops from up to 2 meters, and the built-in heat sink ensures optimal temperature regulation, even during heavy data transfers.
When I paired the Samsung X5 with my MacBook Air, the results were nothing short of astounding. Transferring large video files, which used to be a time-consuming chore, became a matter of mere seconds. The seamless integration with macOS meant that I could easily use the X5 as a boot drive or for running heavy applications directly from the SSD. Its compact size made it a perfect companion for my MacBook Air, especially during travels or when working remotely. For those in search of a high-speed, reliable, and stylish external storage solution for their MacBook Air, the Samsung X5 Portable SSD stands head and shoulders above the competition. It's not just an accessory; it's a necessity for anyone serious about data transfer speeds and performance.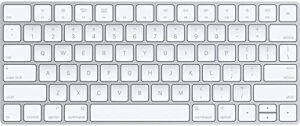 3. Apple Magic Keyboard 2
The Apple Magic Keyboard 2 (A1644 MLA22LL/A) is a sublime blend of form and function, epitomizing Apple's dedication to crafting peripherals that are both aesthetically pleasing and technologically advanced. From the moment I laid my fingers on it, I was taken by its sleek, minimalist design, which is complemented by a lower profile that provides a more comfortable and precise typing experience. The keyboard is equipped with a built-in rechargeable battery, eliminating the hassle of constantly swapping out disposable ones. One full charge can power this beauty for about a month, and with its lightning-fast Bluetooth connectivity, pairing is a breeze. The scissor mechanism beneath each key ensures increased stability, and the optimized key travel offers a responsive and satisfying tactile feedback.
Integrating the Magic Keyboard 2 with my MacBook Air felt like a match made in tech heaven. The seamless connectivity and the consistent typing experience made tasks, from drafting emails to writing code, feel effortless. The keyboard's compact footprint ensures it doesn't hog desk space, and its lightweight design makes it an ideal travel companion for my MacBook Air. The added convenience of quick charging via the Lightning port means I'm never left in a lurch. For MacBook Air users seeking an external keyboard that mirrors the laptop's design ethos and offers an unmatched typing experience, the Apple Magic Keyboard 2 is the gold standard. It's not just a peripheral; it's an extension of the Apple experience.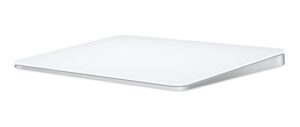 4. Apple Magic Trackpad 2 A1535 Wireless Rechargeable Bluetooth
The Apple Magic Trackpad 2 (A1535) is not just one of the Best Apple accessories; it's a testament to Apple's commitment to pushing the boundaries of design and functionality. At first glance, its sleek, edge-to-edge glass design immediately stands out, offering nearly 30% more surface area than its predecessor. This standout among Apple laptop accessories boasts Force Touch technology, which introduces a deeper dimension to user interactions, allowing for pressure-sensitive commands and haptic feedback. This wireless marvel, a prime example of Apple accessories, is rechargeable, eliminating the need for replaceable batteries, and its lightning-fast Bluetooth connectivity ensures a seamless and lag-free experience. The built-in battery lasts a commendable month or more between charges, and with its Multi-Touch gestures, navigating through macOS or any application becomes a breeze.
Pairing the Magic Trackpad 2 with my MacBook Air, one of the flagship products in the realm of Apple laptop accessories, felt like reuniting two long-lost siblings. The fluidity it brings to the table, especially for tasks that require precision, is unparalleled. Whether I'm editing photos, navigating spreadsheets, or simply browsing the web, the trackpad feels like a natural extension of my fingers. Its low profile, combined with the slight tilt, ensures ergonomic comfort during extended use. For MacBook Air users who, like me, prefer a desktop setup at times, the Magic Trackpad 2 A1535 is an indispensable Apple accessory, effortlessly bridging the gap between portability and functionality. In the realm of trackpads and Apple home accessories, Apple's Magic Trackpad 2 truly stands in a league of its own.

5. JBL Flip 6 Portable Rechargeable Bluetooth Speaker
The JBL Flip 6 Portable Rechargeable Bluetooth Speaker is a sonic powerhouse packed into a compact and stylish design. From the moment I unboxed it, I was immediately taken by its robust build quality, with the IPX7 waterproof rating assuring me that this speaker can handle a splash or two. Diving into its technical specifications, the Flip 6 boasts a new racetrack-shaped driver, delivering crisp highs, clear mids, and deep bass that JBL is renowned for. The speaker's battery life is impressive, offering up to 12 hours of playtime on a single charge. And with its USB-C charging port, recharging the device is a breeze. The Bluetooth connectivity is seamless, ensuring uninterrupted audio playback, and the PartyBoost feature, which allows pairing with other JBL speakers, is a delightful addition for those looking to amplify their sound experience.
Pairing the JBL Flip 6 with my MacBook Air was an auditory revelation. The speaker's rich sound profile breathed new life into my favorite tracks, podcasts, and even the movies I streamed on my MacBook. The compact size of the Flip 6 made it an ideal companion for my workspace, and its portability meant I could easily move from room to room without missing a beat. For MacBook Air users, the JBL Flip 6 isn't just a speaker; it's a statement of sound quality and versatility. Whether you're working on a presentation, hosting a virtual meeting, or simply relaxing with some tunes, the JBL Flip 6 ensures your MacBook Air's audio output is nothing short of spectacular. In the realm of portable Bluetooth speakers, the Flip 6 undoubtedly deserves a spot on any top-ten list.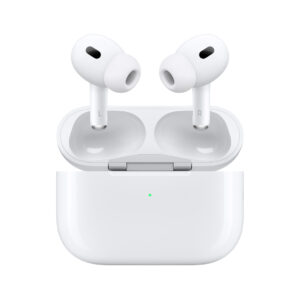 6. AirPods Pro 2
The AirPods Pro 2 has emerged as a true marvel of audio engineering. Building on the legacy of their predecessor, these earbuds come equipped with enhanced active noise cancellation, ensuring that the world's distractions fade away, leaving you with pure, unadulterated sound. The adaptive EQ, which tailors music to the shape of your ear, promises an audio experience that's both rich and personalized. With a more extended battery life, sweat and water resistance, and the new MagSafe charging, the AirPods Pro 2 are designed for both leisure and the rigors of a workout.
For MacBook Air users, the AirPods Pro 2 aren't just another pair of earbuds; they're a seamless extension of the Apple ecosystem and a prime example of Apple laptop accessories. The MacBook Air, celebrated for its performance and sleek design, finds its perfect audio match in the AirPods Pro 2. The instant connectivity, thanks to the H1 chip, means you're always just a tap away from crystal clear audio, whether you're on a conference call or deep into a creative project. The spatial audio feature, which provides theater-like sound, elevates movie-watching to a whole new level. In the crowded world of wireless earbuds, the AirPods Pro 2 stand out, not just as a testament to Apple's commitment to innovation but as an essential Apple home accessory for any MacBook Air user.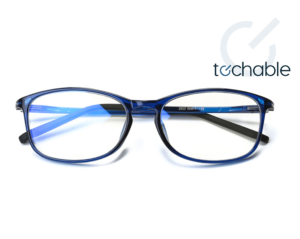 7. Blue Light Blocking Glasses
Blue Light Blocking Glasses have rapidly become a staple for digital professionals like myself, especially in this age of screen ubiquity. At their core, these glasses are designed with specialized lenses that filter out a portion of the blue light emitted by digital screens, including that of the beloved MacBook Air. Technically speaking, these lenses often come with an anti-reflective coating, which not only combats digital eye strain but also reduces potential glare. The science behind it is compelling: by reducing the amount of blue light that reaches our retinas, these glasses aim to alleviate symptoms of digital eye fatigue, such as dry eyes, headaches, and even disrupted sleep patterns.
Pairing Blue Light eyeglasses with my daily MacBook Air sessions has been nothing short of transformative. Gone are the days of rubbing tired eyes after hours of work or binge-watching my favorite shows. The glasses seamlessly blend into my workflow, ensuring that my eyes remain comfortable and fatigue-free, even during those marathon coding sessions or late-night writing escapades. The subtle design of most Blue Light eyeglasses means they fit effortlessly into any professional setting, and the added benefit of potentially improving sleep quality is a game-changer. For MacBook Air users who, like me, find themselves glued to their screens for extended periods, investing in a pair of Blue Light eyeglasses is a no-brainer. They're not just an accessory; they're a shield for our most valuable assets – our eyes.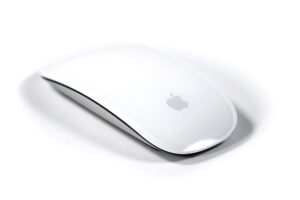 8. Apple Magic Mouse (A1296 MB829AM/A)
The Apple Magic Mouse (A1296 MB829AM/A), one of the Best Apple accessories, is a masterstroke of design and engineering, seamlessly blending aesthetics with functionality. At the heart of its allure is the mouse's sleek, button-less design, which is not just about looks but also about redefining user interaction. The entire surface of the Magic Mouse, a standout in Apple laptop accessories, is a multi-touch area, allowing for intuitive gestures like swiping between web pages or scrolling through documents. Its laser-tracking engine ensures responsiveness on almost any surface, and the Bluetooth connectivity means no more tangling with wires. The mouse, a prime example of Apple accessories, is powered by two AA batteries, and its intelligent power management system ensures prolonged battery life, making it a reliable companion for those on the move.
Pairing the Magic Mouse with my MacBook Air, enhanced by various Apple home accessories, was nothing short of delightful. The seamless integration and the gesture-based controls felt like a natural extension of the MacBook's own trackpad, but with the added advantage of a handheld device. The smooth top shell, combined with its low-profile design, ensures that the mouse fits comfortably in the hand, making extended use a pleasure rather than a strain. For MacBook Air users who frequently transition between a mobile setup and a more stationary workspace, the Magic Mouse offers the perfect balance of portability and functionality. In the vast sea of wireless mice, the Apple Magic Mouse stands out, not just as a piece of tech but as a statement of elegance and efficiency in the realm of Apple accessories.
What accessories are good for MacBook Air?
There are several great accessories for the MacBook Air, including protective cases, USB-C hubs, external monitors, laptop stands, and high-quality headphones like the AirPods Pro. MOFT Accessories and the Logitech MX Master 3S mouse are also highly recommended for enhanced productivity and comfort.
Should I use a mouse with a MacBook Air?
Absolutely! While the MacBook Air's trackpad is responsive and versatile, using a mouse like the Logitech MX Master 3S can offer more precision, especially for tasks like graphic design or extensive spreadsheet work. It's all about personal preference and the nature of your tasks.
How can I keep my MacBook Air cool?
To keep your MacBook Air cool, ensure it's on a hard, flat surface for optimal ventilation. Avoid soft surfaces like beds or couches. Consider using a laptop cooling pad or an external fan. Regularly clean the vents and keep your software updated, as some updates optimize performance and reduce overheating.
"At Techable.com, we pride ourselves on breathing new life into premium Apple products. Dive into our collection of expertly refurbished MacBook Airs, MacBook Pros, MacBooks, Mac Pros, iPhones, and other select devices. Each product undergoes rigorous quality checks to ensure it meets our high standards, ensuring you receive the best of Apple without the premium price tag. And because we stand firmly behind the quality of our products, we offer an industry-leading warranty of up to 3 years on our devices. Still on the fence? Our 30-day return policy ensures peace of mind with every purchase. Choose Techable, where quality meets affordability."