Deals
The Best iPhone Earbuds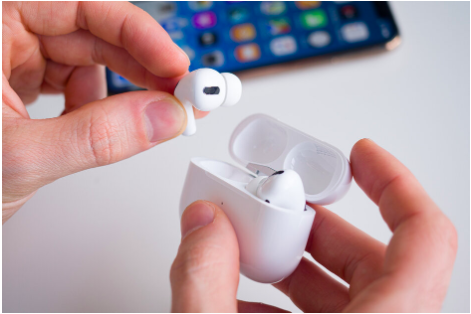 In 2019, the iPhone led the list of top-selling phones all around the globe according to a study conducted by Omdia and Counterpoint Research. Their reports show the trust of consumers in this brand, and how willing they are to pay for quality, considering that this line isn't the cheapest of all. And there's a reason why iPhones are considered one of the best out there. 
It's been years since this handset has become a popular choice for many. It is packed with a fine camera, user-friendly interface, and design, and thousands of useful apps you can maximize to your heart's content. This has become attractive to consumers! What is even better is that like the iPods we have grown to love, this breed also has an excellent sound. So, it is just about right that you get the best earbuds that will do your iPhone justice!
The Best Wireless Earbuds for iPhone
In this article, we are listing down the best earbuds for iphone and other cell phone brands out there. We went beyond the popular AirPods, and included some wireless earbuds that would also work best for your phone without sacrificing quality and price. Are you ready? Let's get this started! 
Apple AirPods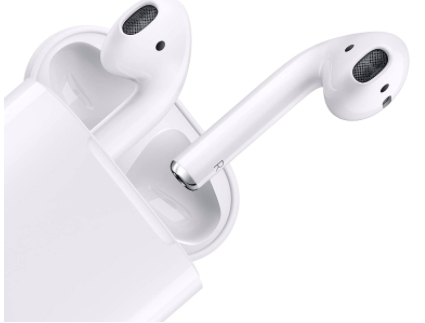 You probably saw this coming! Of course, one of the best wireless earbuds that would complement your iPhone well is the Apple AirPods. This is a comfortable pair of earphones as it automatically connects to your device with ease. Even if you are a new user, you won't have a hard time understanding its features because it is simple to set-up. Amazon will have this on stock at a reasonable price so don't miss the chance! 
Once you place it in its case, it would charge quickly with the use of a lightning connector. You can expect to have rich and high-quality audio and voice after! That is its magic! If you want to use it for sports, or other active activities, that should not be a problem too. This earset is suitable for various kinds of purposes!
Since this technology utilizes a force sensor on its stem, you would only have to squeeze it to work. Call Siri, skip a song, answer calls – these are the common functions you can make the most of. The battery life of the earphones is five hours, but the case has 19. Are you always on the move? Are you in a hurry? No need to worry! It would only take five minutes to charge this and it would restore its energy! Own one of the best earbuds for iPhone now!
Sony WF-1000XM3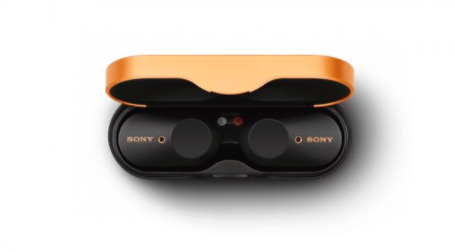 Sony has established a name for itself when it comes to gadgets and devices, and the Sony WF-1000XM3 Wireless Earbuds is proof to this. Available for $146.96 at Amazon, this product is inspected and examined closely to make sure that it went beyond the standards. There's barely a scratch nor dent, and the battery still has 80% of the capacity once you buy it from the provider. 
Unlike the other brands from this list, this Sony WF-1000XM3 has a 24-hour life capacity. Just make sure that the case is always with you. You only need to re-charge it for 10mins. When you do, you can already enjoy a 90-min playtime, which is superior. The true wireless design with its uninterrupted L/R is what makes its transmission smooth and seamless.
Access your music, information, and more with only a simple hand gesture. Indulge in synchronization like no other! What a treat considering that you're about to get a unique battery performance as well. The sound is expressive, clear, and detailed. If you are an avid music listener, take your experience to a whole new level with this device! 
Tribit FlyBuds 1 Wireless Earbuds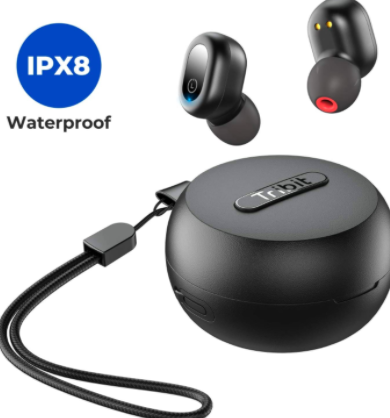 You can be out in the rain or sweating after a rigid workout, and this pair of wireless earbuds will work just absolutely fine! The PCBA nano-coating and waterproof shell materials are responsible for the function of this pair. Don't underestimate its size either! Just because it's small, does it mean the performance is the same. It has a serious sound performance that is best when you are watching movies, talking to the phone, or listening to your favorite music. 
This product is one of the best wireless earbuds for iPhones. So, don't miss the opportunity to own a pair! Lucky for you, this is on sale at Amazon. Save 25% and get this product for only $29.99 which was originally sold at $39.99. 
The Tribit FlyBuds 1 Wireless Earbuds work for any ear shape. It is adjustable so you'll definitely get the right fit. There are also 6 different silicone ear tips that are bound to give you a comfortable feeling when you use them. They will definitely not fall out when they are on your ears. It is also powered with wireless charging. Lastly, this goes against the pressing technology that is common in most earbuds. The idea is for you to depress the buttons so that it would work. There's a 30-day money-back guarantee for the provider cares about your satisfaction.
Cambridge Audio Melomania 1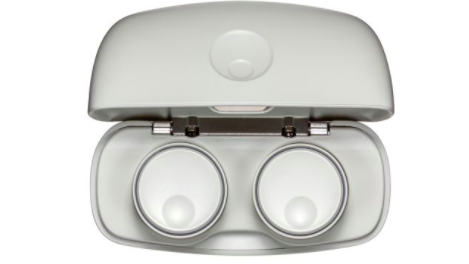 Do you have a budget to spare for your iPhone earbuds? Then, experience the wonders of Cambridge Audio Melomania 1 Earbuds Pair! This doesn't have 50 years of Great British Audio in Every Pair for nothing! Melomania is known for delivering stunning audio with its advanced technology intended for superior performance. This product, though not on sale, is available on Amazon for $99.95.
What sets this apart from its contemporaries is that it can hold a 45-hour playtime. It can go about for 9 hours without recharging, then the rest is through the case that allows 4-times recharging. It is also powered by the 5.0 Bluetooth technology that is popular for its advanced connectivity. There's no drop in signal. And it has a 90-feet reach. 
Dubbed as a true wireless headphone, Melomania produces a phenomenal sound. You can shift from one track to another with ease. There's barely a shrug, and the vocal is always clear and detailed. No wonder music lovers highly recommend this brand. You can also explore its noise-cancellation standard. Pair it to your phone and talk to Siri when you need her. Use this for your activities too! 
TOZO T6 True Wireless Earbuds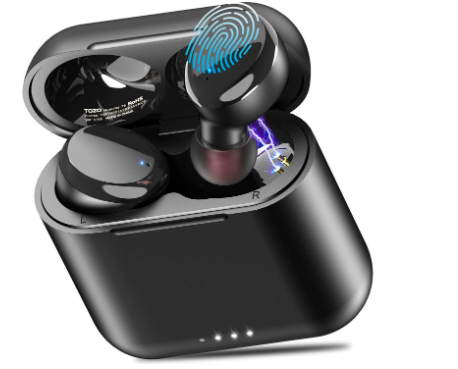 One of the budget options for iPhone earbuds wireless is the TOZO T6 Wireless Earbuds. This earphone did not adopt the most advanced Bluetooth 5.0 technology to underperform. It goes with an in-call stereo sound which is the best if you want an effortless transmission of sound. Enjoy the features of this product without burning a hole in your wallet. Amazon has this on sale for only $49.99. Take this and save an extra 20% as you apply the coupon provided!
Do you love listening to music wherever you go? Do you like the sound of the bass as it hits your ears? If yes, this item is surely for you! It has a natural and authentic sound with an engaging and powerful bass performance. You wouldn't expect that for the kit in a super light-weight design. It is only 4.5g but it doesn't mean that the sound is also the same. 
Since it is packed with the most advanced Bluetooth 5.0 technology, it supports HSP, HFP, A2DP, and AVRCP. It is also suitable for different kinds of activities like working out, skiing, or running because it has an IPX8 Waterproof Nano-coating. Professional musicians commend it for the clear sound it produces. Own it while it's on a big sale!
AUKEY True Wireless Earbuds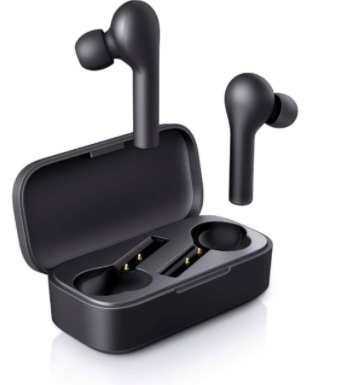 If you want to experience superior sound quality, one-step reconnection, convenient touch control, and dependable battery life, then look no further because AUKEY True Wireless Earbuds is known for that. Amazon slashed the price of this pair from $49.99 to $2.99! That's a 40% off from your purchase! Grab a pair while it lasts!
This product features a high-fidelity sound that will let you experience crispness as you use it. Its Bluetooth 5 technology is responsible for its faster pairing. This makes it a dependable source of stable and efficient wireless connection. You just need to take the earbuds out of the charging case, and the rest is easy. That would automatically connect to your phone once you have set them up together. The convenient touch control will also make your life more convenient. This will effortlessly allow you to manage audio playback and calls.
Are you tired of charging your wireless earphones all the time? You won't have to experience that from this brand. It provides a maximum of 5 hours working life, then 25 hours more when you charge it. Once you buy this, you will receive the earbuds, a micro-USB cable, three pairs of ear-tips, and as well as a user manual.
Sennheiser Momentum True Wireless 2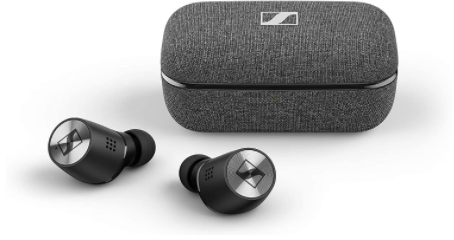 You must be living under a rock if you have not heard of Sennheiser's reputation. If you're willing to shell out some money, and then this pair will be worth it! Go to Amazon and this is sold for $299.95 as of writing this. Make the most of unrivaled stereo sound which is brought by the 7mm dynamic audio drivers of this pair! If you want your sound matured and refined, this is the brand that you must trust. It can deliver just that!
Known for its lightweight and comfort, the Sennheiser Momentum True Wireless 2 is a premium pair of earbuds that offer both aesthetics and functionality. It is an excellent choice as far as durability and battery-life are concerned. It is powered with touch-sensitive pads on every earpiece. This will allow you to control your music playback more conveniently.
Go for an uninterrupted play which could last for about 7 hours. Extend it for 28 hours by recharging. It isn't only the best for music, it also works perfectly for movie marathons, and other activities that need sound. If you have a budget to stretch, this unit won't disappoint you!
When it comes to selecting the best earbuds for your iPhone, always consider the features and price! You will never go wrong for sure! Check out Techable regularly to get updates on iPhone accessories, and other cool products!