How To
Laptop Recycling
Safely and easily recycle your laptop, phone, or tablets
The typical lifespan of a laptop, even the high-end ones, is around five years. What do we mean by that? When you've reached the point where it takes five minutes to boot up your device, 10 seconds just to open your web browser, or you need it plugged in the whole time because the battery is pretty much useless, you most likely need to find a new one or replacement. That's when you'd usually decide if it is time for an upgrade. But what happens then to your old laptop? It's time you learn about laptop recycling. 
Every year, 9.4 million tons of e-waste (an informal term that refers to the end life of electronic products) are being thrown away, and this is just in the United States alone. To put it in perspective, that's 200 laptops per second! Right now, only a pinch of that is being recycled.  Imagine the amount of e-garbage the whole world generates because of that.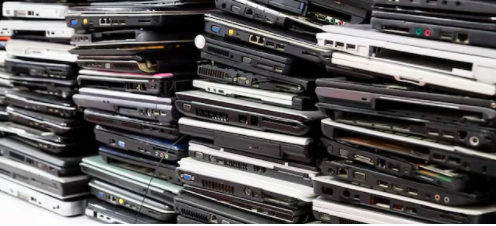 So what can you do to help? When thinking of upgrading, it's best that you have your plan or go-to for recycling your old gadgets. Even before you buy, you should know what to do with your worn-out device. Otherwise, you will add it up to the piling amount of e-waste our environment can't afford to accommodate. 
Backing up your personal stuff
Your precious photos, work files, video games, browsing history, or your rant letter to your boss – you want to make sure those don't get in the hands of the wrong person. So better clean up those drives before anything else. 
Before cleaning, you should back all your files up in your preferred cloud drive. Google Drive offers a plan of 2 TB of storage for just $10. Or if you just want something a little more private, an external hard drive or SSD will do the trick. Externals have become relatively cheap. A Seagate 2TB drive, in Amazon, for example, would cost you just under $60.
Deauthenticate your laptop from a bought Software
Some purchased software that has a functionality where you can have their product installed on only one device. If you miss the step of de-authenticating your laptop before giving it away, it would be a little problematic compared to being prepared. The common software for this case is Adobe. If you own an Adobe product, it's best you do this to easily reinstall it on your new laptop.
Here's a list in case you have the following software as well: 
Ableton 

Amazon Music

Audible

Corona

Dashlane

Dropbox

Google Play Music

iCloud

iTunes

Kindle App

Microsoft Office

Origin Games
Clean up!
Once a backup is done and de-authentication is dealt with, cleaning up your laptop's drive is made easy now with Windows and macOS. For Windows, just go to Settings > Update & Security > Recovery > Get Started. Select the Fully Clean the Drive option since you'll be recycling your laptop. This will wipe the hard drive clean, and data will be non-recoverable.
Where can you recycle?
So you have your laptop clean and ready to be recycled, but you don't know where to start.
 If you're looking to sell your MacBook Pro, Macbook Air, iMac, iPad, or iPhone, we recommend using SellMac.com to get the most value for your used device.
Another common means is through Amazon's Trade-In Program. You won't get cash, though, for this one; instead, an Amazon gift card as payment for anything you trade into phones, electronics, and other gadgets.  
Best Buy is also a good option. They offer free service if you're getting a new product from them. If not, they'll charge a small fee. Just note that they require some recycling specifications and may vary state-by-state.
If you have a business, we recommend recycling your used laptops to a laptop recycler like NextTech to safely dispose of bulk tech products. 
Why Buy Refurbished?
Buying refurbished helps the environment. At Techable, we offer Refurbished Macs that will give you the worth of your money. From Apple MacBook Pro to Air, you can shop over a wide array of choices that are still in top-notch condition without any signs of cosmetic wear. Each and every unit we offer is tested to ensure that it's still in 100% functional and pristine condition.
Why should you consider owning a refurbished laptop? Well, this is one of the ways you can help in reducing electronic waste. Once you have set your previous device to be recycled, you can replace it with refurbished ones that are not very far in terms of performance from the brand new models. The only difference is that you won't have to spend as much. 
Imagine just paying less and helping conserve raw materials as well. This can also be a way for you to even make the most of your old laptop instead of having it totally dismantled and thrown away without proper disposal. 
If you still haven't caught the importance of recycling, there are a lot more problems with throwing away electronics other than being added to landfills. If you didn't know already, electronics contain toxic chemicals and metals such as chromium and lead. Having these laying around our ecosystem could lead to health hazards to people, especially those living near areas affected. So next time you throw your device for an upgrade, think of ways to conserve first.