Updated: February 07, 2021
Apple's designs are what turned them into the largest company in the world. Besides aesthetics, Apple products deliver high-quality performance, which is why most computer enthusiasts and business users prefer them.
Apple consistently offers reliable storage and an improved overall look without compromising quality, so we won't have to worry about upgrading every so often like we were used to with our parents' lagging hand-me-down PCs and laptops in the past. This becomes possible with drivers only found in Apple devices like the SSD for MacBook. 
Storage of computer technology, including desktops, notebooks, and mobile devices, is a valuable asset that certain users can quickly fill up. Many configurations can be overloaded by the need to keep entire digital lives on a single piece of hardware and provoke the need for either a storage upgrade or a replacement of the computer itself. For Mac users, this capacity filling will lead to an exploration of options for drive upgrades that they might have for their Mac.
The numerous choices available on the market, as well as the less-than-clear terminology, may, however, make it intimidating for the uninitiated to look into them with any real depth. You have the option of purchasing three different forms of storage when buying a new Apple Mac: a hard disk, Flash storage (also known as an SSD or Solid State Drive), or a Fusion Drive.
Let's take a look at Apple SSDs and how they've progressed throughout the years.
What is SSD Storage?

Non-mechanical drives relying on flash memory chips to store data are the newer form of storage, solid-state drives, or SSDs. Data contained on the chips of the flash memory is handled by an embedded processor, allocating where new data is written and managing data retrieval.
Since this is an entirely electronic process, this implies that there are no mechanical systems at play that could slow down the drive itself from reading or writing data. The latency of the drive that starts to read or write data is low, and this gives SSDs a major speed advantage over hard drives when combined with much faster reading and writing times.
The introduction of SSDs as computer boot drives allowed Mac and PC boot times to decrease from about a minute to a matter of seconds, as well as drastically reducing waiting times for files stored on the drives to be accessed. The absence of mechanical elements means that when in use, an SSD external hard drive is also virtually silent, as well as produces less heat.
They are more durable because the SSD consists of chips soldered to a sheet, making them more acceptable for notebooks and other applications where movement is important. Cost and capacity are the only possible downsides of an SSD external hard drive; in contrast to the much older and more mature hard disk, it is a relatively younger technology. For instance, at the time of writing, an SSD 1TB could be purchased for about $100.
The cost of a 1TB hard drive is as low as $40, or a person may buy a 3-terabyte hard drive for about the same price as the SSD instead. The difference is more noticeable at higher storage capacity levels. Depending on the model and manufacturer, an SSD could easily cost $1,000 or more at 8TB, whereas a hard drive of a similar size could be purchased at about $200.
This has resulted in enthusiasts in PC circles having both SSDs and hard drives, with the former used for the boot drive and the latter used for less accessible or large files to store. The cost-per-gigabyte for SSDs is now beginning to hit the point in 2021 that enthusiasts are switching to all-SSD systems, as the price premium can be more acceptable for higher capacity.
Apple SSD Sizes

Apple provides SSD storage in sizes of 64, 128, and 256 gigabytes on the MacBook Air and 128, 256, and 512 GB on the MacBook Pro as of the time of publishing. The MacBook Air models come with a specific SSD size as standard, and only certain models can be upgraded as a build-to-order option with a larger SSD external hard drive. By default, all MacBook Pro models have a regular hard drive, but all of them at the time of purchase can be upgraded to an SSD in any of the above sizes.
Apple SSD Performance

As is usual on standard disk drives, an SSD has no moving parts, which ensures that there is no physical time lag when the drive seeks data on a spinning disk. However, due to technical limitations, writing data to an SSD is usually slower than writing to a normal hard drive.
Comparing SSDs with hard drives, benchmark testing reveals that even the slower hard drives used in Apple laptops are around one-sixth (17%) quicker when writing to the disk than an SSD. However, when reading data back from the disk, SSDs are much quicker than conventional drives, with results that are about two to four times faster (100 to 300 percent).
Apple SSD Power Usage
At 4200, 5400, or 7200 revolutions per minute, a standard laptop hard drive keeps its disks spinning, while an SSD has no moving parts. This results in an SSD consuming much less power than a conventional hard drive, as can be predicted, which in turn allows the MacBook to run off its battery charge for longer.
Its power requirements are around one-third (33 percent) of those of a rotating hard drive when an SSD is in operation. This decreases to one-tenth (10 percent) of the power consumption of a spinning hard drive during times when the drive is idle.
Apple Compatible MacBook Air SSD Upgrades

SSD MacBook Air drive swaps and improvements are difficult to cover due to the continuously changing pinouts, interfaces, and various form-factors of SSD drives. Over the years, Apple has moved from 1.8-inch PATA drives to custom micro-SATA style M.2 SSD pinout modules that have increasingly assisted the interface speeds of SATA I, II, and III. Apple has moved to proprietary PCIe SSD modules in its new generation of Air laptops, and your choice of compatible 3rd-party aftermarket solid-state drive modules for MacBook Air is again somewhat limited.
You can see that Other World Computing, OWC, Feather, and Transcend deliver model-specific Apple compatible SSD cards for MacBook Air laptops if you explore the reasonable but small range of solid-state drive modules for MacBook Air. To help with the data transfer process and repurpose your original Apple MacBook SSD module as a fast USB 3.0 external backup drive, OWC also provides blade/case packages with external USB 3.0 drive enclosures.
1. Custom PCIe SSD Modules for MacBook Air 2014 and Later
In late 2013, Apple again switched to MVMe PCIe SSD blades with Apple-specific pinouts that differ from the off-the-shelf M.2 standard PCIe blades that are readily available. To convert a regular blade, you can purchase small pinout adapters or buy Apple compatible modules from OWC, Feather, or Transcend.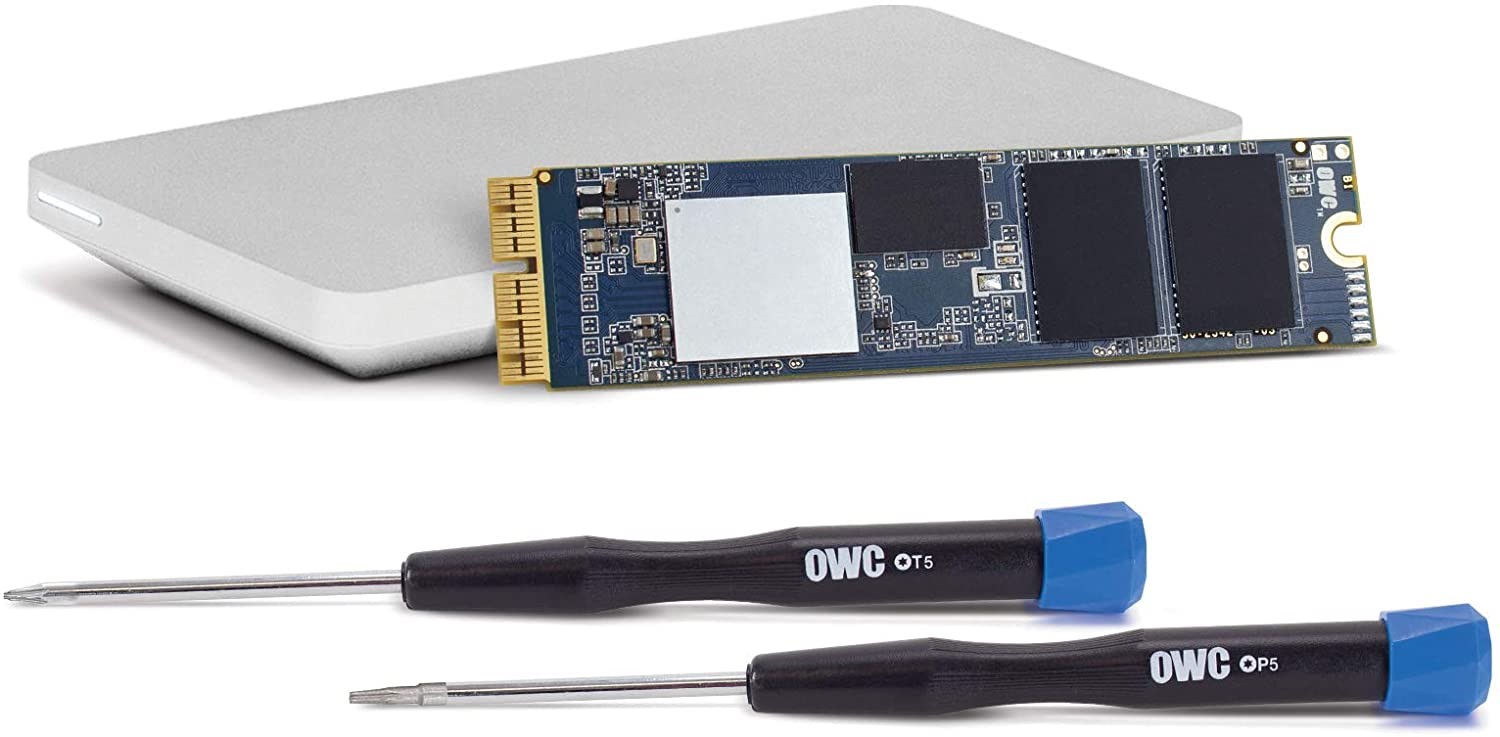 2. For 2010-2012 MacBook Air Custom SATA SSD Modules

Apple modified the form-factor of the MacBook Air SSD drive to a CUSTOM interface flash chip module again in 2010. There are upgrade options available from Transcend (with their JetDrive line) and Other World Computing. The "AURA" line of SSDs from OWC can be very unique to specific Air model revisions released over the past few years.
So, it is important to order the correct Apple compatible SSD card update with your exact Apple model # and product ID. It's a proprietary shape rather than limits choices for upgrading to a larger drive module, more like a slim memory chip upgrade. If you can afford it, OWC provides up to 1 TB of custom SSD modules for unique Air MacBooks.
3. MacBook Air PCIe SSD Cards for Retina Display

Once again, for the new Retina MacBook Pro series, Apple uses a proprietary PCIe SSD interface. You can upgrade the SSD only if, at the time of purchase, you choose to upgrade to 512 GB of solid-state capacity. The ultra-slim form factor (as with the Air) allows our definition of standard hard drive sizes to be dumped to fit into ever-tight sizes. Word has it that early Retina MacBooks will ship with EITHER Samsung OR Toshiba SSD modules with slightly different performance factors off-the-shelf configurations.
4. MacBook Air SSD Insights for Early Rev A/Rev B

In the original MacBook Air, Apple modified the Form of SSD: the Rev. A Air used a PATA – Parallel ATA 40-Pin ZIF interface 1.8″ 5mm thick SSD made by Samsung when first launched.
5. SATA 1.8′ SSD For MacBook Airs 2008-2009
Things changed again with the MacBook Air Later Rev B and subsequent versions. Apple moved to an uncommon, rather non-standard SATA I Interface Low-Insertion-Force LIF cable that is very unique to Samsung and perhaps Apple's custom spec.
Difference Between Fusion Drive vs SSD

As we have already mentioned, the main difference between a Fusion Drive and an SSD is the price. If you want to be able to store all your data on a high-capacity disk, but you don't want to spend a lot on it, then the best alternative is the Fusion Drive.
There's more to it, however, than just cost; the drawback to the Fusion Drive, compared to SSDs, is that it has moving parts that can malfunction if you drop/damage your machine like an HDD. It's also not that fast as a dedicated SSD, but it's only power users who will possibly note the difference between an SSD and a Fusion Drive in read-write speeds.
External Hard Drive for Apple Macbook and Pc
To expand capacity but also add some serious speed, an SSD can be used. Here are some of the best SSD external hard drives for upgrading your Mac.
Rugged SSD Pro by LaCie
SanDisk Extreme SSD
G-Technology G-Drive Mobile SSD
SanDisk SSD PLUS 480GBB
Samsung T5
1. Rugged SSD Pro by LaCie

For many years, LaCie's Rugged drives have been popular with Mac users, thanks to their high-performance combination and the now-familiar orange sleeve that helps to keep the drive safe while you work outdoors. However, in the past, the Rugged range has often used traditional hard drives that are slower as well as larger and heavier than the current solid-state drives. Encourage the Rugged Pro SSD, which is targeted mainly at imaginative users.
For a model with 500 GB of storage, the Rugged SSD range starts at about £180, but the SSD Pro, with its matte-black sleeve, stands out from the rest of the range. It's very pricey, with SSD 1 TB of storage costing £ 400/$ 419 and a hefty £ 700 for the SSD 2 TB edition, but it justifies that price with an even tougher design and the new, super-fast solid-state drives designed for professional video work.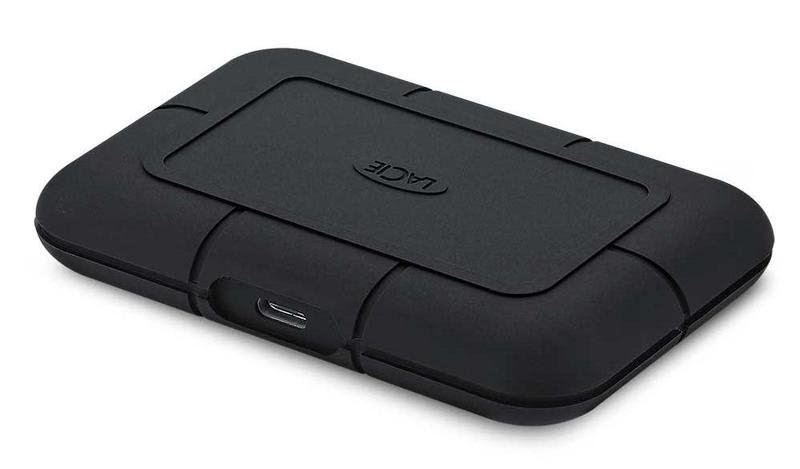 Switching to a solid-state drive implies that the SSD Pro, measuring just 98 mm long, 65 mm wide, and 17 mm thick, is now the smallest model in the Rugged series. It only weighs 0.1kg, so you can easily slip it into your pocket or bag when you're traveling. Despite its lightweight nature, the new black sleeve is seriously tough and is IP67 rated for water and dust resistance, allowing it to live for up to 30 minutes in 1 m of water.
It can deal with falling from a height of 3 m, and the weight of a two-ton car running over it can also be resisted. In case something goes wrong, it requires a five-year warranty, which includes one visit to the data recovery laboratories of LaCie if you need to restore substantial data.
The Rugged SSD Pro only includes a single Thunderbolt 3/USB-C interface, but most of its high cost is due to the use of the latest NVMe solid-state drives, which provide high-end video applications with top performance, such as editing 8K, or super-slow-motion video files, which can be massive, as they film on the new iPhones at up to 240 frames per second.
The drive did not disappoint, recording 1780 MB/s consistent write speeds, and an even faster 2480 MB/s read speeds, with both figures leaving almost every other SSD drive. And, the Rugged SSD Pro blew us away when backing up our iTunes music library by backing up 5 GB of music files in just five seconds. 
Of course, not everyone would need that kind of efficiency, particularly at this price, but the Rugged SSD Pro is in its own class if you work with high-resolution video and need a quick, tough drive for outdoor work.
2. SanDisk Extreme SSD
Of any of the best SSDs for the Apple Macbook, you will look at; the SanDisk Extreme is the best combination of portability and robust build. It's also people's best portable SSD of the moment, with a few small design touches that make it the handiest portable model around.
First, it's small in size. It fits comfortably into a pocket and is smaller than either the Seagate or Samsung options, in the shape of a shrunken mobile phone. The casing of the SanDisk Extreme SSD has rubbery sides, and if you drop the drive will not get damaged as easily as metal. Most portable SSDs are built to withstand drop impacts, but the finish is even here. However, its front is plastic with tiny shallow dot indents that make it look less extreme than some others.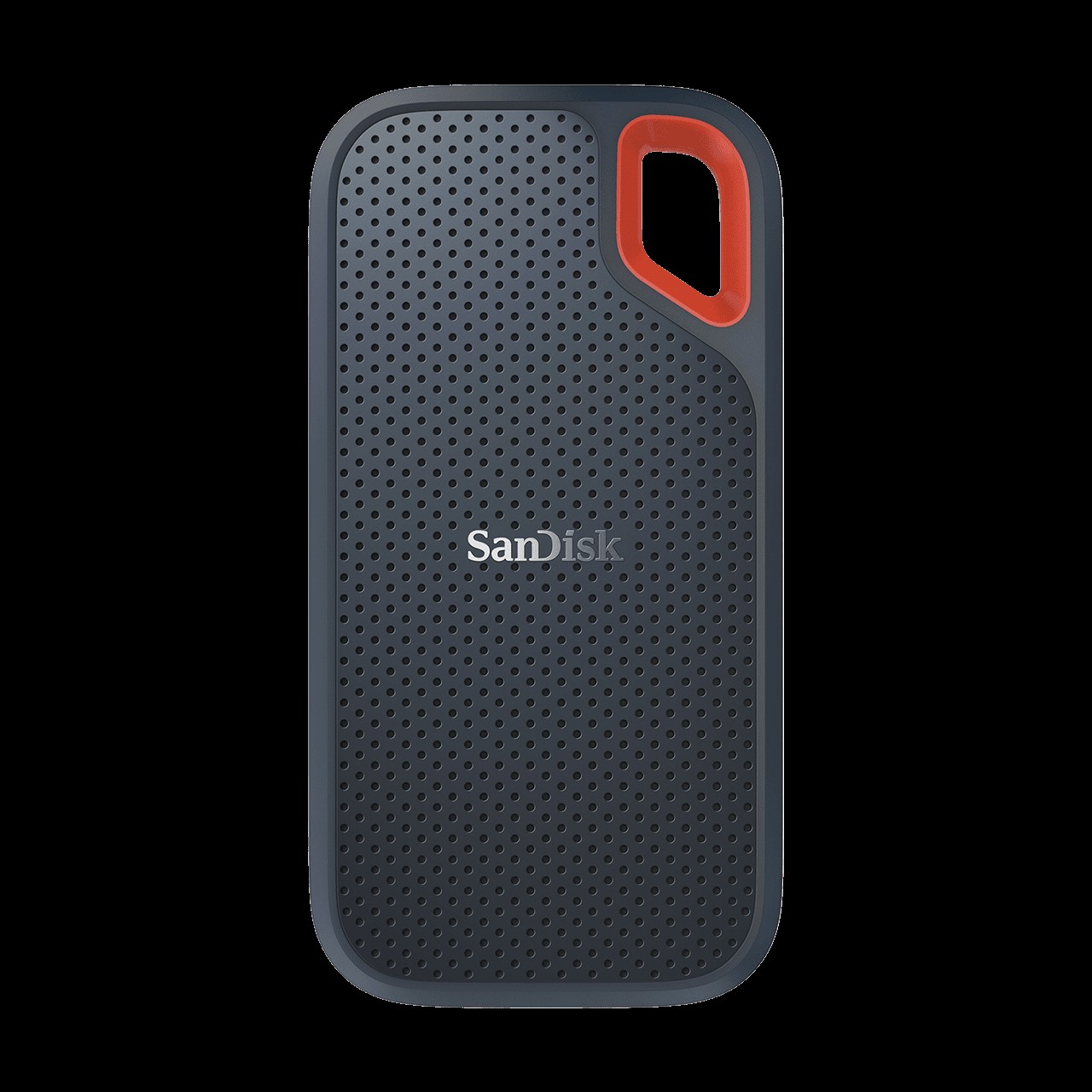 It is 1500G shock-resistant and has water and dust resistance IP55. This means that water jets can be treated without harm in either direction by the SanDisk Intense SSD. To ensure that you can also use the SSD with any device, SanDisk has done its best. The package includes a single cable, but a small adapter ensures you can switch the terminal between a USB-C Thunderbolt 3-style or a trusty old full-size USB. 
It uses the exFAT file system, so your Mac is plug-and-play-ready, and it will play nicely on Windows machines as well. You'll find a connection on the drive itself to download SanDisk's SecureAccess app. This helps you to password-protect the files and folders listed. If you appear to forget to log in, you can let the app give you a 'hint' password, but make sure it's the correct one, as the files are encrypted, and without the password, it will not be recoverable.
Next is the performance of this SSD external hard drive. Used over a USB 3.1 Gen2 USB-C port, we registered to read and write speeds of 535 MB/s and 476 MB/s, very close to the alternatives from Samsung and Seagate. In as little as ten seconds, you can migrate 5GB of data. One thing that users want is a change in this that should come with an extra small carrying pouch, not to mention a smart way to avoid losing the USB adapter. The price is also in line with the T5 of Samsung, and some of you may prefer the 'executive chic' aluminum casing of that drive.
3. G-Technology G-Drive Mobile SSD
You may not have heard of G-Technology, but it's one of the best portable SSDs out there. This is not only one of the most Mac-centric models you can purchase, but it's also among the toughest.
In the G-Drive Mobile SSD's configuration, however, the Mac angle is not evident. Under a faux grille, a wide silver G on the front, and hints of bright blue make this drive look more like a perfect match for a sleek home office MacBook. The shape of the G-Technology G-Drive Mobile is like SanDisk's. This drive is bigger than a wide one. It's pocketable, but at 1.45cm wide, it's chunkier than other test drives.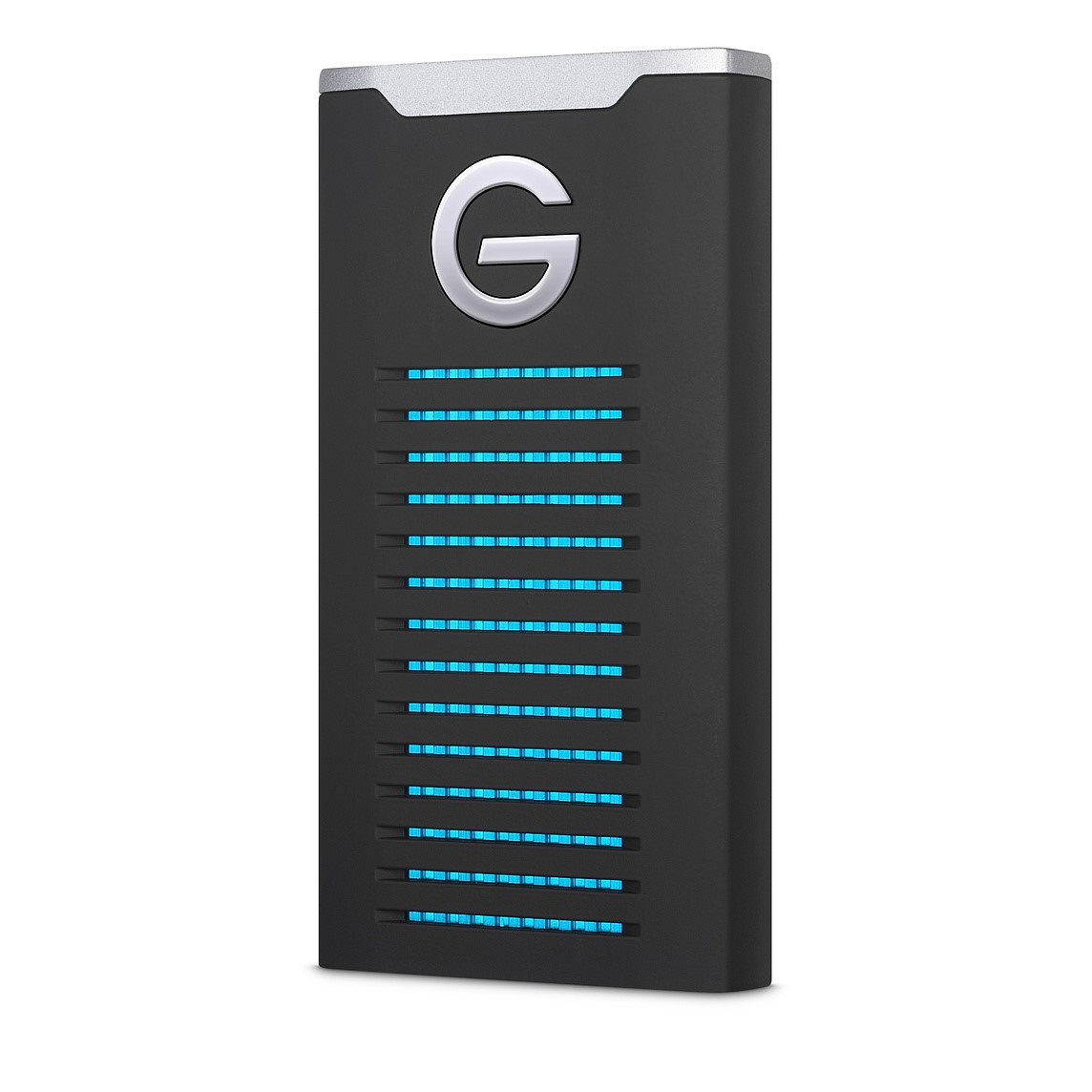 More than justified is the slight extra bulk. This is one of the toughest available SSDs, and no price jump over non-rugged alternatives is available. The G-Drive Mobile is IP67-approved, meaning it can be submerged in water with no harmful effects at a depth of 1 m. To do this, it doesn't require a rubber bung over the USB-C connector, either. It's water-resistant by nature, much like the charge sockets on some higher-end phones.
The impact and tensile strength of the G-Technology G-Drive Smartphone are higher than the competition, too. Rather than the 2m seen elsewhere, it's drop-tested to 3m and can handle 1,000lb of pressure without cracking. None of this, because the outside is all plastic, is noticeable from the feeling. Unfortunately, that includes the top seal, which looks like aluminum. This drive is tougher than the SanDisk Extreme SSD, as the architecture of that drive seems better prepared for outdoor living.
Short USB-C and USB-A (full-size USB) cables are provided, enabling you to plug in any MacBook or iMac with the G-Drive Mobile. Unusually, instead of using the cross-platform ExFat, the drive also comes ready-formatted only for macOS. For some forms of file juggling, this provides marginally better performance, but you can reformat it using Disk Utility if you need it to bridge Mac and Windows systems.
The performance of the G-Drive Mobile SSD is comparable to that of the Samsung T5. Both are USB-C Gen 2 devices and have identical SSD hardware inside. It reads at up to 530 MB/s and writes at 479 MB/s, a whopping 3 MB/s higher than the Samsung. A 'Pro' variant of the G-Drive Mobile with speeds of up to 2800MB/s is also made by G-Technology. A Thunderbolt 3 port, added to MacBook Pro models in 2016, is needed for this sort of speed. The drive, however, is almost twice the size as well. And the price is four times that.
The price of the regular G-Drive Mobile is very fair, but since there is no 250 GB alternative, those who want to spend less than £ 100/$ 100 need to look elsewhere. Currently, only 500GB, 1TB, and 2TB versions exist. This is the most stable drive on the test, but you can see more of the impacts of bumps and scrapes than on the SanDisk Extreme SSD.
4. SanDisk SSD PLUS 480GBB
The SanDisk SSD Plus 480GB drive could be what you are looking for if you have an older MacBook Pro and are looking for ways to accelerate its operation and obtain more storage space. This SSD is supported by MacBook Pros that were made in 2011 or 2012 using the SATA Revision 3.0 GUI, but if your computer was made earlier, you could still upgrade your laptop with it as long as SATA 1.0 or 2.0.0 is used. Attempting to upgrade your MacBook Pro with this SSD instead of upgrading to a new computer is certainly more cost-effective. It has a 480 GB size, enough space for all your personal files, images, and even videos.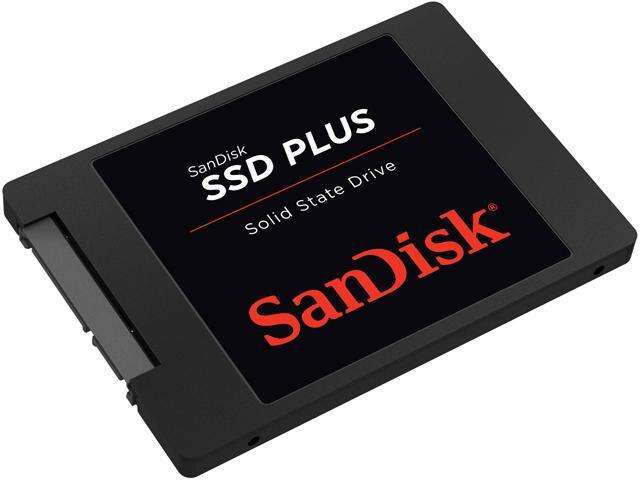 Plus, due to a 535MB/s sequential read rate and a 445MB/s sequential write rate, this SSD external hard drive helps you to save data quickly and recover it even faster, up to 20 times faster than your old hard drive. This SanDisk SSD will turn your older MacBook Pro into the computer of your dreams with cool, silent operation and generous battery life.
5. Samsung T5
For its small size and metal construction, this SSD gets top scores. Many of the most common SSDs are produced by Samsung. The Samsung T5 is like a 2.5-inch version of the shrunk-down model you might put on a laptop. This is a lightweight, smart, portable SSD with great performance and tough construction. Its frame is a 'unibody' curved aluminum piece, with plates on either end of soft-touch plastic.
The T5 is drop-tested from 2 m in height. Knocks and scrapes can damage the paint job, much like most aluminum finishes. The Samsung T5 can handle the punishment, but like SanDisk's SSD, it does not welcome it.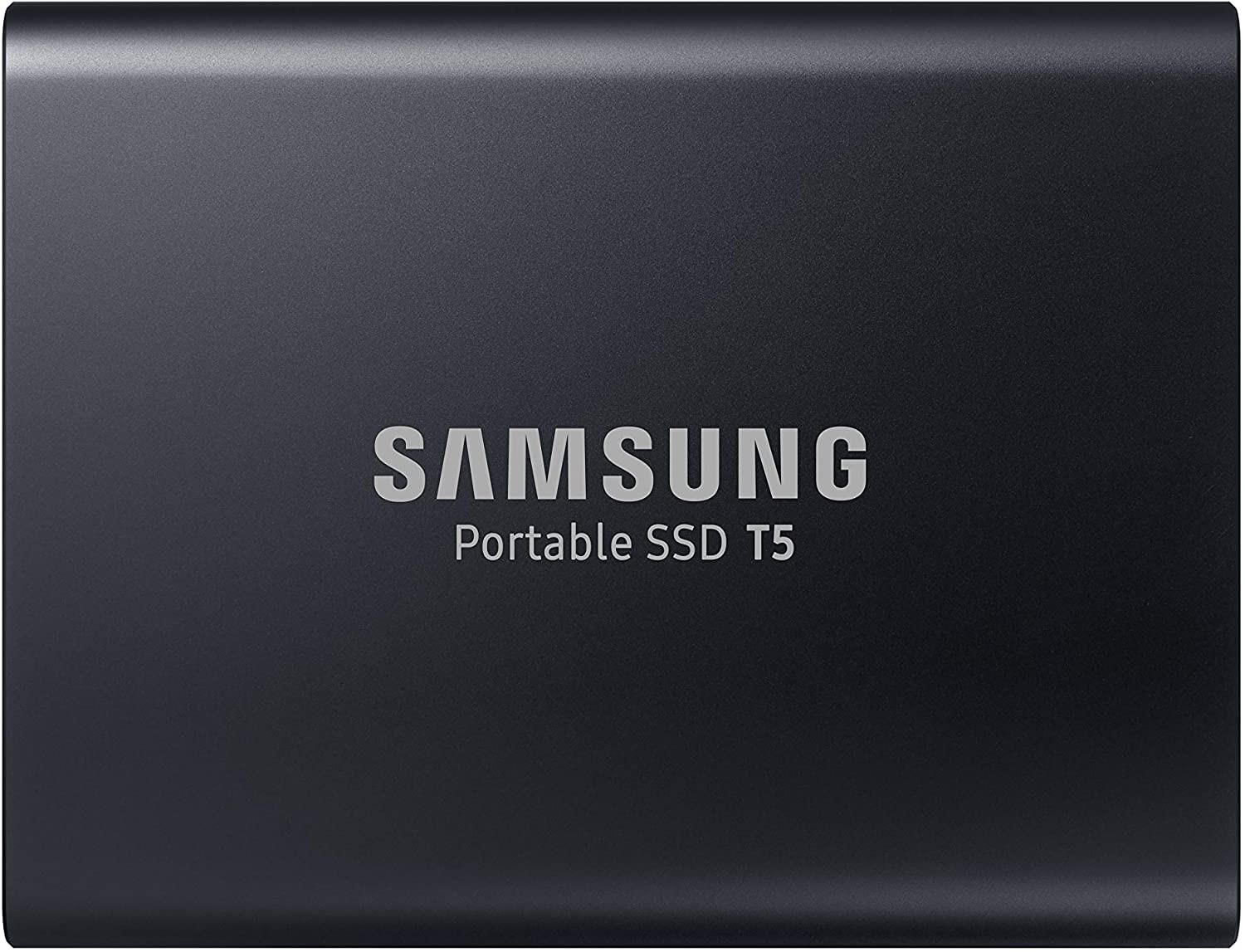 The color depends on the model that you choose, too. One is an SSD 1TB, which, like the SSD 2TB version, comes in black. Lower-capacity versions of 250GB and 500GB use a bright blue shade. This feels like the perfect fit for a smart laptop bag, with a footprint a little smaller than a business card and a thickness of 10.5 mm. It's 74mm long and 57.3mm in height. It isn't water-resistant, however. This is a portable SSD for work commutes, not trekking across jungles. You get two 40cm-ish cables in the box. In the end, one has a USB-C connector; the other has a conventional USB.
As it is exFat-formatted, as soon as you plug it in, the Samsung T5 works with Macs. The drive also has the software. This simply allows you to password-protect the contents of the whole drive using 256-bit encryption. It's on or off; you don't create an encrypted 'vault' of virtual protected files, so many of you won't want to use that function.

When we used the supplied cable from Samsung, the app only recognized the drive, failing to do so when you tried the charging cable for a phone. It was only the app that, however, had the issue, however. With the 'intruder' wire, the drive itself worked absolutely fine. 
Used over a compatible USB 3.1 Gen 2 socket, we recorded 525 MB/s read, and 478 MB/s write speeds. As such, you can purchase it on par with the other top portable SSDs right now. The Samsung T5's connector has a little blue LED that shines when the drive is attached. However, it lies under a sheet of plastic, so it isn't distracting at all.
Tips For Choosing the Right SSD:
You've just read our recommendations for the best SSDs for Mac owners that are available on the market right now. But how did these decisions come to light, and what general advice should you follow when choosing an SSD?
Hard Drives vs. SSDs
The key stumbling block is the cost per gigabyte. For a 1TB portable SSD, you could pay £ 340, whereas a 1TB external hard drive costs around £ 50. That's 34p per gigabyte for an SSD or 5p for a hard drive. This is because to store information, hard drives use relatively cheap spinning platters. SSDs use chips of NAND memory. They are more costly but also quicker and make much smaller enclosures.
Ultra-portable or 2.5inch
SSD performance varies from reading speeds of about 300-500MB/s all the way up to 3000MB/s, but there are three simple physical types of SSD. And two could be called portable. 'Naked' SSD boards connect to PCIe or SATA interfaces directly. These are the kind that you would use in a laptop to replace the SSD or connect to a desktop. They truly aren't compact.
2.5 inch SSDs are the best way to get a portable drive, providing a combination of portability and internal usage. They have a plastic housing, preventing harm to the parts, but rather than USB, they use SATA connectors. To get more security and the all-important USB or Thunderbolt interface, you can buy an enclosure or even just use a SATA-to-USB cable.
You need a 'pocket' SSD for the final portable experience, though, not one based on 2.5in drive dimensions. These are intended for use with connectors from USB or Thunderbolt, not those found inside a Laptop or MacBook. They are exceptionally compact and comfortable. However, if lower spending is a top concern, they are more costly than 2.5in-style drives, so you might want to choose the larger type.
Shock-Proof and Sturdy
There are more durable SSDs than hard drives. If they are pushed or knocked when writing data, they have no moving parts and will not be harmed. Although there is some amount of shock safety on modern hard drives, it's still a major problem. Before it starts complaining, you should handle an SSD reasonably average.
Some portable SSDs also provide resistance to water. In a customized drive enclosure, you can even get ruggedization if you want to go down the 2.5-inch drive path. This is a major advantage of portability.
But if they're still sitting all day long, are SSDs more effective than HDDs? Mechanically, hard drives appear to malfunction. The motor that spins the platters, for example, could burn out. The memory cells of SSDs age, which may result in failure. Both kinds need recovery by specialists.
For our purposes, however, as individuals who often have to fling drives in backpacks and plug them in while sitting in an airplane seat, SSDs are the obvious winner.
Matching your Connectors with SSD Output
How fast do you expect transfers of SSD files to be? At up to around 550MB/s, the top external SSDs will read and write. However, you need a port on your Mac or MacBook that can support this bandwidth to reach these speeds. If you have the new model with a USB-C Thunderbolt 3 port, you're good.
Although external SSDs instead of Thunderbolt use USB 3.1 specifications, the port likewise supports USB 3.1 Gen 1 and Gen 2, which is what we should be looking for. Have you got an older device with USB 3.0 or USB 2.0 ports? You'll see some sacrifices in speed.
With a theoretical max of 625MB/s or a chunk lower in real-world use, USB 3.0 will hack much of the speed of an external SSD. If your machine is very old, think twice, say a 2011 MacBook Pro, and has only USB 2.0 ports. These top out at 60MB/s, which these ultra-fast SSDs just can not do justice. Consider a hard drive in that case instead.
How much Storage is Required
Latest external SSDs are typically available in three or four capacities: 250 GB, 500 GB, 1 TB, and 2 TB in some cases. As the cost difference between 500GB and 1TB models is typically significant, you will want to think carefully about the space you need. The relatively small price leaps seen on 1-4 TB hard drives are not the same. However, a smaller-capacity model can well do the trick if you only need to back up or carry around some films and pictures.
What do we know about SATA SSD and PCIe SSD?

SSD: or the Solid-State Drive, is a storage device that uses an integrated circuit assembly to store persistent data on solid-state flash memory. It doesn't have any moving parts that spin, so it's quieter. Apple introduced the use of SSD in 2008 with its 13" MacBook Air. It's the first fast-feeling laptop that runs smoothly compared to computers with a traditional spinner, AKA hard disc drive. However, SSDs were expensive during that time. This technology only became affordable in 2013, which made it a viable mainstream option for computer users up to this day.  
SATA: (Serial Advanced Technology Attachment) is an interface that connects the motherboard to the hard drives. Manufacturing companies employ this technology in linking internal storage devices because of its faster transfer rates that, start at 150MBps. This can be very intimidating to regular folks like most of us, but we can safely assume that if your device is not using the SATA III connection, you are limiting the potential bandwidth of your drive.
PCIe: On the other hand, means Peripheral Component Interconnect Express. It is the fastest bus option and a standard in modern computing. With this, Apple computers can reach 16 GB/s – almost 27 times faster than a SATA III; imagine that! Just think about having 2 channels, for example, for your data to move from one point to the next and more than double the transfer rates; that's how fast and more efficiently the computer's data storage and movement happens! No wonder high-end gamers love this technology so well!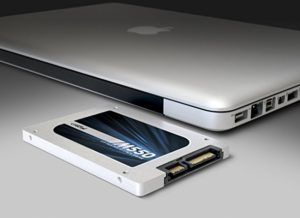 What's the difference between SATA SSD and PCIe SSD?
Apart from speed, you don't typically encounter any problem starting a computer with SATA. On the other hand, PCIe SSD requires updates and the use of a specific operating system. However, many manufacturers lean towards PCIe because it is the most logical thing to do. Eventually, the limitations of PCIe will stop in a few years, and it will become user-friendlier.
Macs used to have a replaceable hard disk so that you could install an SSD in it. This is typical in models like Mac Mini, iMac, the white Polycarbon MacBook, and the Classic MacBook Pro. If you own any of these, the information above should help you. Retina MacBook Pro and MacBook Air users don't have to bother, though, because their units have a built-in SSD already.
Apple has always been the forerunner of new technology and emerging trends. It pioneered the use of "blade" SSD back in 2010 with the MacBook Air. While most other laptops still use the SATA interface, Apple prefers the custom connector, and it eventually developed its own. 
A Quick Look at Apple Releases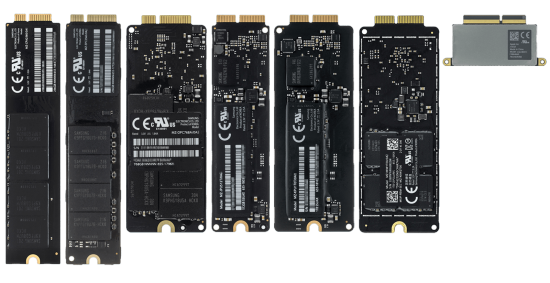 Let's take a look at the SSDs of every Mac released:
Generation 1:
MacBook Air (Late 2010- Mid 2011). This release used the proprietary 6+12 Pin Connector and maintained the mSATA interface that provides a speed of 6GB/s. Its goal is to make the drive thinner and smaller than its original MacBook Air predecessor. Compared to its competitors, Samsung's Gen1 drive was faster than Toshiba's.
Generation 2:
MacBook Pro and iMac desktops. This version expanded the blade-style drives. With the use of the mSATA III interface, this drive becomes faster. Its 7 + 17 Pin connector easily distinguishes it. Gen2A drive is shorter and wider (MacBook Pro), while the Gen2B drive is taller and thinner (MacBook Air).
Apple's MacBook Pro (Mid 2012- Early 2013): SSDs with retina screen. The Gen2A drives used a single 7+17 Pin SSD connector. Samsung and SanDisk are known for manufacturing this. The available storage capacities were 128GB, 256GB, 512GB, and 768GB.  
iMac (Late 2012 – Early 2013): SATA III HDD and Fusion Drive. Apple fused two drives that can act independently: (1) a Hard Disk with a large storage capacity for unused and larger files and (2) an SSD has low storage for frequently used files. This reduced the load on the system which helped increase speed and performance. All these are for optimal performance and a more cost-effective package. Talk about doing combos!
MacBook Air (Mid 2012): Gen2B Drive: Apple released MacBook 11'' and MacBook Air 13'' with a generally slower read-and-write speed of 2B drives capacity. Samsung and Toshiba manufactured the Gen2B drives with a storage capacity of 128GB, 256GB, and 512GB that noticeably missed the 768GB capacity, possibly due to engineering constraints.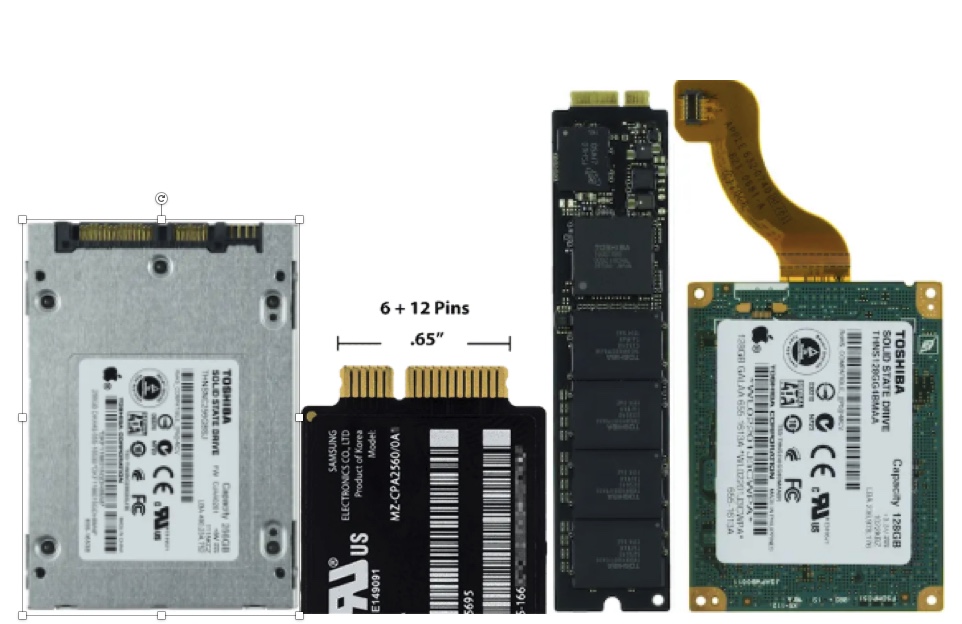 Generation 3:
PCIe 2.0 x2 interface. Gen2 drives at mSATA's 600MB/s limits speed increased with this release. It is responsible for the high-speed and efficiency of this unit. In Gen3, SSDs were compatible with different devices. Different computers also shared the exact same drive (such as the ones manufactured by Samsung, SanDisk, and Toshiba – all with the same flash controller)!
All Gen3 drives used 12+16 Pin connector and PCIe 2.0 x2 interface except 1TB Gen3B SSD which has PCIe 2.0 x4. AHCI technology (Advanced Host Controller Interface) provided the link to communicate between software and SATA devices in the 3G drive. They have length and roughly twice as wide as their predecessor but the larger physical size allows fewer engineering constraints.
MacBook Air (Mid 2013- Early 2014): PCIe 2.0 x4 and PCIe 2.0 x2 interface: The only Apple device that ensures the possibility of a faster four-channel drive found in Gen4.
Mac Pro (Late 2013) This is the first to support a single internal storage device. Like MacBook Air, it supported all capacities (128GB – 1TB) of Gen3 SSDs and 2.0 x4 connection for better performance with four-channel drives.
MacBook Pro (Late 2013- Mid 2014) This was one of the powerful devices that support all 3-generation driver options, four-channel PCIe connections, and NVMe protocol.
iMac (Late 2013- Late 2015) It included either (1) 1TB (5400-rpm) SATA hard drive or (2) 1TB Fusion Drive (128GB SSD and 1TB SATA 3.5″ HDD) or (3) a 256GB standalone SSD. IMac had adequate free spaces compared to other Apple devices. This had the same features with MacBook Pro. 
Mac Mini (Late 2014): Mac Mini was the first to support Apple's "blade" solid-state drives. Since there wasn't enough internal space, connecting the drive to the logic board was difficult. So, Apple had to use a smaller connector with a flex cable for PCIe connection. Mac mini only supports PCIe 2.0 x2 interface so it does not allow upgrading to NVMe SSDs.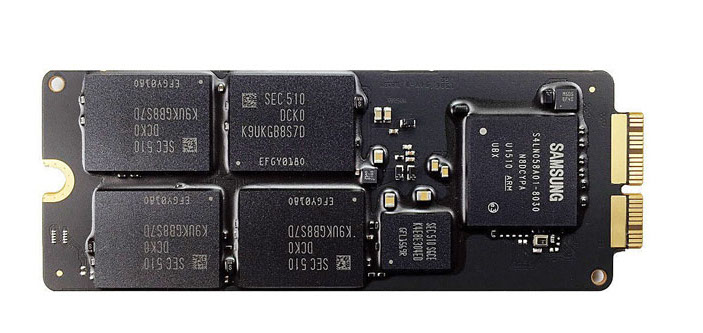 Generation 4:
The Inclusion of blade SSDs was a crucial part of Gen4 drives.  All drives of this type used PCIe 3.0 x4 interface except MacBook Air 11″. The devices that were compatible with PCIe 3.0 connection to the SSD could reap the benefits of extremely high speed and performance compared to the PCIe 2.0 interface (gamers and Netflix heavy users love this!). All the devices support a four-channel connection making Gen4 drives up there in the next level!
MacBook Air (Early 2015-Mid 2017): This drive still used the PCIe 2.0 x2 technology despite some changes in the components. Amazing how Apple managed to maintain the 4 PCIe connection channel while keeping 2 channel drives in 11" MacBook Air. It allowed the upgrade of Gen4A drives in other devices. The 13″ MacBook Air had Gen4A drives but it did not support PCIe 3.0 connection. Not a hiccup, though, as it's still as fast, and performs well as the previous model.
MacBook Pro (Early 2015- Mid 2015): There were only a few minor changes in its components from the 2015 design, but there was a huge improvement in SSDs that had an impact on speed. This device was fast so it made many Apple consumers happy. Unlike MacBook Air, the 15″ MacBook Pro supports the PCIe 3.0 connection. Both the 13″ and 15″ MacBook Pros support the NVMe protocol which allows the upgrade to Gen5 SSDs.
iMac (Late 2015): There were no new trends. Instead, Apple paired the 1TB fusion drive with the 24GB SSD; while the 24GB SSD and 3TB SATA hard drive work with the 128GB SSD. The 27″ iMac had an option of 256GB, 512GB, or 1TB standalone SSDs. Apple brought a 24 GB SSD option along with the first removable NVMe SSD. IMacs supported NVMe protocol which allowed the upgrade to generation 5 SSDs.
Generation 5:
All the Gen5 SSDs supported the NVMe protocol and PCIe 3.0 x4 NVMe connections. Gen5A SSDs used new 22+3S
What's Better for You?
At the end of the day, it isn't about which SSD is better than the other, but more about which is better for you and your needs. If you've been so used to your vintage computer, it's high time to get the latest models and upgrades. With the increasing number of apps and programs that we use both for work and leisure, don't we all like speed and performance to be the norm and basic features of our computers?
Optimal performance is determined by which generation of drives your device has. In today's world where speed, power, efficiency, and performance are valued most, it's no wonder we'll be seeing new releases sooner than we expect, even more, powerful and faster than the Gen5 drives. Get the latest Apple SSD upgrades, and updates here at Techable.com!
Final Thoughts
Solid-state drives are made for almost any purpose and come in all shapes and sizes. There's an SSD made for the job if you need a drive that will survive a trek through the desert or one that can load up a 4K movie in less than half a second. You will come to know about SSD and top SSD for Apple in this article.