Apple's designs are what turned them into the largest company in the world. Besides aesthetics, Apple products deliver high-quality performance, which is why most computer enthusiasts and business users prefer them.
Without compromising quality, Apple consistently offers reliable storage, and improved overall look, so we won't have to worry about upgrading every so often like we were used to with our parents' lagging hand-me-down PCs and laptops in the past. This becomes possible with drivers only found in Apple devices like the SSD for MacBook. Let's take a look at Apple's SSDs and how they've progressed throughout the years. 
What do we know about SATA SSD and PCIe SSD?
SSD, or the Solid-State Drive, is a storage device that uses an integrated circuit assembly to store persistent data on solid-state flash memory. It doesn't have any moving parts that spin, so it's quieter. Apple introduced the use of SSD in 2008 with its 13" MacBook Air. It's the first fast feeling laptop that runs smoothly compared to computers with a traditional spinner, AKA hard disc drive. However, SSDs were expensive during that time. This technology only became affordable in 2013, which made it a viable mainstream option for computer users up to this day.  
SATA (Serial Advanced Technology Attachment) is an interface that connects the motherboard to the hard drives. Manufacturing companies employ this technology in linking internal storage devices because of its faster transfer rates that start at 150MBps. This can be very intimidating to regular folks like most of us, but we can safely assume that if your device is not using the SATA III connection, you are limiting the potential bandwidth of your drive.
PCIe, on the other hand, means Peripheral Component Interconnect Express. It is the fastest bus option and a standard in modern computing. With this, Apple computers can reach 16 GB/s – almost 27 times faster than a SATA III, imagine that! Just think about having 2 channels, for example, for your data to move from one point to the next, and more than double the transfer rates, that's how fast and more efficient the computer's data storage and movement happens! No wonder high-end gamers love this technology so well!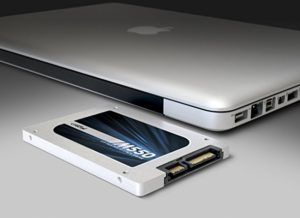 What's the difference between SATA SSD and PCIe SSD?
Apart from speed, you don't typically encounter any problem starting a computer with SATA. On the other hand, PCIe SSD requires updates and the use of a specific operating system. However, many manufacturers lean towards PCIe because it is the most logical thing to do. Eventually, the limitations of PCIe will stop in a few years and it will become user-friendlier.
Macs used to have a replaceable hard disk so you can install an SSD in it. This is typical in models like Mac Mini, iMac, the white Polycarbon MacBook, and the Classic MacBook Pro. If you own any of these, the information above should help you. Retina MacBook Pro and MacBook Air users don't have to bother though because their units have a built-in SSD already.
Apple has always been the forerunner of new technology and emerging trends. It pioneered the use of "blade" SSD back in 2010 with the MacBook Air. While most other laptops still use the SATA interface, Apple prefers the custom connector and it eventually develops its own. 
A Quick Look at Apple releases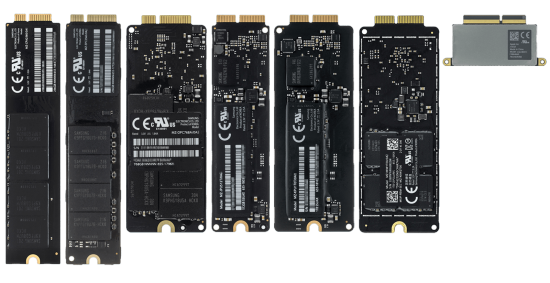 Let's take a look at the SSDs of every Mac released:
Generation 1:
MacBook Air (Late 2010- Mid 2011) . This release used the proprietary 6+12 Pin Connector and maintained the mSATA interface that provides a speed of 6GB/s. Its goal is to make the drive thinner and smaller than its original MacBook Air predecessor. Compared to its competitors, Samsung's Gen1 drive was faster than Toshiba's.
Generation 2:
MacBook Pro and iMac desktops. This version expanded the blade style drives. With the use of mSATA III interface, this drive becomes faster. It is easily distinguished with its 7 + 17 Pin connector.  Gen2A drive is shorter and wider (MacBook Pro) while Gen2B drive is taller and thinner (MacBook Air).
Apple's MacBook Pro (Mid 2012- Early 2013): SSDs with retina screen. The Gen2A drives used single 7+17 Pin SSD connector. Samsung and SanDisk are known for manufacturing this. The available storage capacities were 128GB, 256GB, 512GB, and 768GB.  
iMac (Late 2012 – Early 2013): SATA III HDD and Fusion Drive. Apple fused two drives which can act independently: (1) Hard Disk with large storing capacity for unused and larger files, and (2) SSD has a low storage for frequently used files. This reduced the load on a system which helped increase speed and performance. All these for optimal performance and a more cost-effective package. Talk about doing combos!
MacBook Air (Mid 2012): Gen2B drive. Apple released MacBook 11'' and MacBook Air 13'' with a generally slower, read-and-write speed of 2B drives capacity.  Samsung and Toshiba manufactured the Gen2B drives with a storage capacity of 128GB, 256GB, 512GB that noticeably missed the 768GB capacity possibly due to engineering constraints.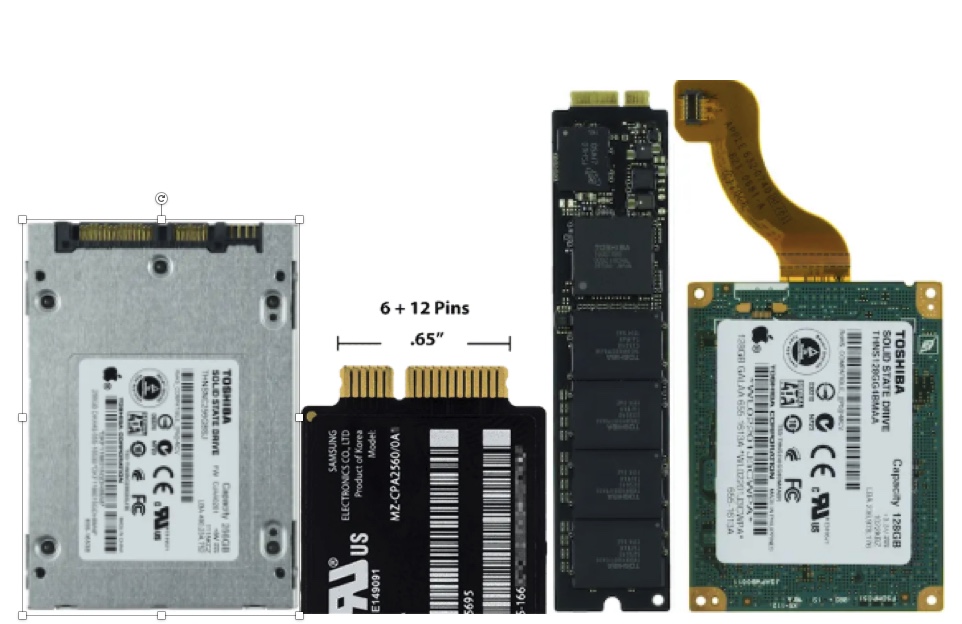 Generation 3:
PCIe 2.0 x2 interface. Gen2 drives at mSATA's 600MB/s limits speed increased with this release. It is responsible for the high-speed and efficiency of this unit. In Gen3, SSDs were compatible with different devices. Different computers also shared the exact same drive (such as the ones manufactured by Samsung, SanDisk, and Toshiba – all with the same flash controller)! All Gen3 drives used 12+16 Pin connector and PCIe 2.0 x2 interface except 1TB Gen3B SSD which has PCIe 2.0 x4. AHCI technology (Advanced Host Controller Interface) provided the link to communicate between software and SATA devices in the 3G drive. They have the length and roughly twice as wide from its predecessor but the larger physical size allows less engineering constraints.
MacBook Air (Mid 2013- Early 2014): PCIe 2.0 x4 and PCIe 2.0 x2 interface . The only Apple device that ensures the possibility of faster four channel drive found in Gen4.
Mac Pro (Late 2013) This is the first to support a single internal storage device. Like MacBook Air, it supported all capacities (128GB – 1TB) of Gen3 SSDs and 2.0 x4 connection for better performance with four-channel drives.
MacBook Pro (Late 2013- Mid 2014) This was one of the powerful devices that support all 3-generation driver option, four channel PCIe connections and NVMe protocol.
iMac (Late 2013- Late 2015) It included either (1) 1TB (5400-rpm) SATA hard drive or (2) 1TB Fusion Drive (128GB SSD and 1TB SATA 3.5″ HDD) or (3) a 256GB standalone SSD. IMac had adequate free spaces compared to other Apple devices. This had the same features with MacBook Pro. 
Mac mini (Late 2014). Mac Mini was the first to support Apple's "blade" solid state drives. Since there wasn't enough internal space, connecting the drive to the logic board was difficult. So, Apple had to use a smaller connector with flex cable for PCIe connection. Mac mini only supports PCIe 2.0 x2 interface so it does not allow upgrading to NVMe SSDs.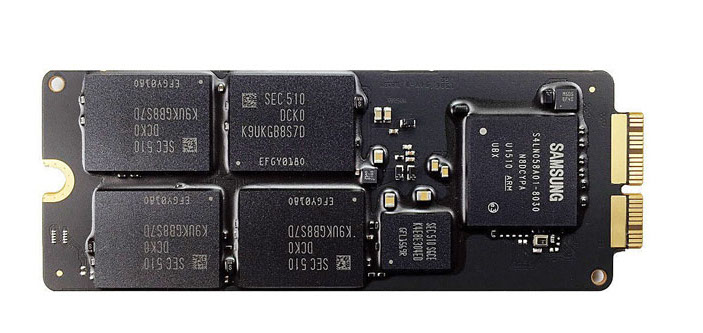 Generation 4:
The Inclusion of blade SSDs was the crucial part of Gen4 drives.  All drives of this type used PCIe 3.0 x4 interface except MacBook Air 11. The devices that were compatible with PCIe 3.0 connection to the SSD could reap the benefits of extremely high speed and performance compared to PCIe 2.0 interface (gamers and Netflix heavy users love this!). All the devices support a four-channel connection making Gen4 drives up there in the next level!
MacBook Air (Early 2015-Mid 2017). This drive still used the PCIe 2.0 x2 technology despite some changes in the components. Amazing how Apple managed to maintain the 4 PCIe connection channel while keeping 2 channel drives in 11'' MacBook Air. It allowed the upgrade of Gen4A drives in other devices. The 13″ MacBook Air had Gen4A drives but it did not support PCIe 3.0 connection. Not a hiccup though as it's still as fast, and performs well than the previous model.
MacBook Pro (Early 2015- Mid 2015). There were only a few minor changes in its components from the 2015 design, but there was a huge improvement in SSDs that had an impact on speed. This device was fast so it made many Apple consumers happy. Unlike MacBook Air, 15″ MacBook Pro supports the PCIe 3.0 connection. Both the 13″ and 15″ MacBook Pros support the NVMe protocol which allows the upgrade to Gen5 SSDs.
iMac (Late 2015). There was no new trends. Instead, Apple paired the 1TB fusion drive with the 24GB SSD; while the 24GB SSD and 3TB SATA hard drive worked with the 128GB SSD. The 27″ iMac had an option of 256GB, 512GB or 1TB standalone SSDs. Apple brought a 24 GB SSD option along with the first removable NVMe SSD. IMacs supported NVMe protocol which allowed the upgrade to generation 5 SSDs.
Generation 5:
All the Gen5 SSDs supported the NVMe protocol and PCIe 3.0 x4 NVMe connections. Gen5A SSDs used new 22+3S
What's better for you?
At the end of the day, it isn't about which SSD is better than the other, but more about which is better for you and your needs. If you've been so used to your vintage computer, it's high time to get the latest models and upgrades. With the increasing number of apps and programs that we use both for work and leisure, don't we all like speed and performance to be the norm and basic features of our computers?
Optimal performance is determined by which generation of drives your device has. In today's world where speed, power, efficiency, and performance are valued most, it's no wonder we'll be seeing new releases sooner than we expect, even more powerful and faster than the Gen5 drives. Get the latest Apple SSD upgrades, and updates here at Techable.com!