How To
How to Restore Deleted Texts on iphone
Ever wonder how to recover deleted text messages from iPhone? Well, we got that covered for you. Text messages can be difficult to monitor, and at times they disappear under mysterious conditions, including deleting them by mistake, a defective iOS update, a failed jailbreak, or any other situation. Despite how they were lost, yet, you can get missing text messages back to your iPhone, well in most cases!
That is because your iPhone saves all text message, MMS, and iMessage information in an SQLite database which is an open-source, back-end utility incorporated into every single cell phone and most PCs and is bundled into numerous famous applications. This works automatically in the background. If you erase a message, space gets changed from allotted to unallocated, while the message information stays intact.
Before new information overwrites the old information, you can recover those messages. The principal activity is to quit messaging until you recover all your lost messages. Depending upon how you backup your iPhone with iCloud or directly from your PC, there are different techniques you can use to get back your lost texts, even after a factory reset. Third-Party applications can likewise help in restoring text messages under specific conditions. We'll walk you through the different approaches to recover deleted text on the iPhone.
1. Recover text messages on iPhone by using iCloud
2. Recover Deleted Text Messages on the iPhone from Your Computer
3. Recover Deleted Text Messages on the iPhone by using Finder
4. Recover Deleted Text Messages on the iPhone with iTunes for Pc and Older version of macOS
5. Consult your service provider
6. Restore Deleted Text Messages by 3rd-Party Apps
1. Recover Text Messages on iPhone by using iCloud:
If your phone is set to backup to iCloud, you can recover erased text messages from your iCloud by doing a full restore that will return your phone back where you actually had the text. The disadvantage to this is that you'll most likely need to sign back into all your applications. You could lose some more current information on your iPhone also, depending upon when the last backup was done.
You can follow the following easy steps and recover deleted text messages on your iPhone:
First, you have to go to the Settings app on your phone
Click on your name/ID at the top
Then select iCloud, and click on Manage Storage
Scroll down and click on iCloud Backup
At this point, you will check if the time of your last backup was before or after you erased the texts that you need back. If you are satisfied then continue with the following steps:
 Again go back to the main Settings menu.
Click on General.
Scroll down and select "Reset"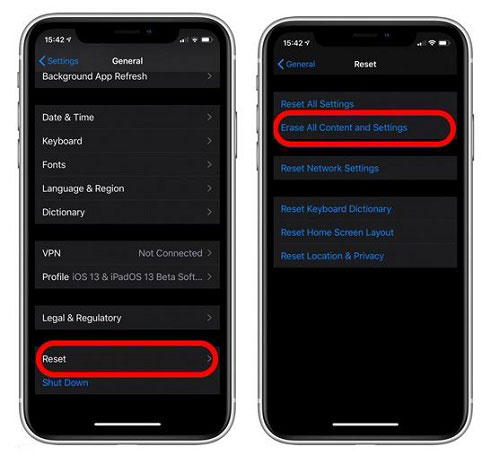 In the affirmation menu that pops up, pick the subsequent choice, and then click on Erase Now. It's significant that you don't pick Backup Then Erase, or you will lose the past backup and won't have the option to recover the erased text messages.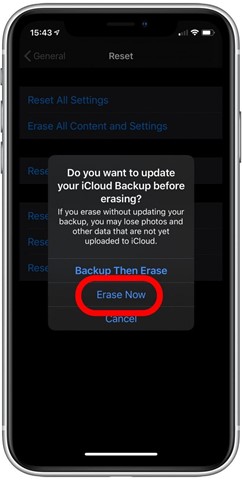 Now your iPhone has been totally erased and it is brand new. You will now see the welcome screen. Follow the instructions step by step until you see the Apps & Data page.
On the Apps & Data page, click on Restore from iCloud Backup
iCloud Backup will ask for a password. Enter your passwords when asked, then sign in to iCloud
Choose the backup
A list of available backups in iCloud will be shown. Select the desired ones
2. Recover Deleted Text Messages on the iPhone from Your Computer:
If the past strategy for recovering erased text messages didn't work, you don't have to stress about it. There is another way out there using your Computer. Just like recovering from the backup on iCloud, you can also recover your lost data through local backups in your computer. That is why it is advisable to regularly backup your iPhone to your computer. It might be possible that you have disabled this feature of the PC/Mac synchronizing process due to which it won't be possible to recover your text messages from here unless you do it in the future. You might need to refresh these settings so that it is simpler for you in the future to recover erased text messages on your iPhone.
You cannot restore an iTunes backup if your Find My iPhone is on. So you need to start by disabling the Find My iPhone feature
Next is to go to the Settings app
Click on your Apple ID just like before
Tap on Find My iPhone
 And choose to Find My iPhone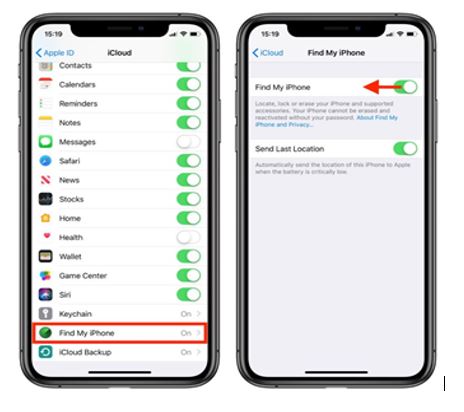 Now turn off the Find My iPhone. Next is, you will be asked to enter your Apple ID and password. Fill it and then click on Enter.
After the above steps, connect your iPhone to your computer by using a cable for restoring. You will restore from iTunes if you are using an older version of macOS or own a PC. On the other hand, if you have macOS Catalina installed, you will restore from Finder.
While this surely feels like a lifesaver, this astonishing element on your iPhone could really save your life one day. However, if you have never backed up your iPhone to your PC, or backed it up when you didn't have that text, this technique won't work.
3. Recover Deleted Text Messages on the iPhone by Using Finder
To recover text messages using the finder, follow the following steps:
When your iPhone is connected to your computer, it should appear in the Finder under Locations. Click on it
Tap Manage Backups. A list of backups will pop up on your computer
Here again, you will check the list to make sure your backup was made before you deleted those text messages. Then tap on OK
Now you are all set to perform the restoring process. Click Restore iPhone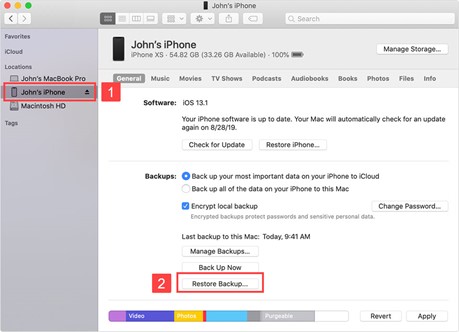 If your backup is large this process will take some time.
As long as your backup was made after you have sent the text messages and also before they were erased, these steps will surely help you to recover them for you. Simply follow the recovery steps, and the iPhone will be restored.
4. Recover Deleted Text Messages on the iPhone with iTunes for Pc and Older version of macOS:
To recover deleted texts with iTunes for PC and older versions of macOS, then you have to go through these steps.
Connect your iPhone using a cable with the computer you usually sync it with.
iTunes will open automatically. If not, just choose the program on your computer and open it up.
Click the phone symbol close to the media category dropdown on the upper left side. If it's not there, that means your iPhone isn't properly connected with your PC. Secure your connection and check again.
Next, you will go on the summary page.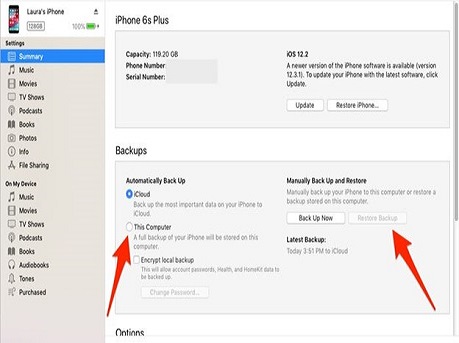 From there, you have to click on Restore Backup to get back the information from your iPhone, including your erased text messages. If this alternative is turned gray, you may have to change your backup preferences from iCloud to This Computer. You can generally change this back after you have restored your iPhone.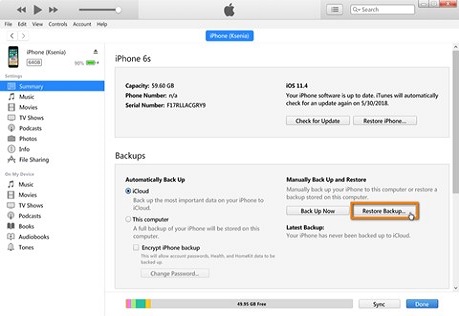 This process can take some time if you have a lot of information stored on your phone or Mac. If you have synced up with this PC or Mac since you have erased your text messages, then this will not work. iTunes just saves your latest backup information for a restore.
But if you have not done a sync with iTunes since you deleted your text messages, this strategy will help you to restore your missing messages back to your Messages application.
5. Consult your Service Provider:
Chances are, your ISP's service provider has a collection of your text messages that have been saved by them. You should contact them immediately and talk to them to see what they can do to help you in this case. This, of course, only works if your service provider does save messages and if they haven't overwritten your text messages file by then. This is much safer than turning to any third-party app.
6. Restore Deleted Text Messages by 3rd-Party Apps:
If any of the above steps did not work, this is the last resort for recovering erased text messages on your iPhone, and it's NOT the best option to be used. There are some third-party applications out there that will assist you with recovering erased records and text messages from your iPhone, however, they can be costly.
You might be personally reluctant to utilize any of these applications to restore the deleted text messages. However, if you are truly in a haste, the following are some options that have great surveys and ratings on the web. These include:
1. PhoneRescue by iMobie
2. Enigma Recovery
3. WonderShare Dr.Fone for iOS
4. Tenorshare iPhone Data Recovery
PhoneRescue by iMobie:
For a single permit, phone Rescue by iMobie costs $49.99 and for a family package of five licenses, it costs $69.99. It allows you to search around in your backups and recover only the erased information you need. This application likewise vows to help restore your iPhone if it dies. PhoneRescue can recover messages and numerous other document types, similar to contacts, call history, phone messages, calendars, updates, notes, and that's just the beginning. It additionally allows you to recover information from your iCloud account. The application likewise has repair tools that let you recover information from your iPhone in case it crashes.
Wondershare Dr.Fone:
This recovery tool is viable with the most recent iOS gadgets, and you can install the program on both Mac and Windows PCs. The software encourages the recovery of lost text messages, just as photographs, recordings, and even information from third-party applications, for example, WhatsApp. Licenses are accessible for $60 per client every year.
Tenorshare iPhone Data Recovery:
Tenorshare cost $60 for a one year license. It not only recovers messages but also dozens of file types, including your contact list, WhatsApp media, and docs, SMS, photos, etc. They have three recovery modes that can preview everything that's restored, early. It is compatible with the newest phone models and the latest iOS version.
Enigma Recovery:
For a single license, Enigma Recovery costs $59.99 and for a pack of 3, it costs$69.99. For $199.99 you can get limitless downloads. The application can check your messages and let you pick which ones you want to restore. You'll require the Restore iOS application to finish the restore, yet that one is free. This is compatible with iPhones with iOS 6 to iOS 14.
There are two strategies through which you can use the enigma recovery. They are the following:
Method 1:  From Device without a Backup:
If you don't have a backup set up, data recovery software makes it simple to straightforwardly recover the erased messages that iPhones have put away in their back-end. It helps in recovering these messages as soon as they are lost to minimize the risk that they have been overwritten by new data.
You have to follow the following steps:
Downloading the Enigma Recovery
The first step is to get your PC and download the Enigma Recovery iPhone data tool. After that, open it in your work area. The application can be utilized on Mac or Windows PCs.
Connecting your iPhone to your Computer
Secondly, you need to connect your phone to a trusted device using a cable. If you haven't connected to any device before, you will need to give permission for the connection by tapping 'Trust' on your phone.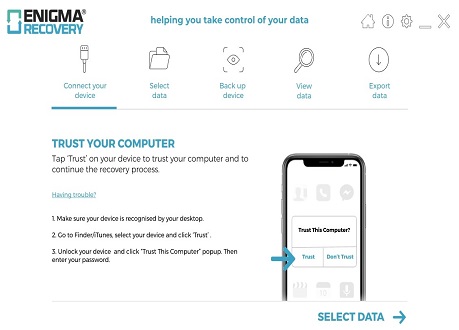 Now select the kind of information you might want to scan the phone for. Since we are attempting to recover erased messages, the output time will be much quicker if you select 'Messages' alone. Click on Start Scan to start the process. The software will run a scan for all erased and existing messages from your iPhone.
View the Recovered Text Messages
To view your recovered messages you need to unlock the full version. After the scan has finished in the free trial version you will be able to view parts of your deleted and existing messages.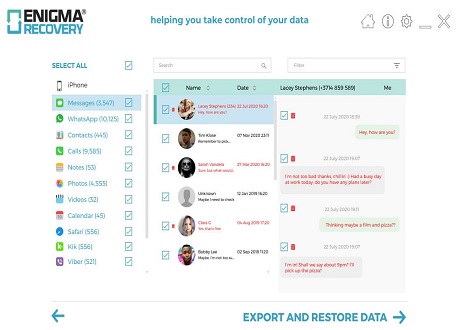 Saving your Text Messages
When the software has recovered your erased text messages, click 'Export and Restore'. You would now be able to choose to save your recovered messages to your PC in Excel, PDF, CSV or XML. Once these messages are stored on your PC, you can either keep the messages as a backup or print them.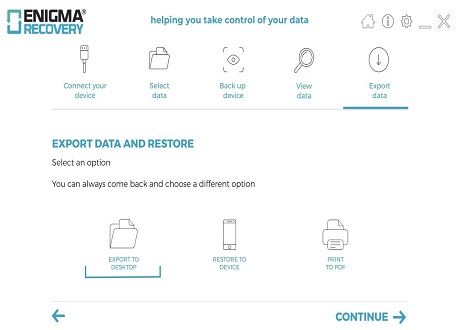 Restoring the Text Messages
You can likewise recover your text messages to your iPhone with their free Restore iOS application. Download the Restore application on your device directly from the App Store, and afterward click 'Export and Restore' in the desktop software. Choose 'Restore', select the information you need to recover, and afterward keep your iPhone associated while the software moves your deleted texts to the application, where you can see them on your gadget.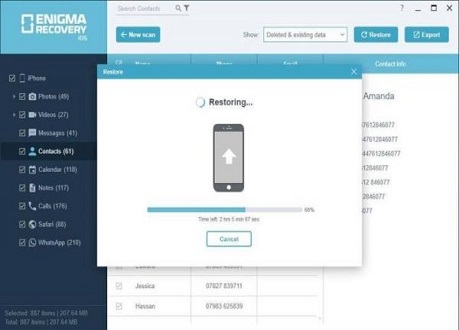 Method 2: From iTunes or Finder Backup:
It's easier to recover your erased messages from the iPhone if you have backed up your phone with iTunes or Finder before you erase the messages you need to recover. The same goes for recovering lost instant messages when your iPhone is lost or taken.
Enigma Recovery software helps you to recover erased text messages from your iTunes and also gives an additional benefit of allowing you to search for specific messages that you need to recover.
Install Enigma Recovery Software
By installing Enigma Recovery software on your Mac or Windows computer, you can recover your deleted or lost messages. First, install Enigma and find your iTunes backup file. Select 'Recover from my iTunes' from the taskbar and browse to the desired iTunes backup file.
Select 'Messages' and let Enigma do the scan
Once it is complete, Enigma Recovery will display further options that you can select. However, we're only going to be focusing on messages for now and hence, select 'Messages' and start the scan. Enigma Recovery will then start scanning from your iTunes backup file for all the existing and lost messages.
Verify your Recovered Messages
You should be able to see all the recovered messages that could be pulled by Enigma Recovery. To make things simpler, you can filter things out by using the search toolbar.
Save and Export the Recovered Messages
The next step will be recovering the messages by exporting them. You can do that in a variety of formats however, the easiest would be for you to use the Restore App on your iPhone and get your lost messages back from there.
How you can be Cautious in the Future
After you've recovered your messages, you'll probably be wondering how you can make sure that something like this never happens again. You can set up Messages in iCloud which will allow you to access your text messages from any Mac device, as long as you're logged in. Even if you lose your iPhone, you can still go to any Mac device and log in to iCloud to recover your messages and gain access to them again.
This option is helpful in cases where you not only lose your phone but lose the messages as well. Even if that happens, the iCloud recovery via setting Messages up in iCloud will allow you to recover them from the backup that has been generated on the Cloud.
Conclusion:
Losing your valuable text messages can be a drag and a bothersome hurdle to deal with. You can have all sorts of personal or professional texts that are of utmost importance to you. No matter what the case is, you should always be prepared for the worst and have backups so you can easily recover them. Apple's iCloud message recovery saves your text messages for you to easily recover in the case of any mishap. However, if you do end up losing them then the Enigma Recovery app will do wonders for you. Following the steps given above should help you recover the lost text messages again and further save you from any mishaps in the future.