Reviews
Best Laptop For College Students 2021
You'll need one of the best laptops for college if you're a student so that you can ace your exams and also can play games or watch TV when you want to relax. However, choosing the best laptops for students is homework as there are many choices of laptops with different prices.  The most important thing to consider before buying a laptop for college is its long battery life and fast CPU performance. Furthermore, if you are someone who takes note by hand, then go for the best 2-in-1 laptops.
To deal with a variety of study requirements, the laptop should not only be durable but also should have plenty of power and storage space. As discussed before, it should have good battery life as the student's laptop usually takes all day in lectures. Therefore, laptops should have the potential to charge quickly too. Likewise, if you are a student of the creative field, then you definitely need a laptop that has plenty of hard drive space so that you can store all your massive files.
Although, not every student would require huge specs.  Many Chromebooks produce outstanding laptops for students by replacing huge storage with super speed. This is because the programs they run don't take up much space, and with Google Drive built-in support, it also ensures that your documents are all stored in the cloud.
In this article, we have listed one of the best laptops for students that are accessible in the market:
Apple MacBook Air 13 Inch – Gold
New Apple MacBook Pro16-inch
New Apple MacBook Air with Apple M1 Chip
Acer Predator Helios 300 Gaming Laptop
Acer Nitro 5 Gaming Laptop
Google Pixelbook Go
Lenovo Chromebook Flex 5 13″ Laptop
Acer Chromebook 514
ASUS Chromebook Flip
ASUS ROG GU502GW-AH76
Design & Specs:
The MacBook Air 2020 starts from $999 which is definitely a great price drop as compared to its older versions. This low price did not compromise on the features, in fact, you will see additional upgrades in the MacBook. The 13-inch MacBook Air has a 2560×1600 Retina display, which is impressively high when compared to the competitors available in the market that tends to be Full HD (1920×1080). From a normal viewing distance, it looks perfectly sharp and is bright enough to withstand reflections. Above all, the screen of the MacBook Air is fitted with the True Tone. This is a special feature of Apple Computers which can also help you to adjust the display's color that matches the lighting of the room you're in. The terrible 720p webcam nestled in the top is a key markdown for the MacBook Air.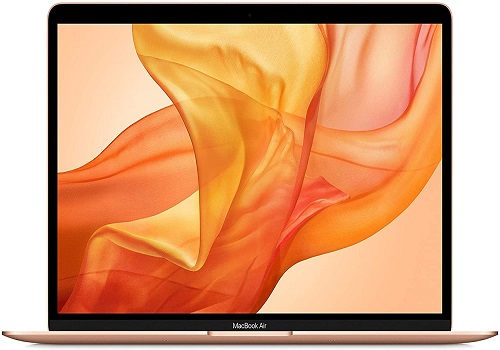 There is a 13-inch Retina display on the MacBook Air which is combined with beautiful stereo speakers which are very good and offer a strong sense of audio separation when you watch something on it. You can have two Thunderbolt 3 ports that double the USB-C ports and a 3.5mm headphone jack. As with all other Apple laptops, you also have a large trackpad and a quick fingerprint recognition to open it. It comes in Grey, silver, and Gold color. It has a unique wedge shape which is 0.41mm thick at the thinnest part and 1.61cm thick at the thickest part.
The most eye-catching feature is the MacBook Air has an excellent backlit keyboard. People will definitely love it when using it. The keys have an accurate size and it doesn't feel compact. You can see the fingerprint scanner which is at the top-right of the keyboard. Truly, this is a fantastic addition. Not only this, the MacBook Air 13 inch has a great battery too. Apple claims that you can take out 11 hours from this machine which is great.
Processor & Graphics:
This model comes up with a dual-core 10th-gen Intel processor which is faster than previous models. Furthermore, it includes 256GB of storage instead of the 128GB which was included in the last Air model. This amount of storage will be fascinating for college students. Another great feature is that it has a new processor that implies an upgrade of graphics with Intel's Iris Plus. This upgraded feature will boost over as compared to the previous models which will work great for games or some other creative apps. You will experience great performance from these graphics when you're editing documents, or editing photos, or even in internet browsing. The MacBook Air also has 8GB of RAM, which is good for standard use. However, you can upgrade it to 16 GB if you are planning to work with large files.
Pros
Beautiful backlit keyboard,

Large trackpad

11hours of battery life

two ports for Thunderbolt 3 with headphone port

Sleek design
Conclusion:
Overall, in shape, feature, and sustainability, the 2020 MacBook Air comes up with a great deal. The Backlit keyboard is as great as the trackpad and the battery lasts long enough for a day of work. In addition, it's light but powerful and the screen is stunning, even the little stuff like Touch ID works great. You also get two ports for Thunderbolt 3. This is indeed a good choice to consider.
Design & Specs:
Next on the list is the 16-inch MacBook Pro that looks very much like other MacBook Pros. It has a large touchpad and a solid aluminum design, available in two colors: Silver and Space Gray. The only major difference between this MacBook and the 15-inch MacBook is that the new model has narrower bezels on the sides as compared to the other one. Although the top bezel is relatively thick when compared to other systems like the Dell XPS 15.
A 16″ MacBook Pro means that a 16″ Retina Display is visible. An AMD Radeon Pro 5300M graphics card, a 7nm handled discrete GPU designed for pro users, is also available on this MacBook Pro. With 4GB of GDDR6 VRAM, pro users with this MacBook Pro will be able to handle GPU-intensive tasks. Not only this, it has a Magic Keyboard with a scissor mechanism, a six-speaker high-pitched audio system, and an advanced thermal design.
The 16′ Retina Display has a resolution of 3072 x 1920 at 226 PPI as well as a brightness of 500 nits. It also bolsters the broad color gamut of P3, enabling more vibrant colors. This ensures true to life photos with realistically vivid details that are important for graphic design, color grading, and editing. The white balance automatically changes to fit the color with True Tone technology.
On this MacBook Pro, the Magic Keyboard has a redesigned scissor mechanism that offers 1 mm of key travel, as well as a rubber dome designed by Apple that stores more potential energy for a sensitive key press. For the arrow keys, there is also a physical Esc key and an inverted 'T' arrangement. Without needing to navigate complicated menus or memorize keyboard keys, the Touch Bar puts controls right at your fingertips and adapts to various applications to provide useful functions. The Touch Bar features a Retina-quality display and allows multi-touch input by replacing the function keys in the top row of the keyboard. The power button includes a Touch ID sensor so that you can use your fingerprint to log into your MacBook Pro easily.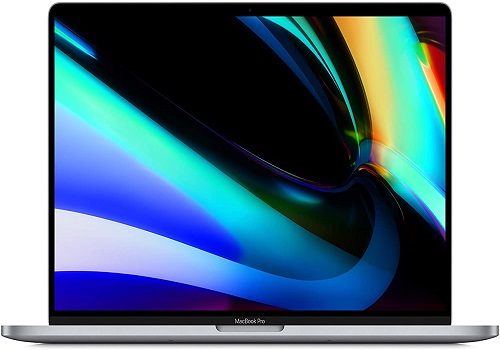 The MacBook Pro offers a redesigned, greater sound system with six speakers. In order to minimize unnecessary vibrations that distort sound, the Apple-patented force-canceling woofers use dual-opposed speaker drivers. The music sounds smoother and more normal as a result, while the bass will go half an octave higher. An improved high-performance mic array offers a reduction of 40 percent and an enhanced signal-to-noise ratio. If you need to keep things quiet around you, there is also a 3.5mm headphone port.
Processor & Graphics:
A 9th Gen 2.6 GHz Intel Core i7 6-Core processor with a burst speed of up to 4.5 GHz is powered by this MacBook Pro, while 16 GB of 2666 MHz DDR4 RAM helps to ensure smooth multitasking and enables the device to access commonly used files and programs easily. The memory of the machine cannot be upgraded. This MacBook Pro is fitted with a 512GB SSD for long term storage of your files.
Four Thunderbolt 3 ports allow bi-directional transfer speeds of up to 40 Gb/s if you want to connect external peripherals, while it also supports 10 Gb/s USB 3.1 and system charging. Wi-Fi 5 (802.11ac) is built-in for wireless networking, and additional compatible peripherals can be connected using Bluetooth 5.0 technology. The FaceTime HD webcam is there.
Pros
High CPU performance

Premium design

High-quality speakers

Good battery life
Cons
Limited connectivity

High price
Conclusion:
The 16-inch MacBook Pro is not only the most powerful MacBook that Apple has ever made, it's also the greatest. Apple has made a MacBook Pro that enhances almost every aspect of the popular workstation by listening to its customers and taking on board the criticisms of previous versions. This is one of the best laptops you can purchase if you have the budget for it.
Designs & Specs:
The MacBook Air with M1 looks and sounds just like the MacBook Air of early 2020. The machined-aluminum chassis of this MacBook Air has the same wedge-shaped (available in gold, silver, and space gray). The MacBook Air (M1, 2020) is 0.16–0.63 x 11.97 x 8.36 inches (0.41–1.61 x 30.41 x 21.24cm) in scale and 2.8 pounds in weight. The best improvement to the design of the previous MacBook Air and the latest Magic Keyboard is included here again.
Despite how flat the keys are, it is truly a lovely keyboard to work on. A Touch ID button is placed above the keyboard again, and you will still experience the strongest fingerprint scanner. So, with a 400-nit LED-backlit display and a 2560 x 1600 resolution Retina display, it's only 13.3 inches and comes with Apple's True Tone technology, which automatically changes the color temperature on the panel depending on the ambient light.
The screen of the MacBook Air (M1, 2020) now supports the wide color gamut of P3, resulting in more accurate and true-to-life images. P3 support used to be found only in the more costly MacBook Pros, so it's nice to see Apple adding this feature to its more affordable MacBook Air lineup. With the same 720p FaceTime webcam, the webcam above the screen is still unchanged from last time.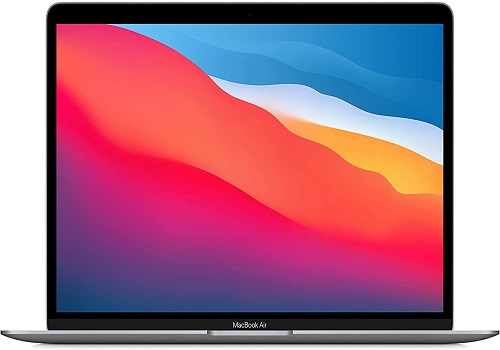 Apple says that the latest MacBook Air is three times faster in its class than other laptops and faster than 98 percent of last year's PC laptops. It also says the neural engine is nine times faster as compared to the previous MacBook Air. Due to the incredible M1 chip and the new flash technology, its SSD is up to twice as fast.
Processor & Graphics:
The new M1 replaces the previous Intel Core i3, i5, or i7. It has an eight-core processor (CPU) and a seven-core graphics processor (GPU) with 8 GB of RAM and 256 GB of storage on the MacBook Air, but an eight-core GPU option is also available. The M1 has four high-performance processor cores that deal with challenging items such as data crunching and photo editing, while four high-efficiency CPU cores manage lightweight tasks such as email sending. For optimal efficiency, all eight cores can run simultaneously, but the chip is built to be as power-efficient as possible.
The M1 is also the first desktop chip to be manufactured on the 5nm scale, where most are produced on a scale of 10 or 14nm. The smaller the size, the more effective it can be in terms of electricity. Like its Intel-based predecessor, the M1 MacBook Air has two Thunderbolt 3 USB 4 ports, and a headphone jack on the sides. The M1 MacBook Air has an excellent efficiency up to 3.7x quicker on paper and yet lasts more than twice as long with the same battery power doing the same job. Apple reports that this system will offer 18 hours of video playback and "15 hours of wireless internet," both of which are very big claims.
Pros
Super-fast

Long battery life

Great keyboard with best-in-class trackpad

Good speakers
Cons
Poor webcam

Only two USB-C ports
Conclusion:
Overall, The MacBook Air (M1, 2020) is one of recent years' most exciting Apple laptops. A true game-changer is its M1 chip, and it is very exciting to see that it can run all legacy apps, new M1-optimized apps, and iOS apps. The battery life as well as the performance of the CPU is incredible.
Design & Specs:
With angular planes and outlines, a matt black metal case, and some tasteful chrome highlights, the Predator appears to have been turned into a killer sentient robot.  The exhaust vents running along the side and rear indicate that there is about to be supersonic acceleration. That must be an attractive design. When you open the lid of the Predator, you will find a beautifully laid out chiclet-style keyboard welcoming you with bright backlit keys and chrome accents that is visible on the front of the keyboard deck and around the touchpad. This is a serious powerhouse, from its sleek nature and strong Nvidia GPU to the Intel Core i7 processor of the 10th Gen.
To act as a passable workstation and content-creation laptop, the Helios 300 has enough ports. On the right side, you can see a Thunderbolt 3 port, a USB 3.2 Gen 2 port, a Mini DisplayPort 1.4 input, and an HDMI port. You have two USB 3.2 Gen 1 ports on the left, a Kensington lock, an Ethernet port, and a 3.5mm audio jack for headphones. At the rear, the power jack is positioned. The dual speakers of the Helios 300 are placed under the front rim. They provide excellent outcomes and get loud enough to enjoy music and gameplay. The device has DTS software pre-installed, so you can customize the audio settings.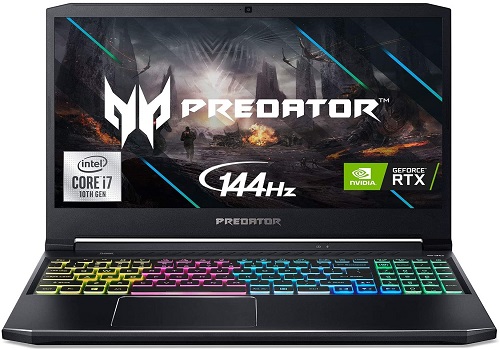 Many users will surely love this keyboard. A spacious deck gives way to a complete 4-zone RGB backlighting Chiclet keyboard, which you can customize through the Predator Sense application. They have a slightly concave design with the highlighted WASD keys, arrow keys, and hotkeys, which makes them easier to locate during intense gaming sessions. However, the high efficiency of the device doesn't result in great battery life. Some users said that it took just 4 hours, 37 minutes to complete their streaming video test. With a 4th-gen AeroBlade 3D fan and Acer CoolBoost technology, the Acer Predator Helios 300 uses a dual-fan cooling system, inspired by bionic silent owl flight dynamics that optimize airflow and reduce noise.
Processor & Graphics:
The Hexa-core processor (Comet Lake) of the Core i7-10750H operates at a 2.6 GHz base speed. The clock speed can be elevated via Turbo to 4.3 GHz (six cores) or 5 GHz (one core). It supports Hyper-Threading (two threads per core). The processor runs at 4.2 GHz (multi-thread) and 4.2 to 5 GHz (single-thread) respectively via CPU tests of the Cinebench R15 benchmark.
For performance-demanding applications such as gaming, video editing, and image processing, the laptop offers enough computing power for the coming years. The activation of the dual-channel mode could achieve a slight improvement inefficiency. The laptop will have to be fitted with a second module of memory for this purpose.
Pros
Excellent 1080p gaming performance

Super smooth 240Hz screen

Space for three storage drives

Great design than its predecessor
Cons
Few users only complaint of the framework to be hot under load

The metal chassis is powerful but has some sharp corners.

The battery isn't powerful.
Conclusion:
The Acer Predator Helios 300 is a mid-tier gaming laptop that performs very well. Not only is your dollar worth a lot to you, but the Helios 300 is a beautiful computer that's going to impress your friends. It offers decent graphics and overall performance and stays cool during gaming as well. Also, make sure you keep it plugged in because it doesn't have great battery life.
Design & Specs:
The Acer Nitro 5 provides a strong 9th Gen i5 CPU, a capable GTX 1650, and a slick design makes this machine the dream of a casual gamer. As for look and feel, with the Acer Nitro 5, there is a lot to be desired. That's not to say it's all bad, there are features that you will really admire about it. With its red trimmings on the keyboard, backlight, trackpad, and the top rear bar, you will surely like the subdued gamer look. The display hinges feel solid and stable, and a number of ports will have a greater impact. More importantly, the laptop has a comfortable keyboard and a cooling system that can be operated by the user. The only thing which might not users will like is that the screen lid is made of cheap plastic.
Its keyboard is a major win for the Acer Nitro 5. The symbols are red and the backlight, which is triggered only when plugged in, so the keys are difficult to see in the dark when they are not red, and the WASD keys are emboldened in red paint. Not only this, the keys are accurate, quick, and sensitive. You won't be feeling lags, missed presses, or accidental presses which matters a lot whether you're typing or gaming.
The trackpad offers a lot of travel and is very rigid, which means that you really have to do some hard pressing to use it, resulting in early exhaustion of the finger. The camera, which provides video recording at its highest setting at 720p 30fps, is grainy. For webchats, it's just fine, but don't expect a lot of quality imagery generated here. The sound of the laptop is a bit hyped on the high-end and very echoey, but in the Dolby Audio program, you can customize it with the equalizer.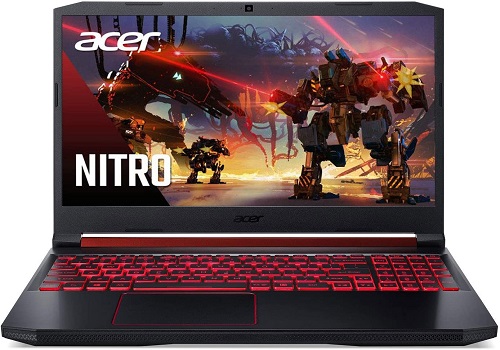 A pair of USB 3.2 Gen 1 ports, a mic/headphone combo jack, and an Ethernet jack sit on the left side, while an HDMI 2.0 port, a USB 3.2 Type-C port, and a USB 3.2 Gen 2 port are located on the right side. Nitro 5 provides a useful set of ports. In battery life, the Nitro 5 also has a substantial edge. It worked on the PCMark battery test for 9 hours 40 minutes, while the IdeaPad Gaming 3i lasted for just 5 hours 32 minutes.
Processor & Graphics:
Acer's $879.99 17.3-inch Nitro 5 features a 2.4-GHz 9th Gen Intel Core i5-9300H processor, 8GB RAM which is upgradable to 32GB, a 512GB PCIe SSD with space for a second 2.5-inch SSD or hard drive. Acer includes the cable and upgrades kit, GeForce GTX 1650 graphics, and 1920 x 1080 full-HD monitor, all packed into a heavy, tried-and-true "game-inspired" bold color casing and sharp edges.
The AMD Ryzen 5 4600H processor, 8GB RAM, a 256GB SSD, and Nvidia GeForce GTX 1650 graphics are featured in the Acer Nitro 5 system. With a core frequency of 3.0GHz and a Max Boost frequency of 4.0GHz, the Ryzen 5 4600H CPU offers six cores and 12 processor threads. The GeForce GTX 1650 is a low-end GPU with 4 GB of VRAM from Nvidia's previous generation of graphics processors that lacks the real-time tracing support you will get from current GeForce GTX GPUs.
Pros
User controllable fans

Great battery life

Decent gaming performance for price
Cons
Too much travel on the trackpad

Thick display bezel

Speakers produce painful highs
Conclusion:
Overall, for casual gamers who want middle-tier output at an entry-level price, the updated Nitro 5 is a solid gaming laptop. The plastic body of this computer is a little chunky, but the chassis is more than compensated for by the 9th Gen Core i5 processor and the Nvidia GTX 1650 GPU.
Design & Specs:
The Google Pixelbook Go is designed to be small and compact, which weighs around 2.3 pounds and measures only 0.5 inches thick. The frame of this laptop is made of a magnesium alloy that is painted in a matte texture, combined with the rippled base. It is truly easier to grip and keep while traveling, or even between meetings or workspaces. We find this frame very resistant to pressure and flex. This is something rare that you can find in a Chromebook.
Not only does the Pixelbook Go feature a keyboard with conveniently spaced buttons, but also it is equipped with top-firing speakers. These speakers provide great audio which many users will love. One feature that lacks is biometric log-in capability as there is neither a fingerprint sensor nor an iris or face scanner on the Pixelbook Go.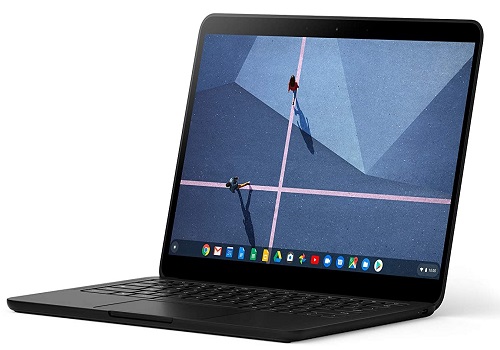 Some users wouldn't know that the Pixelbook Go keyboard is backlit. All you have to do is hold the "Alt" key and then press the brightness controls on the screen which will control the level of brightness of the keyboard backlight. The Pixelbook Go is fitted with two USB-C 3.1 ports when it comes to connectivity, which can handle both charging and display performance. It also has a 3.5mmm slot for headphones. The Google Pixelbook Go features a front-facing 1080p camera that records 60 frames per second of video. Google Pixelbook Go's battery life is extremely impressive. It took a massive 11 hours and 14 minutes through the local video playback test to run this Chromebook down.
Processor & Graphics:
Now coming towards the processor and graphics, it is packed with an Intel Core i5-8200Y processor and 8GB of RAM. Without any signs of a slowdown, the Pixelbook Go shredded through 30 Google Chrome tabs and five 1080p YouTube videos simultaneously. This Chromebook is much more capable of multitasking between multiple Google Chrome browser tabs with 8 GB of RAM. On the Geekbench 4.1 general efficiency test, the Pixelbook Go scored 6,516, surpassing the 6,209 Chromebook average. The Intel HD 615 graphics card from Google was able to replicate 500 fish at 60 frames per second on the WebGL Aquarium benchmark, matching the HP Chromebook 15.
The Pixelbook Go's Chrome OS is a stripped-down operating system that runs through all the Chrome browsers, similar to other Chromebooks. If you mainly use Google apps, then Chrome OS is a good option for you. However, as the company has added the Play Store to the Chrome OS, which gives you access to applications created by others, therefore, you are not limited to Google itself.
Pros
Incredible battery life

Amazing backlit keyboard

Rare 1080p webcam

Compact design
Cons
No biometric login

No microSD storage expansion
Conclusion:
For someone who does not want to spend a grand on Google's former Pixelbook, Google's new Pixelbook Go is the ultimate Chromebook. Its incredible battery life and amazing keyboard are just two of the selling points of this Chromebook. And for both casual users and devoted Google and Chrome OS fans, it has very few downsides.
Design & Specs:
The top cover of the Lenovo Chromebook is made of aluminum and ABS plastic is used in the lower section. The difference in materials can be felt and observed as the aluminum part is more reflective and cooler to the touch. If we ignore the texture, the Flex 5 is a pretty good design with sharp side edges and an angled front that is similar to the pricier C740 and C940 Yoga series of Lenovo.
The 13-inch touchscreen can flip into tablet mode about 360 degrees and the brightness maxes out at 250 nits. You'll love the Flex 5 if you want a quiet keyboard. When you press them, the backlit keys hardly make a sound, although the space bar is a little louder than the rest. They provide a good little bump when you press down. The multi-touch touchpad, which has a Mylar surface is less convenient as compared to the keyboard.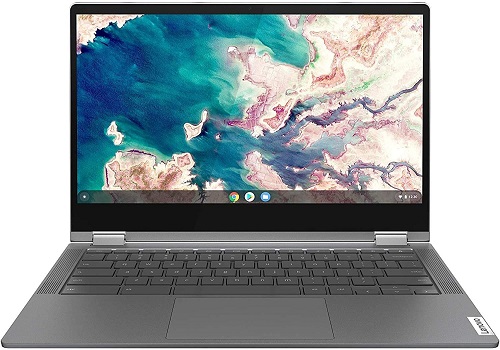 The case has a great number of Chromebook ports which often skimp on physical connections, as most Chromebook users do not need to plug in many peripherals. A USB-C port which also accepts the AC adapter cable, a USB 3.1 Gen 1 Type-A port, a headphone jack, and a microSD card reader can be seen on the left side. There's an extra USB-C port on the right. Furthermore, it has wireless connectivity options that include Wi-Fi 6 (802.11ax) and Bluetooth 5.0.0. After testing, it has great reliability and no slowdowns or disconnect were observed.
On either side of the keyboard, you will see two 2-watt speakers projecting their sound through grilles. In an average-size room, they're strong enough to be heard. The battery life of the Flex 5 is exceptional, lasting for almost 12 hours, which includes playing a locally stored video.
Processor & Graphics:
For most popular Chrome tasks, such as using Google Docs, watching YouTube videos, and even participating in video chats on Google Hangouts or Skype, the Intel Core i3 and 4GB of RAM in the Flex 5 helps to give a perfectly adequate performance.
The Flex 5 beat the category average (1,563) and the HP Chromebook x360 12b (802), with a score of 1,643 on the Geekbench 5 overall performance test, but the Lenovo Chromebook was unable to compete with the Asus Chromebook Flip C434 (6,968). The Flex 5 scored 100.7 on the Jetstream 2.0 benchmark, which measures the speed of web browsers, beating the average Chromebook (83.97), the HP Chromebook x360 12b (43.73), and the Asus Chromebook Flip C4343 (76.7).
Pros
Comfortable keyboard

MicroSD card reader

Pleasing soft-touch plastic chassis

Digital stylus support

Long battery life
Cons
Dim 250-nit display

Uncomfortable touchpad

Some users might need more RAM or storage
Conclusion:
The Lenovo Flex 5 Chromebook is a capable 2-in-1 convertible laptop for Chrome admirers, offering robust connectivity, and decent battery life. Overall, the Flex 5 will suit those individuals who have grown to appreciate the advantages of Chrome's simple, lightweight and fast operating system, yet at the same time, they want pen support, physical connectivity, and other features that are common in the Windows Laptop.
Design & Specs:
The lid and chassis of the Acer Chromebook are made from aluminum, which makes it feel more premium than a regular Chromebook.   The screen bezel and the hinge, which are plastic, are the only aspects of the Acer Chromebook 514's body that is not made of metal. Acer tucked a 14-inch panel that more closely resembles a 13-inch laptop in the housing of the Chromebook 514. More precisely, it measures 323 x 232 x 17 mm (12.7 x 9.1 x 0.7 inches; W x D x H) and weighs 3.31 pounds (1.5kg). It's lightweight and light enough to carry with you anywhere.
Some users were not impressed by the 14-inch IPS display. The overall brightness is lacking, and the colors seem muted. Even with a touch screen, the hinge doesn't allow the screen to rotate all the way around. Therefore you can't turn the Chromebook 514 into a tablet. However, it does allow you to lay the screen flat, behind the keyboard, at 180 degrees. The touchscreen itself is smooth and sensitive to gestures and taps.
If you use external drives or peripherals that use the older link, you get two Type-A USB ports and two Type C USB ports. Indeed, this is very convenient. The left-hand USB-C port supports Power Transmission, which means that it will most of the time work as the port for the mains adapter. You likewise get a microSD card reader so that you can transfer folders or bolster the less local storage capacity. There is a 3.5mm jack for headphones, and a lock slot.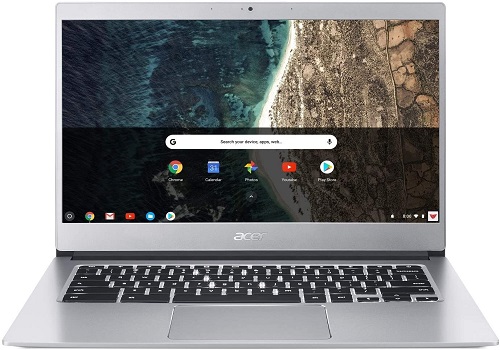 Also, the touchpad was comfortable to use. It's wide, filling most of the space under the keyboard available, and it has a nice surface that provides just the right amount of tactile feedback. A satisfying click that was not noisy was given by the touchpad, and all the normal Chrome OS multitouch gestures were supported and accurate. The Chromebook 514 has the normal black chiclet main island keyboard with five levels of brightness.
Acer's website says the Chromebook 514's battery life should be enough to get through 12 hours of use. Normally, the manufacturer's predictions of laptop battery life fall well short of reality. The Chromebook 514, however, made it 11 hours and 28 minutes before power-off in TechRadar's film test. That's pretty close to the estimate from Acer.
Processor & Graphics:
The Acer Chromebook 514 houses an Intel Celeron N3350 dual-core processor with a 1.10 GHz base clock speed. Running Geekbench 4 gave 1391 single-core and 2733 multiple-core scores which is little under the Dell Chromebook 3100 2-in-11 (1769 and 3327).
The Chromebook 514 is open to web browsing and 1080p video streaming, despite its older processor. It can take a few extra seconds for animation-heavy sites to load. The benefit of low-power hardware indicates that the Chromebook 514 is completely silent, as it does not require a cooling fan. The chassis didn't warm up much under load. Overall, you can get a setup with a Celeron N3350, 4 GB of RAM, and 32 GB of storage, which is a great price for such a good build quality and a nice Full HD monitor.
Pros
Long battery life

Well designed

Good value for money

Slim and light
Cons
Lacking Performance

High price

Some apps like Spotify won't work

Dull speakers
Conclusion:
Overall, the Acer Chromebook is compact, nice-looking, and a pocket-friendly laptop. This is an excellent option if you only need a laptop for writing, spreadsheets, and email, and also not willing to spend more money on a laptop, then you should go for Acer Chromebook.
Design & Specs:
The C302 looks from the outside like almost any other Ultrabook on the market. It has a unibody aluminum design that allows the panel to be turned around with a 360-degree hinge. On the back, there is a prominent ASUS symbol and Chrome branding that you can see on the top left. It looks pretty similar to a MacBook Pro.
The USB 3.0 Type-C port, charging indicator, volume rocker, power button, headphone/microphone combo jack, and one speaker is accessible on the left side of the laptop. There's a microSD card slot on the other side, another Type-C port, and a unique speaker. The C302 uses Type C for charging, like many other new Chromebooks, so you don't have to deal with a proprietary power cable. It is feasible to use both ports for charging as well as for video output.
The C302 is a convertible laptop, which means the screen can be turned around to be used as a tablet. The keyboard and screen are held together using magnets in tablet mode. The wide bezels that surround the screen make it much easier to keep the C302 in this form. The Asus Chromebook Flip weighs in at 2.6 pounds (1.19kg) and is one of the lightest Chromebooks available, just 0.3 lbs heavier than the Samsung Chromebook Plus.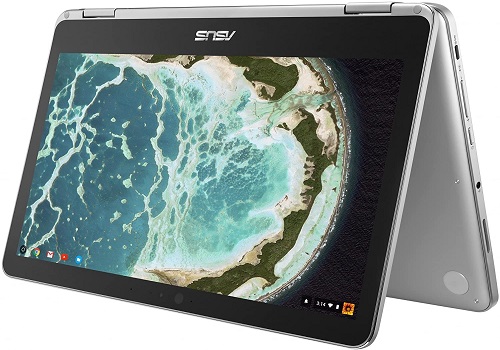 An excellent typing experience is provided by the Flip's island-style, full-size, backlit keyboard. The 4.1 x 2.3-inch, the buttonless touchpad of the Flip allows accurate navigation and gives each click a great feel. Smooth two-finger page scrolling and three-finger tab navigation are also supported. The Asus Chromebook Flip's speakers do not give much detail to appreciate music as far as audio is concerned. They can get noisy, but the frequency is a bit low, restricting how high you can set the volume until it's intolerable.
Battery life is also very strong, hitting the 10-hour mark and seven or eight hours in heavier day-to-day use. To expand local storage (up to 512GB), you can also use the microSD card slot, and Google provides two years of 100GB cloud storage to help keep your files secure. If you need it for business applications, 802.1ac Wi-Fi and Bluetooth 4.0 for wireless networking and Trusted Platform Module (TPM) protection are available.
Processor & Graphics:
Crisp images, high brightness, and decent color are provided by Flip's 12.5-inch, 1920 x 1080-pixel screen. The Flip reproduces 76 percent of the sRGB range, which is above as compared to the Acer Chromebook R 13 (64 percent) and ThinkPad 13 Chromebook numbers (63 percent).
The Asus Chromebook Flip is packed with the Intel Core m3-6Y30 CPU and 4 GB of RAM that allows you to do a lot of multitasking. There is no lag even if you split the screen between 15 Chrome tabs (including those for Slack, Gmail, and TweetDeck) and a 1080p YouTube video.   The Asus Chromebook Flip with its Intel Core m3 CPU runs almost twice as fast as the Dell Chromebook 13 with a Celeron processor. Regardless of the actual specifications, even with two Chrome windows open with 12 tabs each, the Asus Chromebook Flip's performance is amazing. Instead of the standard Celeron or ARM (mobile) processors, the Chromebook Flip is fitted with an Intel Core m3-6Y30 processor with Intel HD Graphics 515. As a consequence, the system runs better than other Chromebooks.
Pros
Sleek tablet mode

Splendid, colorful screen

Tactile keyboard

Convertible feature of the hinge.

Full HD view.

Metal body construction.
Cons
Poor speakers

Thunderbolt 3 is not supported by the USB-C ports
Conclusion:
The Asus Chromebook Flip has a hundred reasons to make you go for it if you've been considering shifting to a premium Chromebook. The Asus Chromebook Flip C302 is still worthy of its premium status, with a sparkling screen, touch keyboard, and a classy style that is just as easy to use in tablet mode or as a conventional laptop.
Design & Specs:
Asus reports that the ROG Zephyrus M is 45 percent lighter and 25 percent smaller than conventional 15-inch notebooks. It is even clear looking at this laptop. At the thickest point, it measures 0.78 inches and weighs 4.39 lbs. The frame is constructed from magnesium alloy that makes it robust enough for regular travel, with a polished finish on the lid, while a matte finish is present in the area around the keyboard and trackpad.
The trackpad has a honeycomb pattern that allows extra flexibility at work with a smooth touch on it. The laptop features an intelligent cooling system that is supported by 0.1mm thin fans with 83-blade fans. It has a total of five heatsinks that dissipate heat away from the CPU and GPU to successfully complete the cooling system.  Although it helps power through heavy gameplay, some people complained of the frame to be hot when they were playing PUBG.
Another worth noting feature is an anti-dust tunnel that restricts the entry of dust and debris into the heat pipes, thus preventing the cooling system from clogging the dust.
The Asus ROG Zephyrus M has a 15.6-inch IPS panel with a 240Hz refresh rate and 3ms response time in Full HD (1920 x 1080 pixels). In order to reduce reflection, the screen is surrounded by 6.2 mm thin bezels, translating to over 81 percent screen-to-body with a matt coating. Therefore, the display is good to play games as well. Related to ports, it includes USB 3.1 Type-C, RJ45 Gigabit Ethernet, USB3.1 Type-A, HDMI 2.0b, and Kensington Lock, as well as two USB3.1 Type-A and two 3.5mm headphone and microphone jacks.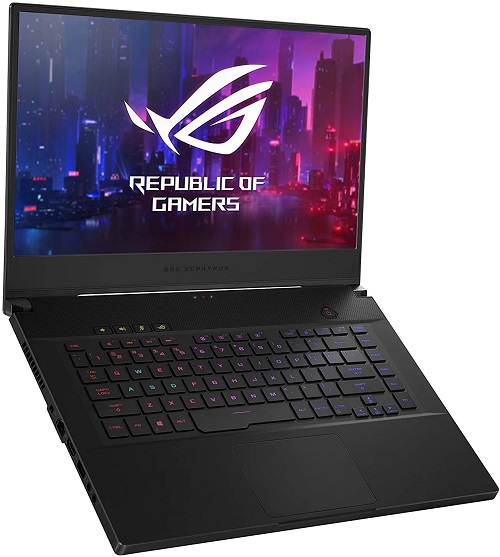 There is a classic chiclet keyboard in the ROG GU502GW-AH76 that supports per-key RGB lighting and an N-key rollover. You can also adjust the RGB lights via the Armoury Crate utility which you can initiate by simply pressing the dedicated button on the top left corner of the keyboard. The adjacent keys are physical keys that control the volume (up, down, and mute). It has great feedback, although it is slightly rigid when you are playing games. You get adequate travel to type long sentences. A trackpad that works well is below the keyboard. Using the trackpad, you will not have any problems.
A 76Wh rechargeable Li-ion battery comes with the ROG Zephyrus M GU502GW-AH76 which Asus claims will last even more than 6 hours while browsing the site. However, when surfing the internet, listening to music, typing away, and occasionally watching a video on YouTube, it lasts just under 4 hours in real-life usage. The laptop's audio is another thing worth noting. At the bottom, the speakers are installed, meaning they work decently only if placed on a flat surface. Otherwise, the speakers get muffled if you put it on a bed or on a lap. We'd suggest a headset in that situation.
Processor & Graphics:
A powerful ninth-generation Intel Core i7-9750H processor with Max-Q 8GB NVIDIA GeForce RT 2070 and 16GB RAM to boot is boosting this slim laptop. The Zephyrus M e ROG is equipped with 1 TB SSD storage, and if you need to add in extra storage, there is a second M.2 slot. You can easily top it up with an extra SSD and use it in a RAID 0 configuration so that you get great performance.
The user benefits from efficient and extremely fast performance with this hardware and  Nvidia GTX 2070, whether you are playing modern AAA games such as Metro Exodus, Battlefield V or using software such as Adobe Illustrator, Lightroom, Photoshop, Premiere Pro, Blender, Magix, and DaVinci Resolve, and so on. For gaming fans, you can play triple AAA titles at over 60 FPS at the highest settings which is great.
It's probably one of the few laptops that strikes a fine balance between your gaming and professional endeavors. After a busy day at the office, the amount of power you get from the hardware packed within an 18mm body is just perfect for playing graphics-intensive titles.
Pros
Excellent for working and playing,

Robust construction, even thin and light,

High-quality keyboard with backlighting per key

1TB SSD

Optimus Nvidia or G-Sync
Cons
The chassis gets hot

There is no webcam

No card reader

Speakers are mediocre

There is no Thunderbolt 3
Conclusion:
Overall, A reasonable combination of hardware and a refreshed design is offered by the ROG Zephyrus M, which helps you to be efficient at work and also maintain your gameplay. This laptop is ideally suited for designers, editors, content creators, or enthusiastic gamers, as it is packed with a 9th Gen Core i7 Processor, Pantone Validated 240Hz screen, and NVIDIA GeForce GTX 2070 GPU.
Tips before Buying Student's New Laptop
This article has listed all the best college laptops that a student can look into. But before buying a new laptop for one of your kids either for elementary school kids to college graduates, here are 6 tips to get the most out of your laptop purchase:
Tip #1:
Bigger machines are not necessarily better when it comes to buying laptops Smaller laptops would be the best bet for a student. Search for those laptops that are less than 4 lbs and the screen size is either 11″ or 13″. Another strong option that you can get is the SurfacePro, UltraBook, or MacBook Airs.
Tip #2:
You can buy a laptop that has a good and sleek design as being a student you will be using it for a longer time. Therefore, it should be aesthetically pleasing. So it's better to choose something sleek rather than a chunky design. Also, you should buy that design that comes with a protective display and can avoid wear and tear in the future.
Tip #3:
The next tip is to buy a laptop that can run for a long time. Make sure you don't buy a cheaper processor, low memory, or small hard drive, just to save a few bucks. Because in the end, you will be disappointed with your decision when you are buying the laptop again after 2 years.
Tip #4:
The most important thing is to go for long battery life as the students need it a lot. The minimal spec that you can buy is six hours of battery life. If your budget helps you to get 10+ hours of battery life, go for it.
Tip #5:
The next tip is to consider touch screen laptops. You may use the device as a type of tablet/laptop hybrid on many Windows 8 devices, such as surface. These hybrids make them feel right at home with their new device and actually make them more effective for children who grew up on tablets and smartphones.
Tip #6:
The last tip is some users are confused as to whether to buy a Mac or PC. The answer is that it depends on you and your interests. These days, software choices allow the student to pick any of these. You can pick any operating system which you are used to and in the end, you will do great.