Reviews
iPad Pro vs MacBook Pro
Get ready to Rumble : 12.9-inch iPad Pro 2022 vs 13-inch MacBook Pro 2022
Years ago, comparing an iPad with a MacBook Pro would be unthinkable. It was like comparing apples to oranges. But with the 13-inch MacBook Pro and iPad Pro powered by the M1 chip, the difference between the two may not be that significant anymore. Or, by any chance, could the iPad Pro replace the 13-inch MacBook Pro?
The iPad Pro has gradually grown into a serious contender. But in 2021, it saw a significant jump that made it an all-around performer, forcing us to compare it to its laptop-based counterparts. In terms of sheer computing power, the iPad Pro's M1 and M2 CPU is the same chip used in the iMac, MacBook Pro, and MacBook Air.
Design – iPad Pro vs MacBook Pro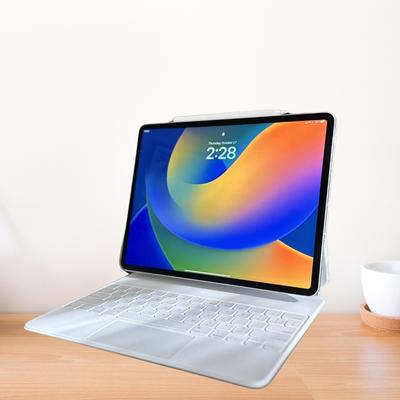 iPad Pro – So, how many times can you redesign a tablet? It is no surprise that the 2022 iPad Pro has the same lines as its earlier models. This is also understandable since the previous iPad Air just underwent significant facelifts. The iPad Pro resembles the 2021 model almost perfectly, with all the critical updates and improvements focused on the hardware that includes the replacement of the M1 with an M2 silicon chip and upgraded Wi-Fi capabilities.
The iPad Pro has a huge 12.9-inch display with an evenly thick bezel surrounding it. The front-facing camera is hidden on the edge, making it less conspicuous. The design of the iPad Pro 2022 is largely unchanged from earlier incarnations. It's still a gorgeous, sleek, luxurious, and durable tablet. If you're seeking a tablet that's both useful and beautiful, you'll like what's on offer here.
The tablet has an aluminum back and frame, and the front is glass with a scratch-resistant coating. However, you might consider purchasing a case if you want maximum protection against bumps and scrapes. There are four speakers—two on the top and two on the bottom border of the gadget. The USB-C port, which doubles as a Thunderbolt port, is located at the bottom of the tablet.
MacBook Pro 13-inch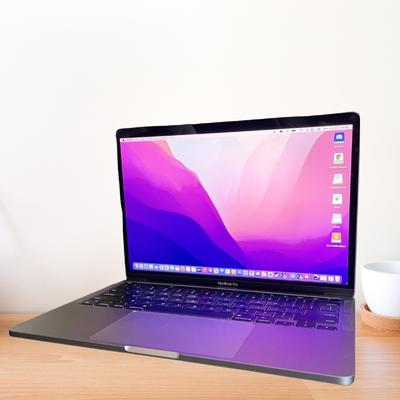 The original look of the older 2021 model is retained in the MacBook Pro 13-inch, which could be excellent or negative, depending on your perspective.
The new 13-inch MacBook Pro is innovative and thrilling on the inside but disappointingly familiar on the outside. It looks and feels nearly identical to earlier generations, measuring 0.61 x 11.97 x 8.36 inches (1.56 x 30.41 x 21.24cm) and weighing 3.0 pounds (1.4kg).
This is undoubtedly fantastic news if you believe the MacBook Pro design is flawless. Still, given how fashionable Windows 10 computers are getting, it seems unfortunate that Apple didn't use this to redesign the MacBook Pro 13-inch's appearance completely.
Compared to most of the latest laptops, the huge bezels around the screen are still visible and starting to feel antiquated. Additionally, the controversial Touch Bar is back above the keyboard and provides shortcuts and context-sensitive capabilities based on your actions.
Takeaway: With no major upgrades for both the iPad Pro and 13-inch MacBook Pro from its previous models, there is nothing much to discuss aside from their form factor. The iPad Pro is way more portable and easy to carry as compared to its counterpart Macbook Pro 2022.
Display – iPad Pro vs MacBook Pro
iPad Pro – Apple has significantly improved the display with the new 12.9-inch iPad Pro 2022. The new Mini LED technology in the 12.9-inch Pro display provides a clearer image and increased brightness. This screen, which the manufacturer refers to as Liquid Retina XDR, offers a wonderful viewing experience.
The display offers a 120Hz refresh rate for a smoother appearance and feel. This means that the screen can refresh two times faster than most tablets.
This screen is particularly spectacular for watching movies and videos, and it's also suitable for editing videos and drawing, which makes it a desirable gadget for content creators. The display provides a clear image of excellent quality.
The iPad Pro 2021 won't let you down if display quality is a priority in your purchase. This is one of the nicest visual experiences we've seen on a tablet.
MacBook Pro 13-inch – The 13.3-inch Retina display on the MacBook Pro has a resolution of 2560 x 1600 and a pixel density of 227. It has a maximum brightness of 500 nits and supports the P3 color gamut, making it the best option for graphic designers looking for color accuracy. Light sensors are used by Apple's True Tone software to automatically change the display's color temperature to match the environment.
Retina displays are excellent at maximizing viewing angles and maintaining brightness at certain angles. Despite not supporting 4K resolution, it can show material with a high dynamic range (HDR10).
Takeaway: The MacBook Pro 13-inch makes full use of its screen size and even comes with extra goodies with its P3 color and True Tone software. The iPad Pro does not fall far behind with its equally crisp, bright display, but if you're looking for a workhorse, then the 13-inch MacBook Pro is the better choice.
Performance – iPad Pro vs MacBook Pro
iPad Pro – If we are going to sum up how the 12.9-inch iPad Pro performs, it is a tablet that performs like a laptop. The iPad Pro's processor typically keeps pace with the iPhone in terms of speed with each version. However, this time iPad is currently attempting to stay up with the Mac rather than the iPhone.
The Pro tablet is now powered by Apple's M2 silicon chip rather than an enhanced iPhone processor. Yes, the 2022 iPad Pro is powered by the same apple silicon chip as the MacBook Air, iMac, and MacBook Pro. Let that take a moment to register.
Apple claims that this results in a 50% increase in performance without reducing battery life, so you'll still get about 10 hours out of a single charge. Despite the fact that it is similar to a Mac, the battery life significantly fluctuates in performance according to what you do and how bright the screen is.
Overall, the 12.9-inch iPad Pro is significantly more powerful than any prior iPad and performs nearly identically in benchmark tests to Apple's M1 Macs. The iPad Pro offers RAM options for the first time, up to 16GB, much like a Mac with storage options of 128GB, 256GB, 512GB, 1TB, and 2TB storage capacity.
MacBook Pro 13- inch – Similar in specs to the popular MacBook Air, one major advantage of the 13-inch MacBook Pro is its passive cooling mechanism that allows its processor to operate at full power for much longer. This may give the MacBook Pro the upper hand among business customers who don't mind sacrificing a little bit of weight for longer-lasting performance in their essential software and apps.
This is when the MacBook Pro M2 begins to justify its high price and reputation. The M2 chip integrates several different separate components into a single chip. That eliminates the need to constantly transfer data across laptop components and combines the CPU, GPU, Neural Engine, I/O, and many other components.
Apple claims a 2.8x quicker processing performance, which is difficult to put into context but seems noticeable when racing through macOS or opening apps.
Takeaway: Even with the M2 chip, the iPad Pro would still be at a disadvantage compared to the 13-inch MacBook Pro designed for work and performance.
Cameras – iPad Pro vs MacBook Pro
iPad Pro – No surprises from the rear. There is a LiDAR Scanner for precise depth detection, a 12Mp primary camera, and a 10Mp ultra-wide. The picture is excellent if you use a large iPad as a camera, but the major improvement comes at the front. In FaceTime and other video apps like Zoom, the earlier 7Mp camera has been upgraded to a 12Mp sensor, which can now track you and keep you in the frame if you move about during a video call.
MacBook Pro 13-inch – The 13-inch MacBook Pro comes with a 720p webcam in the upper bezel of the jet-black screen, placed above the display. Webcams are becoming necessary meeting tools because of the widespread use of quarantine and social seclusion. Apple has not upgraded the MacBook Pro's camera hardware to record 1080p video. But the MacBook Pro's picture processing is improved by the M2 chip. According to Apple, the webcam now produces crisper video, is less grainy, has a more comprehensive dynamic range, and has higher contrast and detail in low-light situations.
Takeaway: The iPad Pro takes this round with its stunning 12Mp camera. But we must also understand that iPads, in general, are designed for taking pictures or selfies. The MacBook Pro, on the other hand, is geared toward productivity.
Battery – iPad Pro vs MacBook Pro
One of the biggest caveats with introducing the Apple silicon chips is how energy efficient these are. This could be seen in the M1-powered machines and now the M2-powered machines as well.
The iPad Pro's battery life was just over 10 hours. But how long ultimately depends on what you're doing, but the all-day battery promise is valid for activities like viewing videos and those that don't tax the M1 CPU. If you're gaming or using apps that require a lot of GPU and CPU power, you'll need the accompanying USB-C charger sooner—between six and eight hours.
The 13-inch MacBook Pro is advertised to last up to 20 hours. But most tests place the average battery life at around 16 hours. This is still 5 or 6 hours better than the model it is replacing, which proves how power-efficient the M1 chip is.
Parting Shot – iPad Pro vs MacBook Pro
Overall, you need to understand that iPad Pro and Macbook Pro 13-inch are two different devices targeting different customer bases. There is no doubt that the iPad Pro 2022 is a very powerful device but still not as powerful as the MacBook Pro 2022. Even if you buy a fully specced iPod Pro, you will be getting 2TB storage and a max RAM of 16GB as compared to 2TB storage and 24GB RAM of MacBook Pro 13 inch 2022. And on top of that, the MacBook Pro comes with a fan that helps the processor remain cool while doing intensive tasks which is not an option in the iPad Pro. Also, the battery time of the MacBook Pro 2022 is more than iPad Pro.
The iPad Pro and the MacBook Pro have a base price of $1299.00 and $1499.00 respectively.
So, when deciding whether to buy an iPad Pro 2022 or MacBook Pro 2022, then look at what your needs are. If portability and touch support are what you desire then definitely go for iPad Pro. However, for an intensive workhorse unit, the MacBook Pro 13-inch is a good choice.
If price is an issue, and you can not afford these high-priced units then feel free to go through our refurbished Macbook Pros and refurbished iPad Pros list. We offer the best deals and market competitive prices on refurbished items.