When Apple introduced the M1 in November of last year, it signaled to the world that the Cupertino-based tech giant was one step closer to ending its dependence on Intel for processors.
It was just a matter of time, though. Apple's CFO Luca Maestri blamed Intel for the company's drop in Mac sales, and it's no surprise that Intel has been struggling to catch pace with technological advances. While AMD and Apple continue to offer 10nm chips, they are now on 7nm and 5nm, respectively, making them significantly more effective.
A General Overview: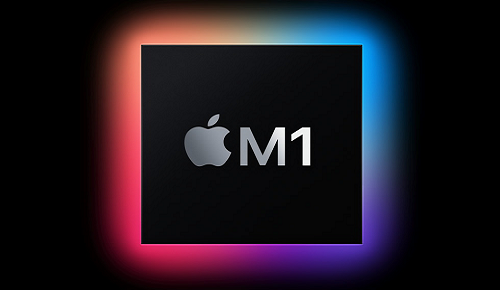 Apple announced in 2005 that it would move from PowerPC to Intel processors in its laptops. Apple's transition from PowerPC to Intel signaled the start of a new era for the company. There have been 12 iterations of Intel-based MacBooks since 2005. Apple and Intel have been good mates for a long time, but Cupertino has divided the selection for the new MacBooks.
Intel and Apple Silicon M1 are the two processor groups available now.
The new Intel processors in a MacBook are the same as they've always been. You can do almost anything on an Intel MacBook that you've never been able to do before. All that runs on macOS can work smoothly on an Intel processor. In contrast to Apple Silicon's latest M1 processor, which is a real contender, Intel has 15 years of laptop design experience. But don't be fooled, just because the Apple Silicon M1 is fresh doesn't mean it isn't worthy of your attention.
Apple's MacBook Pro laptops now come in two options: those powered by Apple's own M1 chip and other models that run on Intel's processors.
Apple M1 vs. Intel Chips:
If you haven't already figured, Apple has released their own M1 chips, and there have been some significant comparisons. Computer benchmarking has been around since the advent of technology. It is completely natural to want to know which chip works better and outperforms the other. Apple new chip vs the old school intel chip? Tough question? Apple has been known for its innovation and efficiency. On the other hand, Intel has been here for so long that it's been tried and tested numerous times. The question is, who outperforms the other? Are the benchmarks provided by Intel validated and concrete? Well, we are about to find it out.
Apple M1 chips:
Apple strongly believed that building its own ARM-based processors was preferable to purchasing Intel's x86-based chips. But how can it be done better? Was the firm really trying to save money? To cut back on energy consumption? Innovate and improve performance?
Take charge of the company's CPU roadmap? Apple's M1 chipset is a laptop and computer chipset for Mac computers. This system-on-a-chip (SoC) suggests that Apple is planning to abandon Intel and go its own way, close to how it does on iPhones and iPads. It is the first in a series of Mac-specific chips from Apple, and it is by far the most powerful chip the company has ever produced. Instead of being Intel-based, this custom microprocessor is ARM-based.
The microprocessor is designed to run Apple's iOS and macOS applications as efficiently as possible, so you can expect significantly improved results.
Build:
To begin with, there is nothing aesthetically new about the MacBooks that separates them from the previous edition. The laptops are similar in size and weight, and the only way to tell them apart is by their model number, which is A2338 for the M1 models. Its unibody design feels as solid and well-made as ever, and the Retina display somehow manages to offer even more vivid and true-to-life color, sharpness, and clarity. There are two USB-C ports here, and wireless networking has been upgraded to Wi-Fi 6, which allows for not only higher speeds and improved connectivity, but also less bandwidth congestion.
Performance:
In terms of performance and quality, the newly announced MacBook Pro based on Apple's M1 chip outperforms the Intel MacBook Pro. The processor is 2.8 times faster, and the graphics are five times better, according to Apple. This huge speed boost is achieved with a fraction of the energy required. According to the developer's quote during the launch event video, the battery life will last up to 19 hours.
Intel response with cherry-picked benchmarks:
Until now, the PC industry's reaction to Apple's latest M1 chips has been quite muted. Intel has retaliated against Apple's latest M1 MacBooks with its own benchmarks. Intel being Apple's supplier, is concerned that they will be replaced.
Intel matches the 11th Gen Core i7 processor to the M1 CPU used in the latest MacBook Pro in the benchmarks released. Intel says that its new chips outperform Apple's M1 in all Chrome browsing tasks and all of Intel's carefully chosen Office 365 tasks by 30%.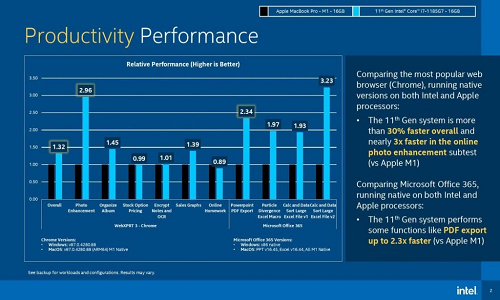 This set of benchmarks is clearly biased in favor of Intel's processors, particularly since some of them involve the use of Intel's hardware acceleration. The majority of the measurements aren't industry standard. Moreover, Intel also replaced the MacBook Pro with MacBook Air only for the battery life tests. It was an unusual experience. Reviewers have consistently considered the MacBook Pro's battery life to be superior to that of the MacBook Air and other Windows laptops but Intel-based its comparisons on the Air, which only beat PCs by six minutes.
The M1 in the MacBook Pro Intel reviewed failed eight of the 25 tests it uses, including "Switch to Calendar" in Outlook, "Start video conference" in Zoom, and "Select picture Menu" in PowerPoint, according to Intel. Intel's workloads don't specify how these are executed, but they're also basic tasks that work well on almost any modern processor, so they're unusual choices. Personally speaking, we had no problems holding Zoom conferences while checking on the performance of the MacBook Pro.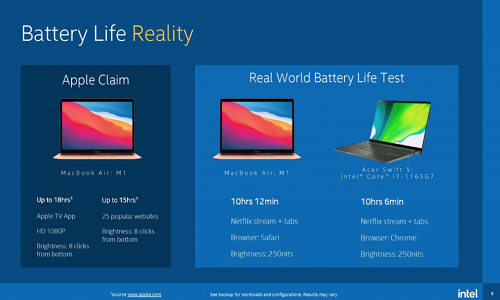 Intel reveals that it moved to an 8GB MacBook Pro instead of the 16GB model when it checked for performance in the configuration document at the bottom of the slides.
HandBrake transcoding, Adobe Premiere Pro exports, and Photoshop and Lightroom Classic tasks are all included in Intel's benchmarks. In all of these tests, Intel's 11th Gen chips outperformed Apple's M1. Intel also reviewed gaming on both processors, mostly to highlight the fact that most games aren't compatible with macOS, like Shadow of the Tomb Raider, Hitman, and Borderlands 3. All of these have higher average frame rates on the M1 than the other games checked.
Benchmarks don't tell the entire story, and in the case of benchmarks provided by Intel, they are clearly cherry-picked. Intel provided more than just numbers. The company also highlighted the inconsistent variations between Apple's MacBooks and other x86-based laptops. Out of 21 slide presentations of intel, only three or four slides actually dealt with real benchmarks. The majority of the time was spent on fuzzier subjects, including "fresh experiences," "day in the life responsiveness scenarios," and "choice." In addition, there are four slides with small print on disclaimers and configuration information. In short, there wasn't much to it!
The key argument made by Intel was that there are many PC manufacturers in the world, but only one Apple. PCs have much more peripherals, PCs have far more games, PCs come in a wider variety of shapes and sizes, PCs may have several monitors, PCs are more affordable. In the end, Intel's "benchmark" presentation was more about lifestyle than anything else. Do you prefer to be a member of the PC or MacBook ecosystems?
That is the real issue, and it is the one that renders all CPU benchmarks meaningless. What does it matter if Apple's M1 processor is slightly faster or slightly slower than Intel's current laptop processors? Because of this, who buys an Apple, Acer, Dell, or Lenovo computer?
Apple M1 MacBook or Intel MacBook – a tough buying decision?
The performance of both MacBook models is what distinguishes them apart. It's important to see that the Apple M1 is indeed the company's initial attempt at a laptop chipset before choosing which version to purchase.
An eight-core processor with four output cores and four efficiency cores powers the Apple M1. For improved machine learning algorithms, this is combined with an eight-core GPU and a 16-core neural processor.
The Intel models, on the other hand, feature quad-core processors with integrated Intel Iris graphics.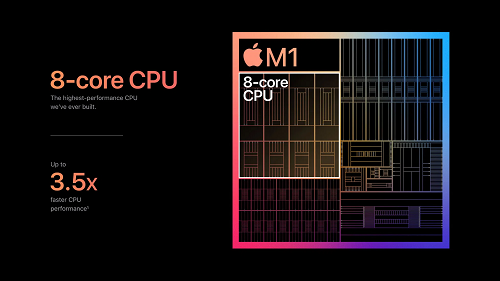 The Apple M1 is a system-on-a-chip (SoC), which indicates that the CPU, GPU, input/output, RAM, and security features are all built into one chip. The Intel models, on the other hand, have all of these separated on a logic board. As compared to Intel, the Apple M1 has a performance advantage.
If you talk about simple tasks like browsing the web, reading text, or working on a script, the Apple M1 shines. To save power consumption, the M1 uses high-efficiency cores for such functions. For intense tasks, including video editing, the high-performance cores are used, providing you a significant performance boost when you need it.
Software compatibility
Another advantage of this internal switch is that you can now use your favorite iOS software on the MacBook, though this is contingent on how eager third-party developers are to provide Mac input controls in their apps.
Thanks to Apple's Rosetta 2 translation sheet, third-party Intel apps will function smoothly with the M1 chip. One thing to keep in mind is that Boot Camp, which allows you to move between macOS and Windows, will not work with M1, but you can still use the Crossover software to run legacy Windows programs.
While Apple's latest chip is quick, it will take some time for innovation and productivity apps to be optimized for the new architecture. Adobe has had a head start on this by launching the first beta edition of Photoshop. This means that it won't require going through Rosetta 2, which comprises performance. There are still some drawbacks for users before they have the formula just right, but this is a good start for creatives who want to explore the M1 MacBook's full potential.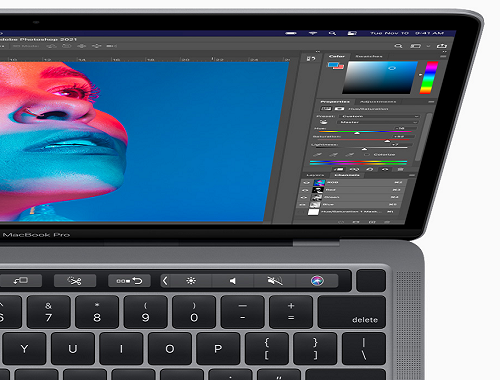 There are a few main benefits to the MacBook Pro 13 with Apple M1. At $1,299, it's the cheapest model, and it has double the power consumption of Apple's MacBook Pro 13 with an Intel Core processor. By contrast, the most affordable Intel-powered model starts at $1,799. The reduced cost, better performance, and prolonged battery life of the M1-powered MacBook Pro make it a good option for most people.
Intel versions, on the other hand, have an advantage in high-end specifications since they can be equipped with more memory and storage. Intel hardware is also well-known for its ability to run all existing Mac games. To fully support Apple's M1 chip, developers must upgrade their apps, though Apple claims that the process is easy with its Rosetta 2 translation software.
Battery:
Even though the same lithium-polymer battery was used, battery life has been increased to twice as long as before, according to Apple, which means you'll get up to 20 hours per charge on the MacBook Pro 13″ versus 10 hours on the Intel version. The MacBook Air has a battery life of up to 18 hours, which is marginally less due to Apple's cooling solution, but still a significant change in terms of mobility.
Connectivity Options:
The M1 MacBook Pro, like the entry-level Intel laptop it replaces, has two Thunderbolt USB-C ports on the left side of the machine that shares a single Thunderbolt 3 hub, while the high-end Intel MacBook Pro has four Thunderbolt ports, two on each side.
If you're a power user with a lot of Thunderbolt 3 accessories, having four ports is a must. However, given the abundance of Thunderbolt 3 hubs on the market, this may be less of an issue. Most users would be fine with only two ports, particularly if their Mac is docked on a work desk for the majority of the time.
Microphones and Speakers
The stereo speakers on both the M1 and Intel 13-inch machines have the same wide dynamic range, wide stereo sound, and compatibility for Dolby Atmos playback. However, although the Intel model has a three-mic array with directional beamforming, Apple defines the M1 model's mic array as "studio-quality" with a high signal-to-noise ratio, which may tip the scales in your favor if you make a lot of video calls.
Verdict:
The new 13-inch MacBook Pro and MacBook Air are Apple's first computers to run on their own silicon, which means longer battery life and better performance. Apple is moving its Mac portfolio away from Intel and toward its own in-house chips, similar to how the iPhone, iPad, and Apple Watch all run on Apple's own processors. It can, however, leave you perplexed. You have a decision to make. Invest in a modern, sleek laptop with Apple's newest hardware, or stick with a tried-and-true Intel alternative with more storage and ports?
Though Apple's Silicon is the future of the Mac ecosystem, Intel-based Macs aren't going away anytime soon. The M1 is used exclusively in the latest MacBook Air and Mac mini, but Apple continues to sell the 13-inch MacBook Pro with an Intel Core i5 or Core i7 CPU as an alternative. Other Macs in Apple's lineup, such as the iMac, Mac Pro, iMac Pro, and 16-inch MacBook Pro, are out of date and still depend on Intel CPUs, with optional AMD GPUs in some cases.