Can you still remember the last time you stepped outside of your house without wearing a face mask? It seems like a long time ago, right? Most states around the world have mandated the use of a face cover to curb the spread of coronavirus. And life has never been the same. 
With the loosening of the Covid-19 restrictions on some parts of the world, some people wonder – "do we still need to wear a mask outside?" Debates have been going on about the necessity for a face cover each time we go outdoors, and experts have a say on this.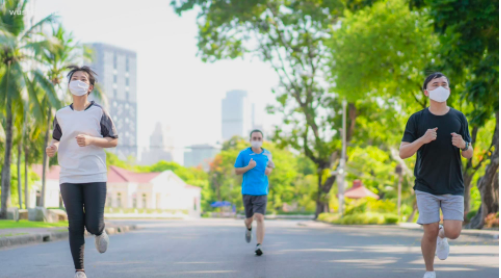 Studies on wearing a face mask outdoors
In an observational study conducted by PNAS, Proceedings of the National Academy of Sciences of the United States of America, they have found out that face masks were 79% effective in preventing the transmission of the SARS-CoV2 in Beijing, most especially if household members use them before feeling or manifesting any symptoms. 
However,  wearing face masks isn't the only measure that impedes the virus's spread. The WHO or World Health Organization conducted a systematic review about this, and it emphasized the importance of physical distancing and eye protection in preventing the person-to-person transmission of the Covid-19. 
The progress 
Over time, the pandemic has evolved. This progress has a massive impact on what safety measures mean, and it has sparked more arguments if wearing a mask outdoors is as crucial as using one inside our very home. In a paper published in Wiley Online Library, a study shows that there was only one occasion of outdoor transmission in the 1,235 Covid cases in China. The said transmission involved close conversations among people. These findings insinuate that a person must be near a carrier for an extended period to get the infection. 
The Health Protection Surveillance Centre also shared data revealing that there were only 262 cases in Ireland out of 232,164 linked to outdoor exposure. 
What are these studies telling us?
Another study published at Oxford Academic in the Journal of Infectious Diseases implies that the rate of outdoor transmission was probably lower than 10 percent. One of the authors, Nooshin Razani, disclosed on Slate that only one case included joggers running together in their research. Most of the scenarios involved indoor activities too. 
We may be spending much of our focus on wearing a mask but not on physical distancing.
Will you still wear a mask outdoors?
Dr. Isaac Bogoch, an infectious disease specialist, shared on CTV News Channel that masks are essential if maintaining physical distancing is not possible. 
It really shouldn't matter if one is indoor or outdoor; if they can't keep a two-meter distance from each other, there's still a risk, and a cover is helpful.
So, would you still wear a face mask outside, then let's say, you need to run or jog?
When you are in an area that many people surround without a safe distance, the answer is yes. But, if you're running alone, experts don't see the need for it.